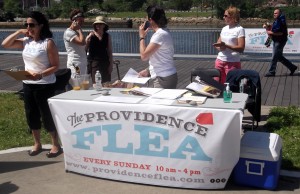 "We're calling it an upscale flea market because it's inspired by the Brooklyn Flea and some of the open air markets in Europe," said an enthusiastic Maria Tocco, who organized the Providence Flea running every Sunday through the summer, 10am-4pm, rain or shine on the Providence River Greenway, South Water Street in Providence.
This isn't an ordinary flea market. Most of the booths featured items that are "recycled, up-cycled, vintage, and re-used," said Tocco, "I wanted to created a venue for all these really wonderful, local vendors. 98% of them are from Rhode Island. I wanted to create a regular space where they can come and vend their wares."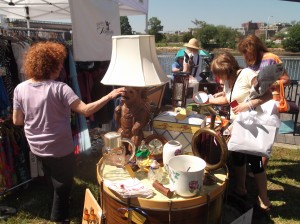 In addition to the interesting assortment of wares, there's a rotating assortment of local food trucks parked nearby (here's hoping my personal favorite Sprout, the Vegetarian Food Truck can make a appearance) and two booths a week will be reserved for local charities. On my visit the first week I saw the Providence Animal Rescue League and one I'm particularly enamored of, RiverzEdge Arts Project, an after school arts program for at-risk students out of Woonsocket.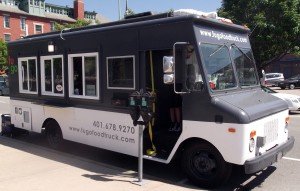 "There's just so much creativity here in Providence and I thought we need something like the Brooklyn Flea," says Tocco, "I just kept waiting for someone to do it and then my partner said, 'Why don't you stop talking about it and just do it?' But I have a day job, so this has all been nights and weekends. It's been very hard but I felt very passionately that we needed something like this so I decided to do it."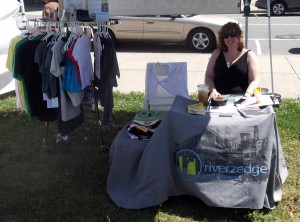 It's an exciting and welcome addition to Providence, and a great reason to visit the city on a summer Sunday.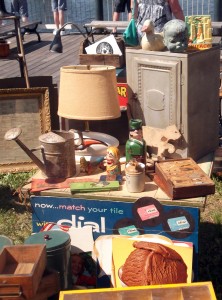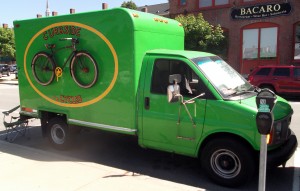 Opening Day at the Providence Flea

,