Mark Goerner was a local lobsterman for twenty years before the fishery started to dry up.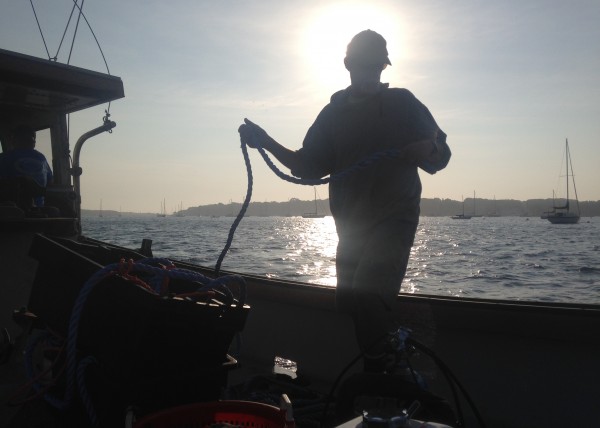 He still works the waters of the West Passage of Narragansett Bay in the Newshell, his bright red Novi (Nova Scotia-style fishing boat) often docked at Ft. Getty in Jamestown.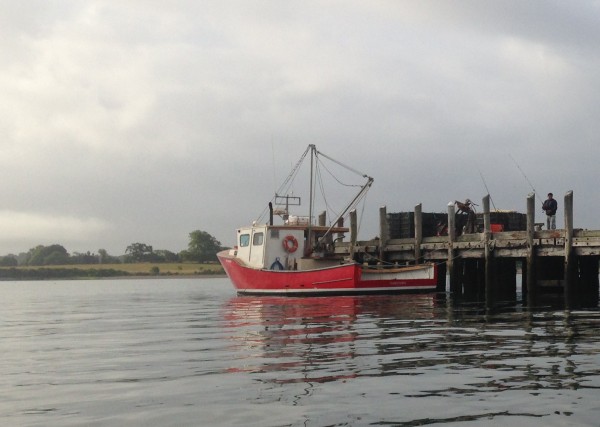 But he doesn't look for lobster traps anymore. Now he uses the Newshell to service his oyster farm just south of the Jamestown Bridge.
There are 52 oyster farms in Rhode Island spread out over 176 acres – a little more than half in Narragansett Bay (one as far north as Warwick) with the remaining 82 acres in one of four South County salt ponds.
As recently as the early 1990's, there were no oysters in Narragansett Bay. Or not nearly enough to make any money harvesting. Then Bob "Skid" Rheault applied for an aquaculture permit with CRMC. "He was the vanguard," explained Dale Leavitt, an aquaculture expert at Roger Williams University. "It was a three or four year permitting process."
Since then the industry has boomed, according to state Coastal Resources Management Council data. In 2013, Rhode Island aquaculturists sold more than 6 million oysters.
That means real money for the many restaurants, seafood stores and oyster bars that sell this delectable shellfish."It's providing local seafood in an era when most of our fish is imported," said David Beutel, CRMC aquaculture coordinator. "That's certainly valuable to us as a state."
What's more, Beutel and Leavitt both said oysters improve water quality. The shellfish filter fish-kill inducing nutrients out of Narragansett Bay. An oysters can filter 50 gallons of water daily, according to Leavitt. "They provide an important ecological service," he said.
The average oyster take about 18 months to mature, said Beutel, and are then sold to local distributors who sell them here in Rhode Island and in 47 other states. Beutel said Alaska and Hawaii were on the list, and he wasn't certain which two states were not.
They are grown in cages that typically float five or 10 feet below the surface.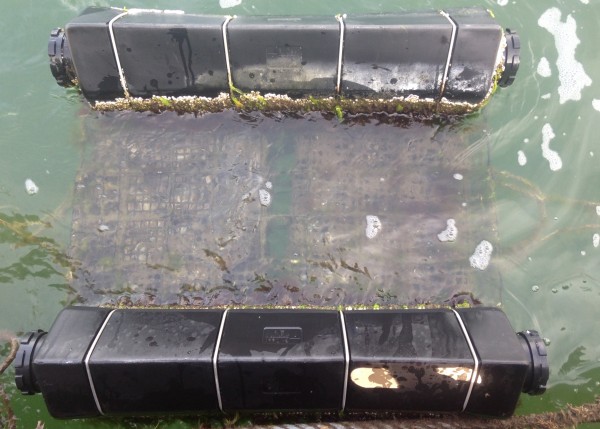 "We have an industry that creates more jobs, creates more fresh seafood and leaves the water cleaner than when it started," said Beutel.
Goerner planted about 400,000 oyster seeds in his first two seasons. This year he's planting another 300,000.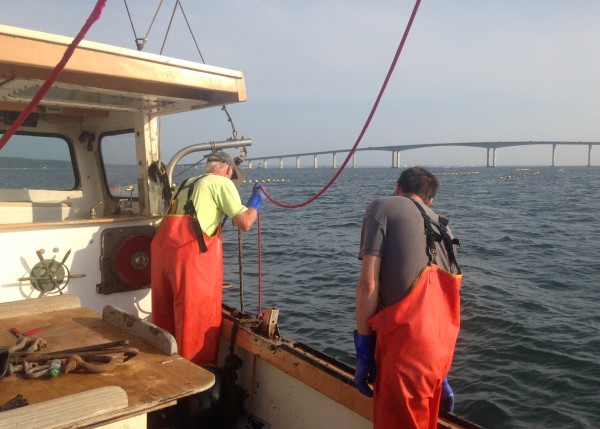 Today's chores were an important part of that process. A 4,000 pound anchor in 30-feet-deep water had to be moved into place. This meant Sam Paterson had to go scuba diving to set the chain on the anchor.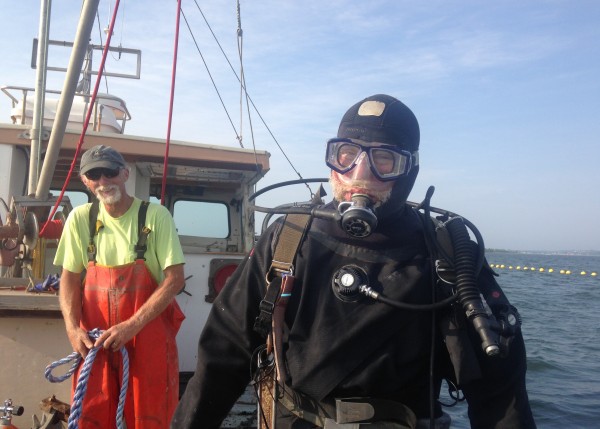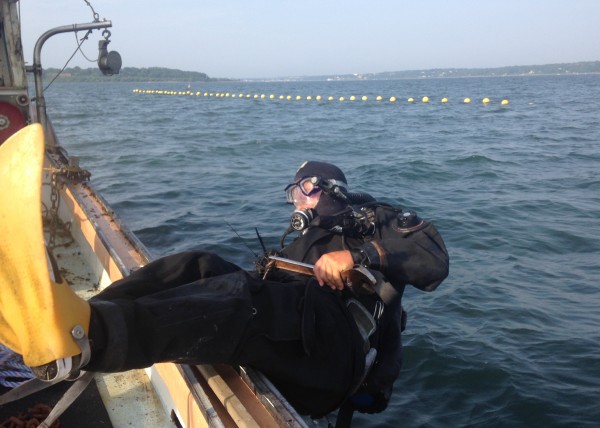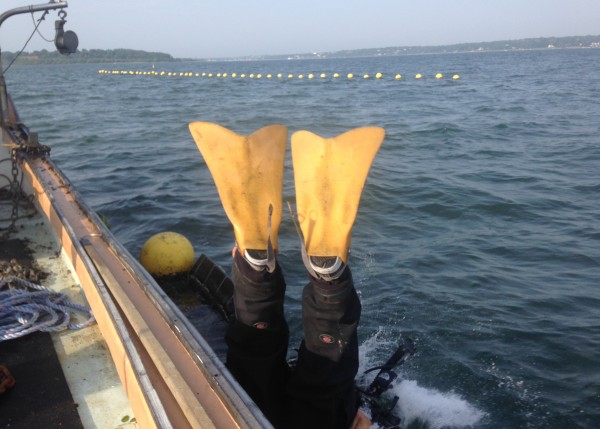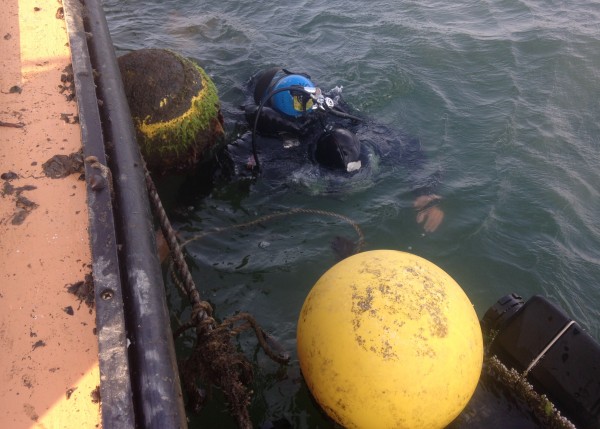 Paterson and Goerner were attaching to the 4,000 pound anchor this underwater lift bag – made by a Rhode Island company!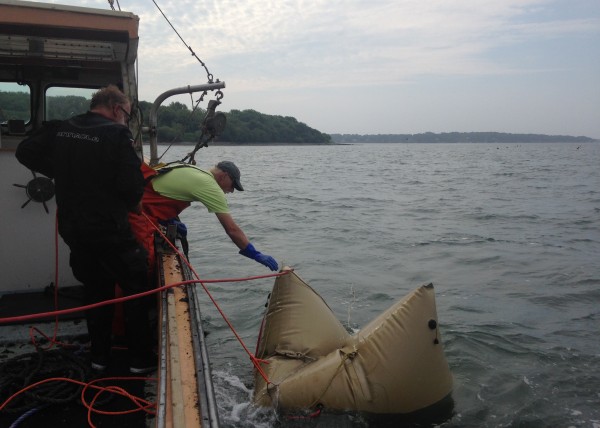 So if you enjoy these: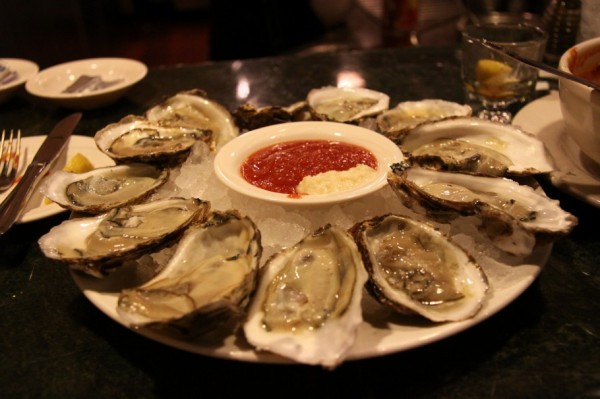 Thank someone like this: