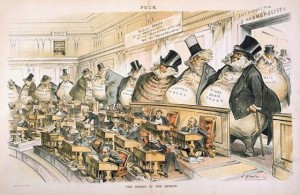 Rhode Island Republicans are celebrating the robber barons.
The American is a newish restaurant in the old ALCO building on the west side and it played host to ceremonial announcements for Republican Rhue Reis, who is running against Congressman Jim Langevin, back in January, and today for Mark Zaccaria, the GOP challenger going up against Senator Jack Reed.
The food, I'm sure, is great. But it's also a sort-of culinary homage to the early American industrialists who made huge fortunes by extracting natural resources and exploiting their employees.
"The American is dedicated to those that made our country great, the turn of the century industrialists that were able to think beyond their years and create businesses, companies and philanthropic efforts which still benefit us all today," according to its website.
Here's how Providence Monthly's Linda Beaulieu led her 2012 review of the upscale eatery:
I wonder what J.P. Morgan and John Jacob Astor would think of The American, one of the newer establishments on the Providence restaurant scene. Their portraits hang high on the olive green walls of this stylish eatery, and they look down at people eating food bearing their names. The J.P. Morgan is a fancy roast beef sandwich, and the John Jacob Astor is a gourmet burger. Both items are on the lunch menu at The American.

The American is dedicated to those turn-of-the-century industrialists (and we're talking 1900, not the most recent turn of the century) who made our country great.
There's some debate as to whether the Astor, a fur trader and real estate developer, and Morgan, an industrialist and financier, and their contemporaries made our country great. Perhaps they just made themselves very rich at a time when our country desperately  needed new transportation and energy infrastructure?
"These capitalist titans held great industrial monopolies and unprecedented wealth," according to Business Insider in a list of the best-known robber barons. "Meanwhile children worked in factories and whole regions of the country were stuck in poverty after the Civil War."
Merriam-Webster's describes robber baron as "a wealthy person who tries to get land, businesses, or more money in a way that is dishonest or wrong." The term was popularized by muckraking journalist Mathew Josephson's book "The Robber Barons" and – fair or not – it stuck.
Here's how a 2011 New York Times book review described the railroad robber barons: "To finance their risky endeavors, they routinely bribed politicians and borrowed money they could not pay back — while publishing mendacious financial reports. To insure friendly coverage, railroad executives bankrolled local newspapers and arranged to kill or delay the publication of stories that might damage their interests. At the helm of a dangerous industry where workplace accidents were common, they resisted installing air brakes and other devices that would have sharply reduced the toll of maimings and deaths."
The American's menu celebrates these men.
There's a rib dish named after the legendary oilman John D. Rockefeller, a ham sandwich named after steel magnate Andrew Carnegie and railroad tycoons Leland Stanford and Cornelius Vanderbilt each got a chicken sandwich in their name. There are burgers for land speculators Jim Fisk and Jay Gould. There are even four versions of "the President's Club" sandwich – the Ronald Reagan, the Calvin Coolidge, the Abe Lincoln and the John Adams.
We can debate the greed or benevolence of the robber barons, but they certainly aren't indicative of the  Rhode Islanders Rhue Reis and Mark Zaccaria hope to entice. Are they?