A group of Providence College students has occupied the office of PC President Brian Shanley. The following is from their press release: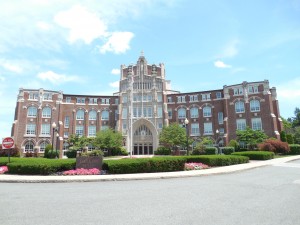 Beginning at 8:30 am this morning Providence College students who have been organizing against anti-blackness and racism on their campus began to occupy the Office of the President. Student organizers issued a list of comprehensive Demands for Redress in December 2015, based on evidence-based practices and systemic solutions for an inclusive campus that the President will not agree to. This follows three semesters of unproductive dialogue filled with political rhetoric and complacency from the President and his administration. Additionally, Shanley has not responded to any e-mails requesting to meet one-on-one with student activists.
Three of the students are participating in a hunger strike.
Student protesters say they will occupy the Office of the President and remain there until Shanley signs An Agreement of Commitment to the Demands for Redress.
On-campus protests have led to increasing racial tensions, as can be seen in this video:
The video was filmed on Friday, February 13, 2016 at Providence College. Peaceful protesters demonstrated on the continued complacency of President Shanley and his administration on issues surrounding overt anti-blackness and racism on the college's campus. During the protest, campus visitors, who were attending Family Weekend, physically and verbally assaulted students.
The first segment shows a man who pushed the student in front of him while simultaneously screaming in his ear "If you don't like it here, transfer!" The same male also threatened another student, saying that if the group continued to chant he would punch him in the face. The younger male, in the yellow hat is seen mocking student protesters by mimicking dance moves while telling them to "shut the f*** up" and calling their efforts "a joke". The video also shows a woman in a fur jacket screaming "ALL students matter" in retort to "Black Students Matter" being chanted by students.
To say "all lives matter" is not to say that all human life is equal but is to deny the racial disparity that exists in American society. This is an ideology that permeates much of campus.
This display of aggressive hate and hostility is just an example of what some students of color at Providence endure from their peers and professors both in and out of the classroom. This type of behavior is typically met with silence on the part of the Office of Safety and Security and key decision makers such as the President of the college. For example, during the fall 2015 semester when a group of Providence College students peacefully marched in solidarity with the University of Missouri, a spectating student used Snapchat to post the demonstration with the message "shut up you n******". Instead of investigating, Safety and Security protected the perpetrators and the College has taken no visible action to address such behaviors.
In addition to overt anti-blackness and racism such behaviors permeate other areas of the college, including the curriculum, both implicitly and explicitly. The February 13, 2016 demonstration is, in part, a response to the silence and the increasing sense of insecurity faced by students of color. Students are committed to engaging in various forms of activism in attempts to break the silence in response to racism and anti-Blackness. They are committed until Father Shanley "stands up or steps out".
Update: The students were told when they entered the office that President Shanley was not on campus. At 9:30 a.m. the President was seen by a student in the hallway outside his office in Harkins Hall 218 but he refused to make eye contact.
RI Future previously covered racial tensions at Providence College here:
Students, faculty accuse PC of racial profiling and anti-unionism
Update: RI Future has just received video from inside the occupation:
PC students occupy President Shanley's office to protest campus racism

,