There were only 5 anti-cluster bomb activists who attended Thursday's weekly protest against Textron for making them. But those 5 activists handed out some 50 pieces of literature explaining the civilian death and destruction cluster bombs have caused in Yemen this year to people walking by Textron's world headquarters in downtown Providence.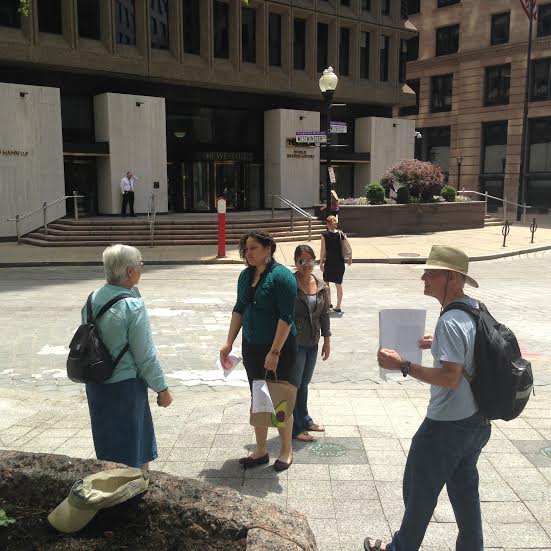 One of the reasons there were fewer protesters today is several members of the FANG Collective, the original organizers of the weekly Textron protests, were in court for civil disobedience against Invenergy, the corporation proposing a new fossil fuel power plant in Burrillville.
FANG organizer Pia Ward instead canvassed 15 nearby businesses the day before.
"I went to cafes, restaurants, a jewelry store – all different kinds of businesses," Ward said. "Nobody was supportive of cluster bombs."
One person Ward spoke with took many fliers and said he would help distribute them. Another said Textron was too big and too powerful to stop. "I promised him I would stop them," Ward said.
Rhode Island-based Textron has come under scrutiny for making cluster bombs the US sells to Saudi Arabia. Human Rights Watch and Amnesty International have documented civilian casualties in Yemen from cluster bombs, which are banned by 119 nations but not by the United States and Saudi Arabia. Textron is the only North American manufacturer of cluster bombs.
Human Rights Watch and Foreign Policy magazine have each reported that the United States is slated to halt sales of cluster bombs to Saudi Arabia.
"The decision not to transfer any more cluster munitions to Saudi Arabia is a step in the right direction, but the US should halt all cluster munition transfers to any country and make that suspension permanent," said Steve Goose, arms director at Human Rights Watch and chair of the Cluster Munition Coalition. "This would help bring the US into line with core obligations of the international treaty banning cluster munitions."
A Textron spokesman said the company would not comment on the new US policy before it gets official confirmation from the government. Secretary of State John Kerry acknowledged the policy change on MSNBC on Wednesday.
Read RI Future's full coverage of Textron's cluster bombs here: