Wednesday Dec 4, 2013
North Kingstown, RI – Good morning, Ocean State. This is Bob Plain, editor and publisher of the RI Future blog podcasting to you from The Hideaway on the banks of the Mattatuxet River behind the Shady Lea Mill in North Kingstown, Rhode Island.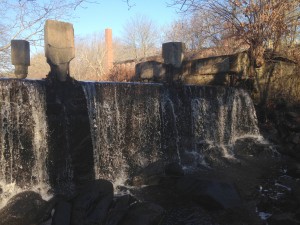 It's Wednesday, December 4th … and National Public Radio's Story Corps will be in Rhode Island today and tomorrow to interview homeless people to be aired on Morning Edition all across the nation. According to the Coalition for the Homeless, "The stories will be used for educational purposes to show Rhode Islanders the vast variety of experiences of homelessness and to break the stereotypes of
who is homeless in our state."
Renaissance Hotel workers will stage yet another protest in front of the downtown Providence hotel today at 5pm. In a press release, organizers say, "In the tradition of this community's support for working people, City hotel workers ask the friends of labor in Rhode Island to show they reject the Renaissance management's tactics, by boycotting the Hotel."
Yesterday, Providence Mayor Angel Taveras stayed in Florida to campaign rather than returning to Rhode Island to participate in the The URI Honors Colloquium on great public schools. Unless he reaped a big take in donations last night, this was yet another campaign misstep by Taveras … as the candidate for governor will be seeking the endorsement of the professors union there later this week.
My former philosophy professor and podcaster herself Cheryl Foster told the ProJo: "I personally would say we were profoundly disappointed not to have the chance to discuss the mayor's award-winning proposal with him at the Colloquium, since we think that proposal was brilliant and connected well with our own values of bringing beauty and expression to the lives of all, including children at risk."
Taveras was going to talk about a grant the Capital City received to help teach poor kids new words.
Correction: URI and PC play Thursday night.
If you want to know why the Koch brother-funded Center for Freedom and Prosperity is pushing for an elimination of the state sales tax, it's probably not about how much economic activity it might generate but rather by the number of public sector jobs it will eliminate. Paul Dion, of the state Budget Office, said about 6,000 state workers would be eliminated.
A judge in Detroit ruled that pension benefits aren't exempt from bankruptcy proceedings …. the New York Times' Mary Williams Walsh reports that his ruling could affect other bankruptcy proceedings, she mentioned a few California cities but none in Rhode Island. In other pension news, Illinois also moved forward with pension cuts. In all these cases, the mitigating factor will be whether or not the delayed pay is a contractual right or a legislative gift. It's also worth noting that unlike Detroit, Rhode Island is not going broke. We just wanted to save some money and didn't feel like asking our richest residents to pony up.
And speaking of the state's ongoing war against public sector employees, Ted Nesi suggests legacy costs, not high taxes, can be blamed for Rhode Island's struggling economy…
But here's theory not rooted in austerity: we used to have a ton of factory jobs in Rhode Island. Now we don't. No matter what way we shrink the cost of operating a government, our private sector workforce won't grow until we find a way to put the working class back to work.
Today in 1914, Mexican revolutionary Emiliano Zapata meets with outlaw Pancho Villa … Zapata famously said, "It is better to die on my feet than live on your knees."
In 1964, the Beatles released their fourth album, "The Beatles For Sale"
And today in 1970, Cesar Chavez was arrested for his role in the Salad Bowl Strike.
And speaking of standing up for better working conditions, fast food workers are meeting at the Warwick Fire Fighters Hall tomorrow at noon as part of a national day of action calling for better working conditions for fast food and other minimum wage workers.
And in their honor, our song of the day is a spoken work poem by Providence native, AS220 crony and warrior for social justice Jared Paul called "Class Warpath." It's the first track on his new live album recorded right here in Rhode Island.