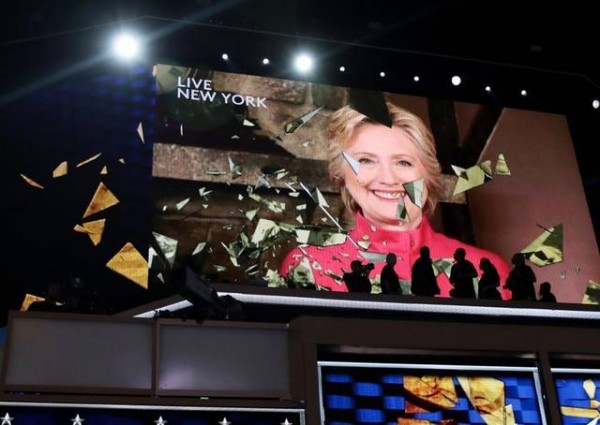 Tonight's speech by Hillary Rodham Clinton is historic.  As we all know by now, she will be the first woman ever nominated by a major US political party to be a candidate for President of the United States.  That video of the shattered glass ceiling simulates that achievement. Every progressive must applaud this moment.[1] Every human ought applaud it too if gender equality matters.
In combination with the truly dangerous fantasy Trump presents,[2] most of my friends on the left declare that supporting Hillary Rodham Clinton is both historical necessity and a matter of political responsibility.[3]  I agree, but, as progressives, we need to appreciate how we get there and what her election means for the future.
Being progressive is not only about outcome. It's also about process.  It's about living in our daily life the politics we want to see writ large. But before I point out the challenges of progressive identification with HRC, I wish to acknowledge just fears.
If Trump is elected president, one of my gay friends told me, the marital unity he treasures most will be put at risk.  We will have as vice -president one of the most fundamentalist religious politicians in the nation whose embrace of extremist anti-LGBTQ politics and anti-choice politics is enough, by itself, to move progressives to mobilize against Trump.[4] The Supreme Court's composition is too important to allow Republican Party extremists to control those nominations.
If Trump is elected president, the global security system will be put at risk. Already my friends on NATO's eastern flank express profound worry about how Trump's professed admiration for Putin and skepticism toward NATO put them at risk. Of course NATO's embrace is hardly an obvious progressive position, but if you live in a place where Russian imperialism threatens, you must choose which superpower to welcome.
NATO may not be an obvious place where progressives unify, but we must unify in opposition to the ways in which Trump uses religious and racial differences to divide, and puts all the means of violence, including nuclear weapons, on the table.  I agree with those progressives who marked their opposition to President Obama's drone wars and other ethically compromised means of war.
But Trump is worse.
We can go on, but to do so only reinforces a legitimate progressive objection.  Our vote is sacred and it is our choice. We want to live in a system more authentic, and less compromised. Katelyn Johnson, delegate for Bernie Sanders, said during an interview on MSNBC on July 27 that she wanted her vote to echo "the system I want to live under." She doesn't want to drink "the kool-aid of a system I want to dismantle."  Progressives who fear Trump need to hear her, and so many others like her. We can't allow our concern for outcomes to drown out the everyday practice that makes progressives different.
And what is that distinction?
We can't base that distinction on particular substantive issues, even though it is the progressive's inclination to debate which issue is fundamental. Is it a policy around the Trans Pacific Pipeline or closing GITMO?  Perhaps it's about investing in public goods rather than privatizing them. Like other progressives, I have positions on these and more policy issues. But progressives can, and should, debate these matters based on informed readings of policy consequences and their motivations.
I think we come closer to recognizing that distinction when we look for authenticity. One reason Bernie Sanders mobilized so many people was because he has been consistent over decades in his opposition to the concentration of wealth and its deleterious effects on politics and everyday lives. One reason Joe Biden drew the applause for his speech that he did was because he emits, in everyday life and on stage, a sincerity that is not staged in the ways that so many other politicians look manufactured. While both Bernie and Biden are professional politicians, they are different from most.
Barack and Michelle Obama are in a class by themselves. Their speeches at this convention moved the house not only for their fine deliveries, but also because they could embody the progressive, and human, alternative that we wish our America could be.  If their daughters could play outside a White House built by slaves, we feel the progress that has been, that might be.
But here's the problem.
Privileged progressives in our system like to feel good, and to believe that the place of the Obamas indicates that we live in a post-racial society. We do not. We can debate whether particular statistics mark progress or not, but we cannot diminish the profoundly racist underpinnings of the system in which we live, where violence against people of color, whether by police or through the proliferation of guns, whether through a prison industrial complex or in everyday aggressions and exclusions, define the enduring significance of the color line. When progressives celebrate Tim Kaine's choice by referring to how well he speaks Spanish, and how he was a missionary in Honduras, many POC ask why not just recruit a Latinx person?
The answer for too many progressives is obvious. We must win, and to win, we must cut into the demographic that supports Trump, that white male working class electorate, perhaps religious, that might find Kaine's working class roots and enduring Catholic commitments compelling. But that's the problem for many progressives who recognize racism's power. Outcome trumps process, and leads too many progressives to adopt that condescending position of knowing better than POC who declare these candidates to be more of the same old racist system, with glass ceiling broken or not.  And it gets worse.
I especially appreciate what my friend Justice Gaines shared on Facebook, with wisdom zir friend, Nikkie Ubinas, offered:
If Donald Trump wins, it's not because not enough people of color chose not to vote for Hillary.

It's because enough people voted for Donald Trump to make him a candidate. It's because people elected Donald Trump. It's because institutions, systems, and people created him. It's because we have corrupt systems that don't give a shit about people of color and poor people. It's because Donald Trump is right in line with our American racist xenophobic and sexist history. It's because Donald Trump is America's enduring legacy.
Here's the issue that so many of my progressive white friends miss, what I miss were I not to listen and learn from Justice and others.
In the panic about defeating Trump, progressives can practice reprehensible politics in everyday life, abandoning their commitment to authenticity, equality, and process on the altar of expediency and outcomes defined by those with privilege.
We ought celebrate breaking a glass ceiling, and I will do what I can to defeat Trump and elect Hillary Rodham Clinton. But that is not because I am with her. I remain committed to political revolution, and its chances are so much greater with Clinton/Kaine in office than Trump/Pence. I am continuing that political revolution when I work for Clinton/Kaine, but a vote does not fulfill my political responsibility as a progressive. That political responsibility means holding Clinton and Kaine accountable to the Democratic Party Platform those leading the political revolution at DNC moved.
When Bernie endorsed Hillary it was not the end of the political revolution. It was just a signal that it is time to refocus down ballot and on civil society, to mobilize and apply pressure to politicians too easily influenced by Wall Street and other lobbies with money. When Katelyn Johnson, Justice Gaines, Nikkie Ubinas, and others signal their distance from politics as usual, I will listen and respect their position for that is the foundation of the political revolution, not the election of a particular presidential candidate.
I also respect Minnesota congressman Keith Ellison much, and he said it right today on Morning Joe:
"Active citizens need to help politicians govern the country, and one way to do that is to let them know how you really feel…"
And it's not just holding up placards and maybe even disrupting a speech. It's about holding authorities accountable.  This DNC platform is different from all others preceding because it was made with the political revolution in mind. Again, Ellison said as much when he anticipated an election in which Clinton and Kaine win, but face active citizens who will demand that a new administration adhere to the platform's principles.
Were I to identify the progressive distinction, it's one in which we respect and recognize one another, being particularly attentive to the ways in which power and violence diminish some and privilege others. Progressives are not defined by the candidates they support, but by the work, in everyday life and in political campaigns and in enduring political struggles, to include everyone in the set of rights and responsibilities that democracy organizes.
Recognition, respect, and maybe even love moves the political revolution, and my identification as progressive.
[1] http://www.huffingtonpost.com/entry/hillary-clinton-glass-ceiling_us_579827fee4b0d3568f85272e
[2] http://www.rifuture.org/ideology-in-the-time-of-trump.html
[3]  http://www.publicseminar.org/2016/07/why-i-support-hillary-clinton-for-president-a-letter-to-my-friends-on-the-left/
[4] Note here religious identification is not the issue. The Democratic VP nominee Tim Kaine is a devoted and practicing Catholic, but also supports women's right to choose and the sanctity of love over homophobia. Rhode Island Bishop Tobin's take on Kaine  https://www.washingtonpost.com/pb/local/roman-catholic-bishop-in-rhode-island-criticizes-kaine/2016/07/25/378ad256-529e-11e6-b652-315ae5d4d4dd_story.html has prompted healthy debate within the RI Catholic community http://www.providencejournal.com/opinion/20160726/thomas-m-hines-bishop-tobins-arrogant-view-of-tim-kaine
The politics of progressive identification and the DNC

,