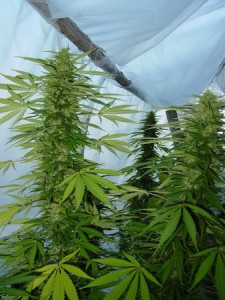 Rhode Island became the latest state to lessen the punishments for small amounts of marijuana, popularly known as "decriminalizing" it.  Six years ago, there were many doubters and few reformers on board.  Yet it appears America is fed up with many facets of drug policy.  Organizations that have been seen as fringe radicals, such as Direct Action for Rights & Equality (DARE), are seeing their proposals become mainstream positions.  This DARE, not to be confused with the other D.A.R.E., has consistently looked to change the misguided (or malicious) attempt to curb drug use through prisons.  Once this seemingly impossible reform became inevitable, the members of DARE realized their work was all but done.
A key element to the new law is that people on probation or parole will not be violated and sent to prison.    People without actual experience in the criminal justice realm had to be educated on this element.  Cynically enough, those who wanted to pass this measure based on saving money (by less incarceration) had to be shown that most imprisonments are due to such violations.  Remarkably, the Attorney General stuck to their story that nobody is sent to prison for marijuana… even as evidence and personal stories came forth.
It is likely that the Dept. of Probation and Parole will develop new guidelines for what to do when someone receives a $150 "pot ticket" (which doubles to $300 after 30 days, and to $600 after 90 days).  They will likely need to pay even more to attend a mandatory drug program, and failure to do so will result in a violation.  This may ultimately prove challenging for people who are unemployed or barely scraping by, as are many people released from prison.
There should be no surprise that the bulk of marijuana tickets will disproportionately come from highly policed areas, and disproportionately affect People of Color, who represent about two-thirds of Providence.  DARE, ACLU, PrYSM, and others have consistently presented evidence of racial profiling in Rhode Island that has a similar ring to the NYPD's "Stop and Frisk" program that is currently under scrutiny by the Justice Department and Gov. Cuomo.  Marijuana decriminalization, however, did not gain momentum due to the disproportionate impact on the 21% of Rhode Island residents who are Black, Latino, or Asian.  It passed because 12% of Rhode Islanders are willing to admit they smoke pot.  The Providence Journal article poll tallies 29% of people who "already" smoke.
When former RI Republican Minority Leader Bob Watson was arrested in Connecticut last year, just prior to a hearing on this bill, some wondered what would have happened if Watson was pulled over in his hometown of Portsmouth… or if he had been before.  Watson's public defense was that he needed the pot for his ailments, i.e. he needed it to get by.  Many of that 12% have said the same.  I have never encountered a person who wants their friend or family member to be disabled through drug use of any kind, and so my last words to the legislators on the matter were, "if you caught your son, daughter, or colleague with marijuana, what would you do?  Whatever it is, what's good enough for your son, daughter, or colleague is good enough for the rest of Rhode Island."
Nobody believed we could eliminate mandatory minimum drug sentences in Rhode Island.  But we did.  Nobody believed we could pass a law that would nullify a probation violation prison sentence if the new charges were ultimately dismissed.  But we did.  When we started down this road, few believed Rhode Island was ready to reduce penalties even on marijuana… and now some politicians openly call for regulation and taxation of this plant.  The push to create a Study Commission (often the kiss of death) by Senator Josh Miller was crucial.  It allowed reports such as the study by Harvard economist Jeffrey Miron to gain prominence and dissemination through Open Doors, a service provider for the formerly incarcerated.  The study commission put major advocacy partners on notice, such as Drug Policy Alliance, Marijuana Policy Project, and Law Enforcement Against Prohibition- and let them know that we are making change in this tiny little state.
What is next in drug policy other than pushing for full regulation, and a potenial $300 million in economic impact?  It is worth noting that marijuana has been a gateway drug to a criminal record, and once someone is on probation they no longer receive the full protection of the 4th, 5th, and 6th Amendments; they are essentially guilty until proven innocent.  For those who want to save dollars and those who want a rational or humane approach to drug policy in Rhode Island, we can look at ways for people to get out of what is one of the most regressive probation schemes in the country.  RI is one of the leaders in percentages of people on probation and the lengths of sentences.
One proposal we put forth is limiting the probation violation to the time remaining on probation.  Currently, someone with a 10 year suspended sentence can be given that term if violated on the last day of the 10th year.  This often violates the statute of limitations, carrying a punishment beyond what is permissible by law.  Another proposal is to allow probationers and parolees the ability to earn Good Time credits off their sentences.  Ultimately, the only ones who would receive credits are those "doing the right thing," and it would allow Probation Officers more flexibility in curbing inappropriate behavior, short of incarceration.  Another proposal, which gained momentum this year, is a Good Samaritan law that would not punish a drug user who calls 911 to save the life of another.  This places a higher priority on life than on imprisoning those who are generally addicted to heroin (the most common form of overdose).
No matter what direction activists and politicians go after this key victory, it appears certain that the public is far ahead of the politicians on this matter.  It is high time that harmless behavior be treated as such in the courts.  It is also time for us to find medical solutions for health problems such as addiction, rather than putting someone in a cage until later.
Bruce Reilly is a member of DARE, Rhode Island's only organization committed to (among other things) the development and empowerment of those directly impacted by the criminal justice system.  He testified on this bill in both the House and Senate, along with other DARE members, and is a national steering committee member of the Formerly Incarcerated & Convicted People's Movement.  He attends Tulane University Law School, and is currently a legal intern at the Brennan Center for Justice.