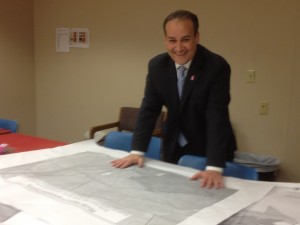 One way or another, today's Gemmapalooza press event will indeed be "game-changing." While it remains to be seen how it will affect the CD1 Democratic primary, it will certainly have enduring effects on Anthony Gemma's political career and public persona.
Here's what we know about what will happen: The Projo reports that Gemma has indeed hired private investigators to look into voter fraud. John DePetro tells us there is video that it makes him "nauseous." (who knows what it is that makes John DePetro sick to his stomach; it could be something honorable!) And Dan McGowan claims Gemma will call on Cicilline to resign. He also reminds us that he called on Cicilline to resign in 2010 too. WPRO will broadcast the presser live.
My guess is Gemma has some dirt on David Cicilline that won't even come close to living up to the hype he has created about his announcement. My fear is that we have witnessing Anthony Gemma's mental breakdown.
Narragansett Chief Sachem Mathew Thomas met with Gov. Chafee yesterday to talk about the possibility of a native American casino in Rhode Island.  According to the Projo: "Chafee said he had nothing to announce, but continued to view the gambling discussion as a jigsaw puzzle in which 'fairness to the tribe was one piece,' and 'protection of revenue' was another."
Meanwhile, Ted Nesi reports that Twin River has spent some $700,000 to make sure they get to run a casino.
We wish Deborah Gist a speedy recovery. The state education commissioner has a small brain tumor that she is expected to recover fully from. All best, Deborah Gist.
Good for Jamestown Town Councilor Bob Bowen for casting the lone vote to locate a wind turbine on Conanicut Island. I'm really sorry this council didn't approve the plan.
Mark Bittman: "We need real farmers who grow real food, and the will to reform a broken food system."
Happy birthday, Yaz!