By Bob Plain on July 18, 2017
Progressive Democrat Dawn Euer is one step closer to succeeding former Senate President Teresa Paiva Weed in representing Newport and Jamestown in the state Senate. She handily beat her three male competitors in the District 13 primary today and now faces Republican Mike Smith, Green Party candidate Greg Larson and independent Kimberly Ripoli in the […]
Posted in Featured, Jamestown, Newport, State House | Tagged Dawn Euer, District 13, Jamestown, Newport, State House, state senate | 2 Responses
By Bob Plain on April 11, 2017
The annual Kids Count Factbook on child well-being in Rhode Island, now in its 23rd year, is a local rite of spring – but it's nothing like the first tulips or tufted titmouse. Instead it's an annual reminder of just how segregated – economically and otherwise – the Ocean State is. The massive 194-page report […]
Posted in Barrington, Central Falls, East Greenwich, Featured, Inequality, Pawtucket, Providence, Rhode Island, Scituate | Tagged barrington, block island, Central Falls, east greenwich, Jamestown, Kids Count, Kids Count Factbook, Little Compton, pawtucket, Poverty, Providence, Woonsocket | Leave a response
By David Norton on January 14, 2017
We chose City Hall to highlight the fact that Pawtucket pays one of the highest vehicle excise taxes in the state at 5.3 percent. Pawtucket residents have been paying this very high tax for many years without relief.
Posted in Activism, Class Warfare, Featured, Inequality, Pawtucket, Providence, Taxes, Transportation | Tagged car tax, Donald Grebien, Fair Shot Agenda, Jamestown, Nicholas Mattiello, pawtucket, Pawtucket City Hall, Providence | 2 Responses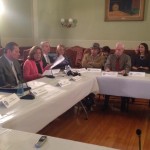 By Bob Plain on January 27, 2016
"There is great potential within the emerging green industries," Paiva Weed told Bob Plain in an extended interview one day after introducing a report that lays out her policy recommendations. "If we as a state position ourselves to maximize all available opportunities it will in fact move us forward and secure for us national recognition."
Posted in Featured, State House | Tagged charter schools, funding formula, Jamestown, Mt. Hope, Newport, paiva weed, tolls | Leave a response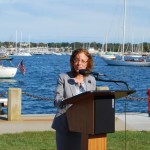 By Bob Plain on September 3, 2014
The environment has a friend in Senate President Teresa Paiva Weed, who again earned the endorsement of the local Sierra Club chapter this campaign season. The state's highest ranking senator who represents Newport and Jamestown has won the Sierra Club's support going back to at least 2006. "I sought out the Sierra Club's endorsement because […]
Posted in Featured | Tagged Jamestown, Newport, paiva weed, RI Senate, sierra club | 2 Responses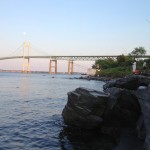 By Bob Plain on June 21, 2013
Even on the summer solstice, there is rarely a Jamestown resident at Taylor Point, sometimes called "pew view" because of its proximity to the sewage treatment plant. But it's one of the more popular fishing spots for those who come to Conanicut Island  from the mainland.
Posted in Featured | Tagged Jamestown, Narragansett Bay, newport bridge | 2 Responses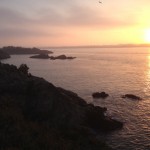 By Bob Plain on November 12, 2012
There are few more beautiful places in Rhode Island to watch the sun rise than from the cliffs high above the confluence of Narragansett Bay and the Atlantic Ocean at Ft. Wetherill on the southeastern edge of Conanicut Island, or what you politicos might know better as Jamestown. Since I happened to find myself in […]
Posted in Events, Featured | Tagged Jamestown | Leave a response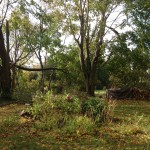 By Bob Plain on October 30, 2012
Sorry, loyal RI Future readers, who were no doubt hoping to catch up on the latest news concerning progressive politics in Rhode Island … instead of spending the day in front of my laptop blogging about all that, I feel compelled to be out cleaning up some the mess that Hurricane Sandy left for us. […]
Posted in Events | Tagged hurricane sandy, Jamestown, Rhode Island, trees | 1 Response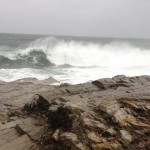 By Bob Plain on October 29, 2012
The best, and worst, place in Rhode Island to weather a hurricane is on Jamestown and seasoned wave watchers know well there is no better place to see the surf during a storm than from Beavertail. From the southern terminus of Conanicut Island one can see whitecaps crashing into both Newport and Narragansett. And that […]
Posted in Events | Tagged beavertail, hurricane sandy, Jamestown, Rhode Island | 1 Response
By Bob Plain on August 22, 2012
One way or another, today's Gemmapalooza press event will indeed be "game-changing." While it remains to be seen how it will affect the CD1 Democratic primary, it will certainly have enduring effects on Anthony Gemma's political career and public persona. Here's what we know about what will happen: The Projo reports that Gemma has indeed […]
Posted in Featured | Tagged Anthony Gemma, Deborah Gist, Jamestown, narragansett indian Tribe, Twin River | 1 Response
By Russ Conway on July 27, 2012
Next weekend marks the 36th Annual Save The Bay Swim where some 500 swimmers attempt the 1.7 mile swim from Newport to Jamestown in support of Save the Bay. This will be my 4th year participating (please consider making a donation). The swim this year is taking place on my birthday! I can't think of […]
Posted in Featured | Tagged Jamestown, Newport | 2 Responses