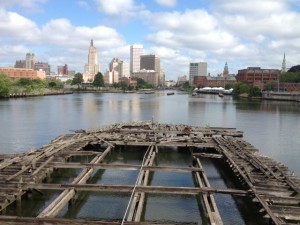 It's no secret that Rhode Island needs a new strategy for economic development but RIPEC's new report offers little in the way of real solutions to this conundrum. Instead, the business-backed lobby and advocacy group used the opportunity as a power grab for its laissez-faire agenda. We'll post more on this later, but for now consider that RIPEC wants the DEM to be put under the charge of a proposed Secretary of Commerce. There is no way the state's environmental efforts should be put under the charge of its business development efforts.
Had the report been a more legitimate effort to address the issue at hand perhaps Gov. Chafee would have made more time for it.
By the way, the local media should do a better job of explaining who RIPEC is and what their motivations are when reporting on this issue.
Ian Donnis makes a good point about marriage equality and the recent primary: while the big name candidates may not have won, they sent a strong message that will likely resonate with incumbents. We made the same point the day after the primary.
It seems like the League of Women Voters is getting squeezed out of the campaign debates by some local TV stations.
Speaking of which, today in 1960 Kennedy and Nixon squared off in their historic televised debate that is said to have forever changed politics in America.
Conservatives may hate the idea of banning plastic bags in Barrington, but they'd do well to study the effects such a move had in Westport, Mass. like EcoRI.org did. They report, "Four years later, residents, business owners and school officials say emphatically they wouldn't bring back the plastic."
Don't forget: if you need to register to vote you can do so today in Burnside Park.
This is rich: Union-Busting GOP Governor Scott Walker Demands Return Of Unionized NFL Referees
New polls show Obama pulling ahead in swing state strongholds Florida and Ohio.
Here's a list of the nine richest people in politics, as pulled from the recent Forbes 400 list.