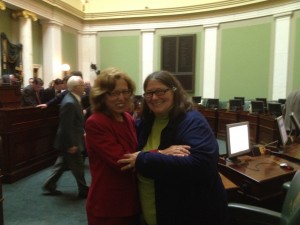 Senator Rhoda Perry, a strong and influential voice for progressives all over Rhode Island, announced today that after 22 years serving the people of the College Hill area of the East Side in the State House, she won't be running for reelection this year.
"As a private citizen, I will continue to fight for the progressive causes in which I believe," she said according to a press release sent out this morning. "It has been an honor and a pleasure to represent the residents of the East Side during the last two decades, but it is time for me to step aside and give new leaders the opportunity to emerge.  Together with my colleagues, and so many committed Rhode Islanders, I am proud of all we have been able to accomplish."
According to the press release, some of her "major legislative accomplishments are enacting needed protections for our state's nursing home residents, adopting mental health parity, gaining funeral rights for domestic partners, leading the successful battle for medical marijuana, increasing penalties for sex trafficking, putting in place the first anti-racial profiling law in the Northeast, gaining significant adoption reforms and helping to realize separation of powers."
She is the third-longest serving member of the Senate, next to Senators Dominick Ruggerio and Mary Ellen Goodwin. Perry is one of the most progressive legislators in the state Senate and indeed the entire State House.
For 20 of her 22 years, Perry has served with her good friend, Senate President Teresa Paiva Weed, whom she is pictured with above.
"I'm going to miss Senator Perry," Paiva Weed said. "She's been a friend and a colleague and a strong advocate on so many important issues. She knew how to successfully achieve passage of important legislation without ever compromising her values, and she was never afraid to fight for more progress on an issue."
Senator Juan Pichardo, also a progressive state Senator from Providence, said Perry has been a mentor to him, a positive force at the State House and a role model for the many women who have gotten involved in politics over the past two decades.
"Rhoda Perry has been an icon for the progressive movement in Rhode Island as well as an icon for women in politics," he said. "Her holistic approach to policy and her compassion with people and her respect for different points of view has been a great thing for those who served with her."
He said she will be very difficult to replace.
"We thank Senator Rhoda Perry for her years of dedicated public services," said Kate Brock of Ocean State Action. "Senator Perry has been a champion for the progressive values and ideals we work for everyday. She will be sorely missed at the Statehouse. While Senator Perry is impossible to replace we look forward to helping elect a strong, progressive leader to represent the East Side of Providence."
Ray Sullivan, of Marriage Equality Rhode Island: "Senator Perry was a tireless advocate for her constituents and a tenacious voice for the LGBTQI community. Her leadership helped advance the rights of countless Rhode Islanders, and we are grateful for her remarkable commitment to public service. She was the lead sponsor of the 1995 civil rights act barring discrimination in employment, housing, public accommodations and credit on the basis or sexual orientation, and has been the longtime prime sponsor of marriage equality in the Senate. Most recently, she led the effort to pass the transgender hate crime reporting act, which was singed into law by Gov. Chafee this year. "
An unrelenting champion for civil rights, she fought the battles that weren't always popular, but unmistakably necessary. We will miss sincerely miss our dear friend, Rhoda, and thank her for truly making a difference."
Ian Donnis, of RIPR, reports that Jessica Holden Sherwood is running for Perry's seat, as is charter school advocate Maryellen Butke, who works for RI-CAN.
Sherwood is a progressive, who testified for income tax reform this year at the State House and helped to organize local activities in conjunction with Netroots Nation this year. Butke is pretty politically liberal, but she may have a hard time appealing to progressives because of her work with RI-CAN, which advocates for more charter schools in Rhode Island.