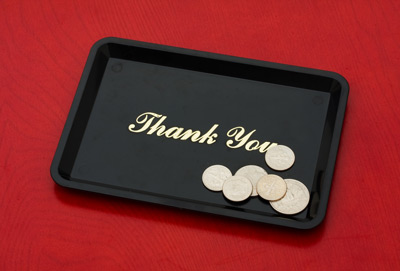 The editorial staff of the Providence Journal claim to be "sympathetic" to the struggles of tipped employees and their families, yet they offer no solution for this subordinated "server" class of Rhode Island workers. They also fail to quote or offer any opinion from an actual waitress or waiter. The May 17 article pretends to speak for the actual staff of restaurants in Rhode Island (whose minimum wage is $6.11 less then every other legal citizen of our state) by printing a quote from Dale Venturini, "president and CEO of the business­funded Rhode Island Hospitality Association".
This is typical of what has been the public discourse on this subject. We have heard over and over again from people like Bob Bacon, major owner of the Gregg's Restaurant chain, and Josh Miller, who is not only the owner of such local institutions as Trinity Brewhouse and Hot Club but is also a State Senator. These people always claim to have heard from many servers (in their employ) on the subject.
Having worked as a server in Providence for eight years leading up to the closure of Ruth's Chris Steakhouse, I can say that nothing from the May 17 editorial rings true to my experience working in the service industry. Nor does it corelate to the overwhelming majority of the personal stories that I heard while campaigning for this law around Rhode Island this year. I have met no one who has ever recieved compensation from an employer to make up the difference between the $2.89 subminimum and the $9 minimum wage. I have, however, personally spoken with hundreds of servers who have worked whole shifts and even weeks without earning minimum wage.
The article claims that the proposed bill would cause these workers to be "without jobs", because "Many restaurants operate on very thin margins, and many go out of business." But to back up this frightening claim, the article's author offers no statistics. According to the Restaurant Opportunity Center, a tiny national and local lobbying group operating on a shoestring budget with an office right on Broadway in Providence, all of the states that have eliminated the subminimum wage for their workers have seen an increase in business for their local restaurant industries.
The Providence Journal trots out the same tired argument that in order to create jobs, the jobs themselves must suffer. But what good does creating a job do when working that job full time is not enough to support yourself and your family? Rhode Island taxpayers will have to continue to foot the bill of over $600,000 in food stamps that servers require every month. Working without a living wage makes everyone but the job "creator" suffer. Had the editorial staff of the Providence Journal looked at this important economic issue from the point of the servers, they may have realized how neccessary this bill is for not only the actual servers and their families, but for everyone in this state. The most successful owners in Rhode Island's heralded restaurant industry claim that they won't be able to stay in business if they have to pay their workers fairly. I have been inside the industry long enough to know better.