Today Hobby Lobby, the craft store that recently won a Supreme Court battle to deny women freedom of choice in their reproductive healthcare based on lies and anti-American religious ideology, ran a full page ad in the Providence Journal to advance its view of the Bible as a foundational text in the forming of our country and Christianity as the de facto law of the land. Similar ads were run in newspapers across the country.
The advertisement amounts to little more than a schoolyard taunt that attempts to ad insult to the Supreme Court's injury. To place such an ad in a Rhode Island newspaper on Independence Day is especially galling and confrontational. It was here that our state's founder, Roger Williams, a victim of religious oppression, invented the concept of separation of church and state that Hobby Lobby denies. It was here that Anne Hutchinson, champion for freedom of conscience, once called home. Our state is the true cradle of liberty, and a billionaire religious nut attempting to shackle us with his bigotry and misogyny is a declaration of (cultural) war.
Hobby Lobby's owners, led by billionaire David Green, have shoveled about $500 million dollars into Evangelical outreach and "charitable" giving, and are planning to open an $800 million Bible museum in Washington DC in 2017. Hobby Lobby claims that this museum will not proselytize, but if Hobby Lobby's "Museum of Bible" curriculum, premiering in public schools in Mustang, OK this fall is any indication, they are lying. According to Grace Wyler, writing for Vice:
"An initial draft of the course text is pretty half-baked when it's not overtly Evangelical. A discussion about the accuracy of the book ("How Do We Know That the Bible Is Historically Reliable?"), for example, includes this sentence, apropos of nothing: 'Just as historians do not know everything about King David's reign many centuries ago and about the life of Jesus, we similarly do not know all of Dr. King's activities during his stay in the Birmingham jail.' (That's Martin Luther King, Jr., in case you were confused.)  In another lesson, a list of the biblical God's attributes includes 'gracious and compassionate,' 'full of love,' and 'a righteous judge,' conveniently ignoring all the vengeful, jealous bits. At another point, the text refers to 'the American film classic' The Birth of a Nation, a cultural aside that is both embarrassingly racist and totally obsolete."
Racism, pseudo-science, religion masquerading as history, and outrageous lies have propelled Hobby Lobby's move into the courts and into our schools and newspapers from the beginning, but one thing makes David Green and Hobby Lobby more dangerous than the people taking to soapboxes and yelling at the bus passengers about God in Providence's Kennedy Plaza:
Money.
Like the Koch Brothers, who use their vast wealth to advance their bankrupt Libertarian agenda, the Greens are similarly using their money to propel high profile court cases, erect museums dedicated to bullshit and buying up ad space in newspapers across the country three times a year to advance their bankrupt Evangelical ideas. Without all that money, though, David Green is just another kook with an opinion, like you and me.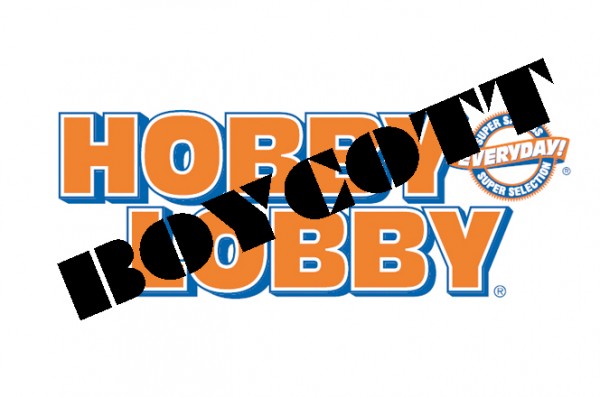 That's why tomorrow, Saturday, July 5, will be so important. Tomorrow is going to be our second Independence Day as we gather outside the Hobby Lobby store located at 945 Bald Hill Rd in Warwick from 10am to 2pm to send a message from the birthplace of religious liberty so loud even the Supreme Court will hear us. Over 100 people will be gathered on the sidewalk, holding signs and giving speeches and declaring a permanent boycott of Hobby Lobby.
Permanent means forever.
Hundreds of Rhode Islanders representing tens of thousands more will declare their intention to never spend a single penny at Hobby Lobby, ever. Our intention is to starve the beast, put this corporation with pretensions of humanity out of our misery and stand up for the values that could one day make America great.
I hope to see you there.