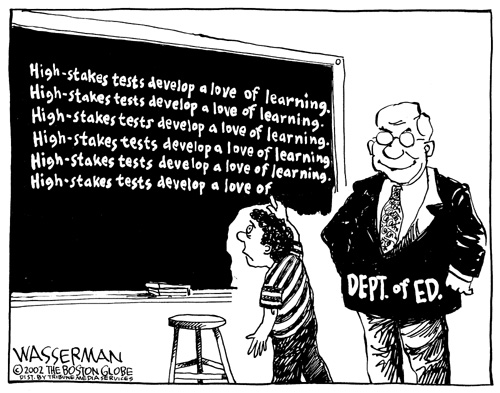 Are you fed up with the standardized test-ification of our public schools? Think that high-stakes testing has distorting effects on education? Or do you just believe that it is wrong to punish individuals for larger systemic failures?
If you answered "yes" to any of these question, then be sure to join the Providence Student Union this Wednesday at 4:00pm at the State House for a press conference protesting Rhode Island's new high-stakes testing graduation requirement!
Rhode Island is currently implementing a new high-stakes testing graduation requirement that requires students, starting with the class of 2014, to get a certain score on the NECAP to receive a diploma (a test, by the way, that was not designed to measure individual achievement). The Providence Student Union believes this policy will do nothing to improve our schools, while doing a great deal of harm to a great many students. 
Last year, 44 percent of students statewide did not score high enough to have graduated, with even higher rates in some of our more vulnerable populations (for example 86 percent of students with disabilities and 94 percent of English Language Learners in Providence did not score high enough last year to have graduated under this policy). In addition to unfairly punishing all of these individual students, we know that policies like these increase teaching to the test, particularly in the districts with the lowest scores–so the schools that most need engaging, creative learning will turn even more to drill-and-kill test prep.
For these reasons and more, members of the Providence Student Union, along with other high school students, teachers, parents, and community members are speaking out. Come add your voice this Wednesday at 4:00pm at the Statehouse!
We will be delivering messages to Governor Chafee, so if you cannot make it Wednesday but still want to make your voice heard on this critical issue, feel free to send us a short message you would like us to deliver to the Governor at: contact@providencestudentunion.org.
Protest High-Stakes Testing Wednesday At State House

,