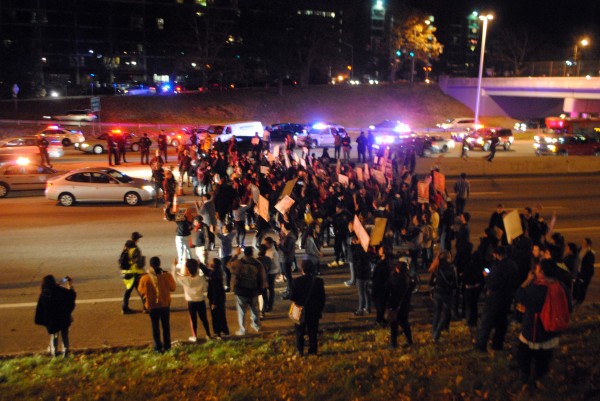 Shanna Kurland, the lawyer for five of the six people arrested November 25th for allegedly trespassing on the highway during a Ferguson protest here in Providence, asked for time to interview, "hundreds of witnesses" and view "countless hours of video" at the pretrial meeting held in district court before Judge Christine Jabour this morning.
Molly Kitiyakara, 19, Tess Brown-Lavoie, 25, Steven Roberts, 23, Larry Miller, 29 and Cameron Battle, 28 arrived in the courtroom at 9am and sat quietly as the court systematically processed other cases before finally calling each defendant separately before the judge.
The defendants and the state have not made any progress in resolving the case, Kurland told Judge Jabour. She requested all state police call recordings made before and during the arrests as part of the discovery.
The sixth person arrested the night of the protests. Servio Gomez, 23, faces more serious charges of assault, resisting arrest and the malicious damage of property. He is being tried separately.
Kurland is also a defendant in a recently-filed ACLU complaint against Providence police for violating protesters First Amendment rights by moving them away from a political event at a public park.
Judge Jabour has set the date for the next pretrial hearing for January 6, 2015.
---
---
Support Steve Ahlquist!
Protesters' lawyer wants state trooper call tapes

,