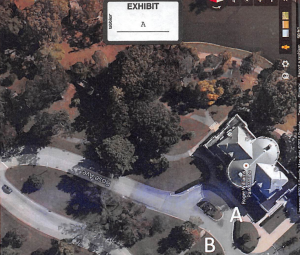 The recent protests in Providence and around the country should remind us all of the importance of our free speech rights and the power a community can have when it makes its collective voice heard. Taking to a public square to express one's political opinion is a longstanding tradition in American society and is a fundamental right that must be respected. We have seen, however, that law enforcement officers at times unnecessarily restrict protests in ways that only serve to diminish protesters' ability to share their message. As large-scale protests continue across the country, the ACLU of Rhode Island is again taking action against the Providence Police Department for violating the First Amendment rights of protesters.
Yesterday, the ACLU of Rhode Island filed a federal lawsuit against the Providence Police Department for violating the "clearly established" free speech rights of two protesters last year at a fundraiser in Roger Williams Park for then-Gubernatorial candidate, and now Governor-elect, Gina Raimondo. The suit alleges that the police department's actions amounted to a "willful" violation of the "constitutionally protected right of people to peaceably assemble and demonstrate in public parks," and seeks various court-imposed remedies, including monetary damages. The suit notes that only six months earlier in another ACLU case, a federal judge condemned the Providence police department's practice of "clearing vast public spaces" of people engaged in free speech activity without legal cause.
The lawsuit, filed by ACLU volunteer attorney Richard A. Sinapi on behalf of Shannah Kurland and Gladys Gould, stems from police actions outside a September 26, 2013 fundraiser for then-candidate Raimondo at the Roger Williams Park Casino in Providence. Over 200 people, including Kurland and Gould, gathered in the park outside the Casino with signs to protest Raimondo's controversial pension reform activities. During the course of the protest, the lawsuit claims, the two plaintiffs (along with the other demonstrators) were ordered by Providence police to move farther and farther away from the Casino, making it much more difficult for them to have their message seen and heard by individuals attending the event.
Separately, Kurland is legal counsel to five local Ferguson activists charged with trespassing for shutting down Interstate 95.
Even though she at no time obstructed traffic or foot movement, Gould was ordered to move farther away from the Casino three times. As a result, she was forced from protesting where she started, on a sidewalk within 50 feet of the Casino entrance, to an area that was about 285 feet away and also distant from the parking lot entrance. Gould reluctantly moved each time, but when Kurland refused to move to the farthest location, she was arrested for disorderly conduct, purportedly for obstructing traffic, even though she remained on the grass island at all times.
The lawsuit notes that parks and sidewalks "are quintessential public forums, and the Supreme Court has consistently affirmed the right of demonstrators to use them," and that a claim of "obstruction of traffic" is "not a talisman that can be employed to turn bedrock First Amendment protections to dust." The suit further states that since the plaintiffs "were at all times either peaceably protesting on the sidewalk or the island and in no way interfering with the flow of pedestrian traffic on the sidewalk or motor vehicle traffic in the street or ingress to and egress from the Casino, there was no legitimate governmental interest in relocating their protest on three different occasions."
Pointing to the favorable court decision the ACLU had obtained only months earlier on behalf of a Providence resident, Judith Reilly, who had been barred by police from leafleting outside a venue where then-Mayor David Cicilline was speaking, the suit claims that Providence police officials should have been fully aware of the unconstitutional nature of their actions at the Casino. The City paid $75,000 last year to settle the Reilly case.
We're asking the court to, among other remedies, declare the actions of the police a violation of Kurland and Gould's First Amendment rights, require proper training and instruction of police on the First Amendment rights of demonstrators, rule that Kurland's arrest violated her right to be free from unreasonable searches and seizures, and award compensatory and punitive damages and attorneys' fees.
There is no excuse for the actions police officers took at this event, whose only purpose was to diminish the ability of protesters to get their message across. The time has long since passed for the Providence police to act as if the First Amendment were just a suggestion.
Plaintiff Kurland said: "It's a shame that the City of Providence still doesn't respect the Constitution. I sure hope it doesn't take another arrest for them to learn that the First Amendment applies here too. If it does, I'm willing to oblige."
ACLU attorney Sinapi added: "I sincerely hope and trust that, unlike his predecessors, Mayor-Elect Elorza, who has taught law school students about constitutional rights, will acknowledge and appreciate the importance of the free speech rights violated in this case, and will act with all deliberate speed to provide relief for the injuries committed and to prevent such violations from occurring in the future.  Failure of City elected leaders to take appropriate and decisive action to remedy and prevent such conduct is only going to continue to subject the City to repeated lawsuits, each of which will inevitably cost the City tens of thousands of dollars."
Time will tell whether the new administration will take steps to resolve this matter quickly or instead seek to defend the actions of its officers in squelching free speech.
ACLU sues Providence Police again for violating protesters' free speech rights

,