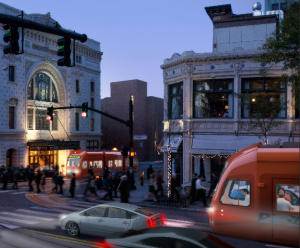 I have many points of agreement with Barry Schiller's post on a potential Providence streetcar, but my disagreements are serious enough to be worth writing about.
Barry is right to raise concern about whether the Providence streetcar is the best use of our funds. Streetcars do cost more than buses, and they don't necessarily upgrade service. The main features that make transit better–a train or bus having its own right-of-way, having signal priority, having an off-board payment system, all-door-boarding, and frequent service–may or may not be present with rail. Many Americans express a strong preference for rail because oftentimes the rail options they're familiar with have these features, while the bus lines they've been on usually have not.
A subway in New York, for instance, has its own tracks, and never gets caught in traffic. Trolleys in the Philadelphia suburbs (and I believe many of the Green Line Ts in Boston) control intersections, so that when they come to a crossing the cars have to stop and they proceed. When you pay to get on a subway or some stops of a trolley, you often will pay through a turnstile, so that when the vehicle arrives you can just get on (using all doors). There are even upgrades that can happen to subways along these lines. The frequent problem of passengers bunching up on the middle cars of a subway is now being solved by putting stretchy accordion-like connections between the cars so that passengers can spread out and reduce boarding delays.
The Providence streetcar, as currently planned, currently has none of these features (If you need convincing still on why it should have them, read this "Dissent of the Week" in Human Transit, about the Washington, D.C. trolleys).
I have criticized the streetcar, but I am currently a proponent of moving forward on it. There are several reasons for this:
Our time is better spent fighting for good service features than fighting whether or not to have a streetcar. While there are many really bright transit-supporters who have legitimate complaints about the Providence streetcar, many of the people who are against streetcars are fighting them for totally different reasons than Barry (or me).
The right has long proposed busing as a way to supplant the greater costs of rail projects, but when cities have recently attempted to take them up on it by building quality BRT routes, the Koch Brothers have banded together with state governments to stand in the way of city planners in cities like Nashville, Tennessee. I'm concerned that we'll have a pyrrhic victory if we block the streetcar, because it won't necessarily mean that we're going to get the money that was for the Streetcar given to us for buses instead. We can grow the strength of smart critics while giving no quarter to anti-transit folks by supporting the streetcar, and simply demanding better service patterns as part of it. We shouldn't be passive about this–we need to fight! But let's pick our battles.
Short routes in dense areas are okay. One big criticism of the streetcar you hear is that it's not long enough. I don't agree with this one. The comprehensiveness of our transit system is definitely a problem, but it's not because of length of routes. In fact, Rhode Island has a tendency to run infrequent "coverage" routes to places where they can't reasonably pick up large riderships, and often those routes connect from parking lot to parking lot in highly un-walkable, sprawly areas. I'm not even talking about little villages or whatnot, which I think should get transit because of their walkability even though they have low population counts. I'm talking about routes like the 54 that loop through multiple parking lots off of highway exit ramps, and as a result are bad connectors between their main urban locations–Providence and Woonsocket (RIPTA addressed the long travel time of the 54 by removing the urban stops along Charles St. and making them a separate route, the 51, but kept the suburban Tour-de-Parking-Lot stops, which just makes me smack my face with my palm every time). A short PVD Streetcar is not perfect. It should go from Central Falls (or at least Pawtucket) to the Cranston border. But the area that was chosen is a dense and walkable area with many trips that need to be covered. In fact, I think the choice to shorten the route and run it north-south between the Upper South Side and the T station is a great idea, because it makes more sense in the long-term to route a PVD Streetcar up N. Main and down through the S. Side and update the R-Line, with a separate route pulling east-west duty from Olneyville to East Providence). Pro-car thinkers (and even a lot of very earnest transit supporters look at a map and see the length of lines), but what matters is the frequency of those lines, not their length.
Streetcars are not the most expensive transportation choice we have. I agree, in principle, and spent quite a long time talking about the fact that Bus Rapid Transit is a better investment idea than the streetcar, and I know that Barry agrees. But I also know that Barry will agree with me that the streetcar is certainly not the most expensive transportation option we have. The 6/10 Connector, for instance, won't cost $100 million, but $500 million, and unlike the streetcar–the worst of which I think can be said that it will provide mediocre service–the 6/10 Connector will pull neighborhoods apart and absolutely get in the way of sustainable development. The 6/10 Connector is small potatoes compared to some of the highway-oriented crap that gets built around the country, but it actually costs the same as the entire TIGER grant program for the whole United States. So given the fact that RIDOT may imminently decide to throw a bond issue out, or grasp for federal money, in order to rebuild 6/10, I think our time is better spent fighting that abysmal attack on our landscape than trying to stop a mediocre project.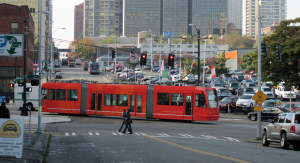 It can get better. A lot of cities have tried streetcars in part because of the Obama administration's efforts to kick-start them through the TIGER grant program (which also pays for biking and walking improvements), and some of those streetcars have done quite poorly. One such example was Seattle, which built several of them, and saw ridership goals unmet. The Seattle streetcars were sitting in mixed traffic, getting caught at lights, waiting for people to pay with dollar bills at the door, and just generally sucking in every way that a bus does. So Seattle is now working to change the streetcars so that they have rights-of-way, signal priority, and all-door boarding so that they can be highly efficient transit. Providence should build these features into the PVD Streetcar now, but even if it doesn't we can make the city do it later.
Remember, the Streetcar has a lot wrong with it. But we can make it better. And most importantly, we have bigger fish to fry.
~~~~