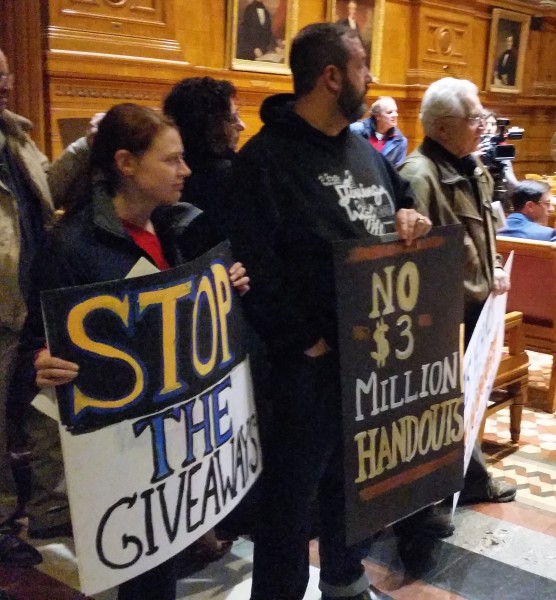 The Providence City Council has called a special meeting for Tuesday night and among the agenda items is tax stabilization agreements (TSAs) for 60 Valley Street, LLC and 166 Valley Street, LLC on behalf of the Rising Sun Mills Project. The ordinance is sponsored by Council President Luis Aponte. The details of the TSA can be found here.
The City Council unanimously rejected a similar TSA, for 100 Fountain St, in February, under intense public pressure. Aponte then said, given the city's precarious economic situation, "It's the right signal that the [Finance] Committee is sending to the public and to the [City] Council."
The TSA being considered by the council notes that the "projects been suffered serious financial setbacks and hardships as a result of the collapse of the real estate and financial markets over the past several years" and hence a five year extension of TSAs granted in 2003 and 2006 is needed. In return, "the Project Owners of 166 Valley Street will make an additional investment of approximately $5 million which shall be used to convert approximately 85,000 square feet of the building from a single tenant space to multiple commercial spaces. This will assist in the Project Owners in attracting new tenants to the Project and will create new construction and potential permanent jobs at the Project Site."
The amount of revenue Providence will lose in this deal is unclear.
Stop Tax Evasion in Providence (STEP) released a press release Monday claiming that that the Providence City Council leadership is failing taxpayers.
"You would think that the Council would be in no rush to go handing out more of these questionable extensions to projects that have already been paying very little taxes for 15 years, but you would be wrong," says the STEP press release. "While the… promise of new spending and jobs from Rising Sun Mill owners would seem welcome, there are absolutely no safeguards to ensure they will invest what they say. Thus the city can be certain of neither jobs nor permitting revenue."
The special city council meeting was announced on Friday, July 29, as big news stories broke, such as Representative John Carnevale deciding not to appeal the Providence Board of Canvassers decision that ended his re-election campaign and Attorney General Peter Kilmartin announcing the non-results of his 38 Studios investigation. Technically, the City Council went on break for August and was not due to reconvene until September 1.
As a result, this important meeting was almost missed.
The city council will also be awarding hundreds of thousands of dollars in contracts at this meeting, according to the agenda.
With little notice, PVD City Council voting on controversial TSA Tuesday

,