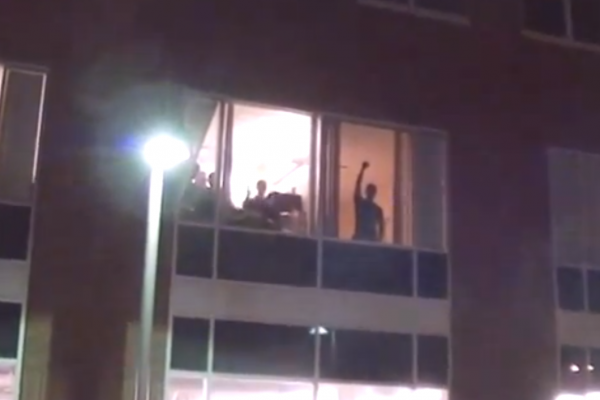 A Providence firefighter is being investigated for seemingly indicating solidarity with Ferguson protesters marching outside of the Providence Public Safety Complex last week, video of which was captured by Steve Ahlquist.
Walt Buteau, of WPRI 12, reports the firefighter, who has not been named "is the focus of an internal investigation into a gesture he made during a flag-burning protest in front of the Providence Public Safety Complex."
The alleged show of support was captured on video by Steve Ahlquist (2:30 in video below).
Providence Public Safety Commissioner Steven Pare said police officers working the protest brought the matter to his attention, and the above video confirmed the incident.
"It's a violation of rules and regulations," Pare said. "Public safety officers are not allowed to protest or get involved in political activity when they are on duty." Off duty public safety officials are allowed to express their political opinions, he added.
The firefighter could be reprimanded, Pare said but the action won't be public because it's a personnel matter, and he declined to give the man's name.
"There was no doubt he was showing support," said Pare. "When he raised his fist in support of the demonstrators, it incited them."
Pare said he would follow the same procedure if, for example, an on-duty firefighter showed support for a union protesting a Gina Raimondo fundraiser. But he acknowledged that Ferguson protesters penchant for civil disobedience adds an element not present in the other example. "Is it more concerning because of the protests across the country, where we've seen some violence and some property damage, perhaps."
Local 799 President Paul Doughty declined to comment on the issue.
RI ACLU Executive Director Steven Brown sent this statement to RI Future:
Unfortunately, recent U.S. Supreme Court decisions have severely cut back on the First Amendment rights of public employees in the workplace. Even so, seeking to punish a firefighter merely for silently expressing support for an anti-racism protest is troubling on a number of levels. After all, the City has taken the legal position that firefighters can be forced to march in a Gay Pride parade against their beliefs. It's somewhat ironic if city officials believe they can demand that firefighters participate in a demonstration of solidarity for gay rights but then punish a firefighter for quietly demonstrating support for racial justice.

The response to this incident raises other questions. According to news reports, Commissioner Pare indicated that city policy may have been violated because the firefighter should have been "neutral" in a political protest.  While we can understand why police officers should generally demonstrate neutrality in a protest in which they are engaged in crowd control, did the police officer seen hugging a young protester in Ferguson engage in conduct that would have violated Providence's "neutrality" policy? And even if such a policy makes sense for police officers in the middle of a demonstration, why must all other city employees demonstrate "neutrality" as well?  At a time of political unrest, is it a violation of "neutrality" for a city employee to publicly salute a flag in response to a flag-burning across town?

Obviously, a government agency can set reasonable limits on what employees can say or do in their official capacities, and we don't wish to minimize the complicated nature of issues that can sometimes be raised by government employee speech.  But the investigation of the firefighter's silent expression in this instance is problematic and undeserving of any sort of punitive response.
PVD firefighter investigated for Ferguson solidarity

,