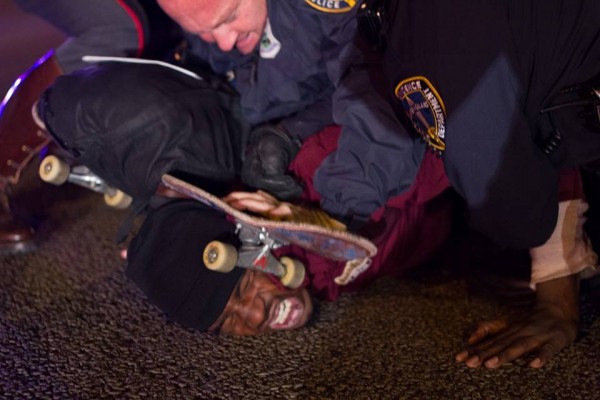 Providence police officer Robert Heaton was cleared of excessive forces allegations stemming from the arrest, pictured above, of Steven Roberts on Nov. 25 when #BlackLivesMatter protesters were blocking I-95 in Providence, according to Public Safety Commissioner Steven Pare.
"He assisted in using force necessary to effectuate the arrest," Pare said. "There were 4/5 police officers that were needed to subdue this protester.  The actions of these police officers were lawful and appropriate.  We reviewed the video and photograph and use of force reports and concluded proper force was used in this circumstance by the Providence Police Officers."
Jim Vincent, director of the Providence branch of the NAACP is calling for a full investigation. "To just make a snap judgement that it wasn't excessive force, I don't know how you make that judgment," Vincent told ABC6.
Steven Roberts, the man being arrested in the photo was quoted in a Nov. 26 Providence Journal story on the protest and arrests. "Just because Providence police aren't out there actively killing young black folk and young brown folk, they are part of an overall system that does," he was quoted in the Providence Journal as saying. "We wanted to protest against that. We wanted to disrupt the traffic just to show that."
The picture spread on social media and was first seen on Tumblr, an important tool for Ferguson activists across the nation.  ABC6 was the first traditional media outlet to publish the photo. The Providence Journal published online the police response to the photo without publishing the photo.