The Reinventing Medicaid working group unveiled 55 initiatives that are projected to result in $85.5 million in savings. Former Lt. Governor Elizabeth Roberts, tasked by Governor Gina Raimondo to head up the group, said that they are still working through over 200 suggestions, some of which may be included in the final report.
"A deadline induced series of last minute proposals," said Roberts, "will be considered over the next week."
This was the 3rd Reinventing Medicaid working group meeting and it was held in the fourth floor boardroom of CCRI in Warwick ahead of the working group's April 30 report of proposed 2016 RI state budget initiatives. The working group's final report is due in July, but working group co-chair Dennis Keefe, of Care New England, cautioned that "You can't do reform in a year. It takes five, six, seven years…"
Today's meeting took the form of a two and a half hour "facilitated discussion" with a PowerPoint presentation and specialized iPads that allowed working group members to type their questions, concerns and ideas onto the screen. This procedure had the benefit/drawback of anonymizing feedback from working group members, so it was hard to tell, for instance, who was worried about capping hospital executive salaries and who was worried about EBT card abuse.
The 55 initiatives were group by theme:
Payment and Delivery System Reforms: initiatives related to transforming Rhode Island Medicaid into one which pays for quality and value, rather than volume, and which promotes quality of care and patient experience.

Targeting Fraud, Waste, and Abuse: initiatives related to ensuring that Medicaid programs operate in compliance with state and federal law and regulation, and rooting out wasteful, unnecessary, or fraudulent spending and utilization.

Administrative and Operational Efficiencies: initiatives related to streamlining and improving state oversight of the Medicaid program.
A total savings of $85.5 million is projected so far:

Some initiatives were discussed singularly, others were grouped, and more than half were not discussed at all. The first idea to be presented was a plan to "implement an incentive program to reduce unnecessary hospital utilization funded by a 5% decrease in hospital payment rates." This is projected to save the state $15.7 million. According to the working group:
This initiative would eliminate the FY2016 rate increase for hospital services and reduce hospital rates by a further 5 % across both fee for service and managed care. Achievement of savings in the managed care products (Rite Care, Rhody Health Partners and Rhody Health Options) will be accomplished through modifications to the capitation rate.

The $31 million saved would be re­‐invested in a hospital incentive program. Hospitals would have the opportunity to earn back a portion of the $31 million based on achieving performance goals around reduction of unnecessary utilization, reduction of avoidable re-admissions, and improved coordination of care. The incentive payments earned would be paid in September 2016.
What this means is that the 5 percent in "savings" would be placed into a "pool" which hospitals can claim the following year, based on the hospitals ability to satisfy certain metrics. Medicaid dollars would be unavailable for re-hospitalizations, hospital borne illnesses and the like. Instead, the hospitals will be able to claim these dollars only if they can show that they have attained certain patient health metrics. Such a scheme may require "fast statutory changes" from the General Assembly.
The next initiative would "implement an incentive program to reduce long stays in nursing homes, funded by a 3% decrease in nursing home payment rates."
This initiative, which would impact both fee-­for-­service and managed care services, involves two components: a 3.0% reduction in rates and the elimination of an inflation related rate increase. Approximately half of the savings are associated with Rhody Health Options, and will be achieved through a reduction in capitation rates.

The $17.9 million saved would be re-­invested in a nursing home incentive program designed to avoid long stays. The program would measure discharges to the community and re-hospitalizations, and offer incentive payments to facilities that achieve high ratings on both scores.
This initiative can be thought of as similar to the first initiative, except that it would apply to nursing homes instead of hospitals, with a similar emphasis on positive patient outcomes. This initiative is seen as important since nursing home care is one of Medicaid's biggest expenses. Ultimately, nursing homes would be able to claim 2016 money in 2017 for moving patients out of nursing homes.
Savings of $4 million are projected through "home stabilization initiatives for target populations."
The purpose of the state's Health Begins with a Home Initiative (HBHI) is to make an organized set of Medicaid-­funded health and home‐stabilization services available to members of certain sub-populations. This innovative home and health stabilization program targets Medicaid beneficiaries who have complex medical or behavioral health conditions and are either homeless or at risk for homelessness or transitioning from high‐cost intensive care settings back into the community.

The HBHI focuses on the following Medicaid beneficiaries:

Target Group #1: Medicaid-­eligible children and youth with behavioral health needs in the custody of the RI Department of Children, Youth, and Families (DCYF) who are at risk for or transitioning from institutionally based or residential treatment facilities, or congregate care; and the parent(s)/caretaker(s) of these children living in the community.

Target Group #2: Medicaid-­eligible adults between the ages of 19 and 64 with serious behavioral health or physical conditions who are homeless or at risk of homelessness subsequent to military service, health treatment, or incarceration.

Target Group #3: Persons with disabilities, elders, and those who are transitioning from institutionally-­based care who have a history of homelessness, would otherwise be homeless, if not for the nursing home stay or would benefit from service upon transition due to length of stay in the institution.
Medicaid will not pay for housing, but it can support programs to keep people from becoming homeless. This is one part of the plan that will require money upfront to see savings later. Keefe said that this is the kind of program where investment could be "significantly higher" for greater savings. He was very excited about this program.
The next idea was to "scale up community health teams."
Community health teams (CHT) work as an extension of a primary care office to meet the social and behavioral needs of patients. They are a group of providers such as social workers, community health workers, nurse managers, and others who can directly address social, behavioral, and environmental factors affecting health and health behaviors. The CHT is modeled after similar highly successful programs in Vermont, Maine, North Carolina, and other states.

The RI Care Transformation Collaborative, an all-­payer Medical Home initiative, is currently piloting two community health teams: one in South County and one in Pawtucket. Each community health team works collaboratively with CTC practices in that service area and health plans to identify high-­risk patients. A number of other sites, including at least one Federally Qualified Health Center (FQHC), have developed their own Community Health Team with separate funding.

This initiative would quickly scale up the CHT and develop an organized, Medicaid-­wide approach to CHT implementation. CHTs are provided lists of high-­utilizer patients by the MCOs and collaborate with the Medical Home to address unmet needs. The result is improved utilization patterns, better health outcomes, and lower costs.
There is growing evidence, said the presenters, "that this model is effective." Sally Finger, an adviser to the working group, said that costs are difficult to determine because the idea is so new. "This is really happening everywhere," said Finger, "and it is not coordinated, which is why there isn't much data on savings."
The idea reminded me somewhat of former Rhode Island Department of Health Executive Director Michael Fine's idea for Neighborhood Health Stations. Note also that we already service about a third of Rhode Island's Medicaid recipients through nine community health centers represented by the Rhode Island Health Center Association. Community-based primary health care is definitely the right direction to go in.
The next two initiatives discussed were grouped together. Each would reap savings of about $1 million for the state.
Redesign CEDARR services program, transition to community health team approach

In keeping with the principles of paying for value in the Medicaid delivery system and reducing waste, this initiative will redesign the Comprehensive, Evaluation, Diagnosis, Assessment, Referral, Re-­Evaluation (CEDARR) Family Center package. This redesign will include a discontinuation of the Family Care Plan Review, reduce the amount of Health Needs Coordination services, as well as transfer Direct Service Review functions of the CEDARR Family Centers to state staff.

Move out-­of-­plan services for children with special healthcare needs into managed care

In an effort to increase efficiency of care and coverage for high-­‐utilizing populations, this initiative will integrate services for children with special health care needs into the continuum of care of the Medicaid Managed Care Organizations (MCOs). Services that have been out of plan for this population and will now be integrated into the MCO scope include Home Based Therapeutic Services (HBTS), Personal Services and Supports (PASS), and Respite care. Through the integration of these and like services, this initiative will provide flexibility to the MCOs to provide more evidence-­‐based, clinically appropriate, lower-­‐cost services to children and adolescents.
The coordinating of these systems will, according to the working group, "optimize care" and "reduce costs." But the question was raised, "Is the plan implementable and can the results of the plan be evaluated?" Open questions like this might call into question the estimates on savings.
The last of the big six ideas was to "coordinate care management for those with severe and persistent mental illness (SPMI)."
This initiative would create a population-­‐based health home approach for persons living with a serious mental illness. The program will reduce medical, pharmacy and behavioral health expenses for the population by better coordinating their care. All members will be attributed to an accountable health home. Providers will be paid a capitated rate for care coordination, and be incentivized for outcome measures and utilization.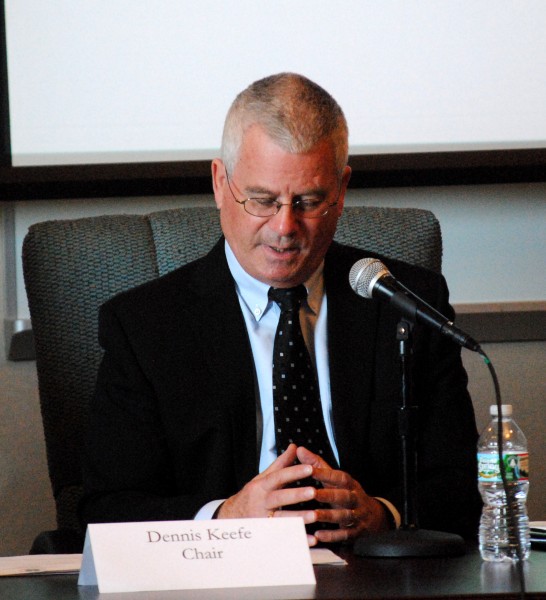 In Rhode Island, there are currently 10,450 people who would be affected by this plan. Many of the pieces of this plan are already in place. It is thought that the state will save $3 million.
The next phase of the discussion concentrated on six initiatives targeting waste, fraud and abuse. This would included Electronic Visit Verification (EVV) for home health care workers (perhaps through a smart phone app) to ensure that the state "does not pay for services which are not actually delivered." Savings could also be found by enrolling patients into Medicare, if eligible. Predictive modeling computer systems would "examine provider reimbursement policies" as well as search for inconsistencies and errors in payments.
The working group also believes that "enhanced residency verifications" that is, making sure that Rhode Island only pays for the Medicaid of Rhode Islanders, may save some money, though it was admitted that residency is "more complicated than it seems." The determination of residency rests on the intent of the patient, which is a difficult to dispute federal standard.
Next a suite of 13 ideas to reform long term care were quickly examined. The working group did not delve too deeply into the specifics, but it was noted that the state may be spending too much on Hospice care.
Towards the end of the presentation Jim McNulty, a mental health advocate, said that "I like a lot of what I see here," but added that "implementation of all these ideas will be extremely difficult."
The April 30 report will be much more comprehensive. We should expect to see more ideas put forward and for Governor Raimondo's goal of $90 million in cuts to be made. The General Assembly then goes to work dissecting the working group's plan as part of its arduous budget process.
Reinventing Medicaid working group unveils 55 initiatives

,