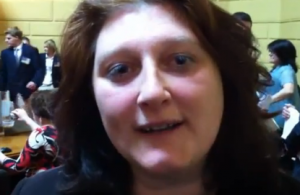 Progressive Providence Rep. Maria Cimini, said the General Assembly is balancing the budget on the backs of the poor while the richest Rhode Islanders get a pass as the state struggles through a recession.
"I think it is really crucial that everyone in our state is called upon to sacrifice when we are struggling," she said. "Over the last few years as we've been facing a recession, the General Assembly has done its job by balancing the budget. But we've done it through cutting important programs and raising fees which disproportionately impact low income and moderate and middle income Rhode Islanders. I haven't seen us call upon upper income Rhode Islanders to make the same kind of sacrifice."
[vsw id="nazmFCYdOew" source="youtube" width="525″ height="344″ autoplay="no"]
Conservative pundits and politicians counter Cimini's point by claiming rich Rhode Islanders will move to a different state if their tax breaks are rolled back. Initially, conservative pundits and politicians – led by former Gov. Don Carcieri – said tax breaks for the rich would stimulate economic growth. In hindsight, the opposite has occurred.
Cimini said the additional revenue could be used to improve urban public education or infrastructure "all things that both citizens and businesses alike say we need as a state." Popular political/economy blogger Ted Nesi said yesterday on Twitter that the bill would be stronger if the new revenue was earmarked for a specific program. Rhode Islanders for Tax Equity, a grassroots group hat advocates for a less regressive state tax policy said the money should go to struggling cities.
A blockbuster story in Sunday's Washington Post showed that one in three residents of Woonsocket can't afford to feed themselves without government assistance and that food stamp dispersal is driving the economy more than private sector innovation or need.
It remains to be seen if the local mainstream media will invest the same type of effort reporting on the Washington Post's findings about the state's SNAP program as it did in Ken Block's. The Post story showed that 33 percent of Woonsocket uses food stamps; Block's report showed that one half of 1 percent of recipients misuse the program.