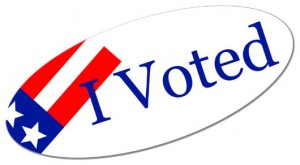 Watch for Rep. Charlene Lima to introduce legislation today to repeal the Voter ID bill that passed last session and was signed by Governor Chafee.  She has been circulating the legislation in the House and has about 15 co-sponsors.  It will likely be coming today in tandem with her press statement which was not completed yesterday.
While I'm a big fan of clean elections, I do not support Voter ID because it doesn't actually fix any of the problems that its advocates seemingly imagine are rampant.  Clearly, Voter ID will prevent the impersonation of another individual at a polling station.  I will not be able to cast a ballot in South Providence this year claiming to be Sen. Harold Metts, and that is a good thing.  But in a state that went to such great lengths to restore the vote of the formerly incarcerated, it is unfortunate that Rhode Island enacted this legislation to correct a problem that doesn't actually exist in any meaningful way.  The Brennan Center for Justice at New York University School of Law puts it like this:
Such photo ID laws are effective only in preventing individuals from impersonating other voters at the polls — an occurrence more rare than getting struck by lightning.
Voter ID merely takes a snapshot in time (quite literally) of individual voters and freezes it.  Once the IDs are issued, there is no follow up to determine residence in future elections.  Voter ID doesn't prevent people from moving from one district to another and vote in the former district, or double voting, which are what I image fraudulent voting to be.  However, the marginal benefit of voting in one district over another is exactly one vote, out of hundred, thousands, or tens of thousands (depending on the election), which is exactly why it so rarely happens.  When was the last time an election was decided by a single vote?  What Voter ID also ignores is election fraud, which is much more significant an issue, but does not involve voters at all.  To quote Scott MacKay on this point:
In recent memory, Rhode Island political chicanery has not involved imposter voters. From Almeida to Zambarano, Cianci to Celona, Martineau to Maselli, it's been the politicians, not the voters, who have been guilty of corruption.
Here are some clear examples of what Voter ID doesn't do:
Case 1:

I am a college student living in Providence and register to vote upon arrival.  After my first year I move out of the dorms into another district, but continue to vote in my original district using my Student ID.  Voter ID does not prevent this.

Case 2:

I am a business owner living in Smithfield, but operating a business in Johnston.  I use the utility bill for my business, addressed to me, as proof of my residence.  I vote in Johnston, rather than Smithfield.  Voter ID does not prevent this.

Case 3:

I use a piece of mail delivered to my house, but addressed to the previous resident, as proof of my residence.  I register to vote using this different name and vote twice using two different identities.  Voter ID does not prevent this.

Case 4:

Provisional ballots, which are valid once the signature on the ballot is verified as matching the signature on the original voter registration form, will be used for everyone who did not bring an ID to the polling booth.  I forge my address on the voter registration form, never bring an ID to vote, and cast provisional ballots at every election in a district where I do not reside.  Voter ID does not prevent this.

Case 5:

  There is another person named Brian Hull who lives in the same neighborhood in Providence (he was also born in the same year I was).  He never registered to vote, but votes at our local precinct, before I do.  My name gets crossed off as having voted when I did not actually vote.  When I appear at the polling place, I am unable to vote because the other Brian Hull already voted.  Voter ID does not prevent this.

Case 6:

There are about 1,400 registered voters on Block Island, a community which has a voting age population of just 825?  Voter ID does not prevent this.
To its credit, the Secretary of State's office understands the legitimate concerns voters have regarding the use of photo IDs to cast a ballots and it began issuing free Voter ID cards earlier this month, albeit during working hours of 8:30-4:30, Monday through Friday (I suppose if you are lucky enough to have a job, good luck getting a Voter ID if you need one).  For the period of time between January 3rd (when the Secretary of State first began issuing IDs) and close of business on January 18th, a total of 17 IDs were created and will be mailed out soon.  To increase the issuance rate, Mollis' office will be going to Senior Centers and community groups to provide Voter IDs (you just have to contact the Secretary of State's office to arrange this).  While this will be helpful, it does not actually address the problems likely to be caused by implementation of Voter ID: transient, homeless, elderly, and other population groups that already suffer from underrepresentation will be denied the right to cast a non-provisional ballot when they go to vote for lack of the proper Voter ID.
Here is the press release from Rep. Lima:
Representative Lima announced today that she plans to introduce legislation that will repeal the ill-advised and unneeded Voter ID legislation signed into law last year.

Calling it nothing more than "Jim Crow" disguised as election reform, Representative Lima said that the only reason that the Voter ID bill passed was complacency.  No-one believed Rhode Island founded by Roger Williams with a history as a sanctuary for individual rights, free thinkers and religious tolerance since the 17th century would pass such a backward leaning and anti-democratic piece of legislation whose only purpose is to rob our senior citizens, our economically disadvantaged and our growing minority population of their equality at the voting booth under the guise of make- believe voting fraud.  The proponents of voting equality were caught off guard and the bill passed.

In 1841 Thomas Dorr led a People's Convention in RI to give suffrage to many landless and voteless working citizens.  Rhode Island voters overwhelmingly supported the voting reforms and on May 19, 1842 in Providence Thomas Dorr and his militia led an unsuccessful attack against the opponents of voting reform and then fled to Chepachet where they hoped to reconvene the People's Convention.  Later Dorr was imprisoned and spent several years in prison before being pardoned in 1845.

However because of the Dorr War and the People's Convention the Rhode Island Legislature passed some of the most meaningful voting reforms ever seen in November of 1842.

By contrast in 2011 the Rhode Island Legislature took a giant and shameful leap backward in voting equality that surely caused Roger Williams and Thomas Dorr to turn over in their graves by the passage of the Voter ID law of 2011.

Twenty States in 2011 considered legislation that would have required voter ID and to the astonishment of the nation Rhode Island with its Democratic-controlled legislature and proud history of believing in the principles of the freedom and individual rights was the ONLY state with a Democratic controlled legislature to have passed a voter ID law.

Representative Lima said that the Voter ID law is anti-democratic and robs the elderly, the low income, the minorities and our of age students of their constitutional right against impediments that make their voting right more difficult to exercise.

Additionally the voter ID law will cost the State between $1.6 and $4.9 million dollars to implement properly and effectively, according to a recent study released by the Democratic National Committee and referenced in the Projo on July 6, 2011.

Representaticve Lima said, "the main reason for this law can be summed up in two words, "voter fraud".  The only thing fraudulent about voting in Rhode Island is the proponents of Voter ID claims that voter fraud is rampant in Rhode Island.  Voter fraud in Rhode Island is nothing more than a manufactured crisis to justify the passing of the voting rights killing ID law.  The only thing rampant in Rhode Island is the new migration of the Jim Crows.

It is with some degree of hope that I see so many groups and elected officials rushing to voice their opposition to the voter ID law.  Over twenty Representatives have co-sponsored my bill so far.

Also voicing opposition are groups such as the ACLU, NAACP, Univocal Legislative Minority, Progresso Latino, RI coalition of the homeless, the Providence Youth Student movement, COMMON CAUSE, Direct Action for Rights and Equality and the RI Disability Law Project.  Our full Congressional delegation has also voiced their opposition to the Voter ID law.  With their support for the passage of my legislation and the repeal of Rhode Island's voting equality bashing ID law I think we can undo the damage done to Rhode Island's reputation as a protector of individual rights and freedoms.  I will be looking for their full and public support because we must work together is we are to effectuate real change to this bad law.  I look forward to their help and support.

I will be sending this release to all the groups above as well as to our full delegation in Washington seeking their public input.
Rep. Lima to Introduce Voter ID Repeal Legislation

,