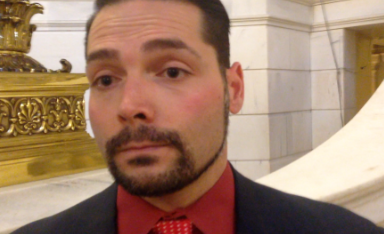 Representative Bobby Nardolillo said fellow Republican Senator Elaine Morgan should consider apologizing to the Muslim community for her now-famous offensive email that besmirched Islam and said Muslim refugees should be relegated to camps if allowed into the United States.
"I would definitely say it was offensive and she should consider apologizing," Nardolillo told me after addressing a small crowd at the State House on why America should reject refugees. "I completely disagree with her comments. She insulted a whole Muslim culture and I think that was totally inappropriate."
Morgan, a freshman senator from South County, sent an email obtained by WPRI, that said, among other offensive passages, "The Muslim religion and philosophy is to murder, rape, and decapitate anyone who is a non Muslim."
To my knowledge, Morgan has yet to publicly apologize for the politically incorrect email. A Senate spokesman for the Democratic caucus had not seen one, and asked his GOP counterpart to apprise him if one was issued. RIPR political reporter Ian Donnis said in a tweet he reached out to Morgan for further comment multiple times and has not heard back from her. According to the WPRI story, Morgan said the email should have read "the fanatical Muslim religion and philosophy."
Morgan's email was publicized nationally today, the same day Nardolillo led a scheduled event at the State House on why the United States should reject refugees from war-torn parts of the Middle East because of national security concerns. He said he didn't think Morgan's insensitive comments discouraged people from attending his event, which he said was more of a press conference than a rally.
Rep. Nardolillo thinks Elaine Morgan owes Muslims an apology

,