Catherine Cool Rumsey, a former District 34 state senator who was defeated by embattled Sen Elaine Morgan in 2014, was "horrified" by Morgan's infamous email besmirching Islam was "horrified" and said it solidified her intention to run against Morgan in 2016.
"It does not represent the district," she told me. "We need to represent our state and country in a better light."
Cool Rumsey lost to Morgan 52 to 47 percent in 2014. A one-term progressive Democrat, Cool Rumsey defeated conservative Republican Frank Maher 55 to 44 percent in 2012.  District 34 is made up of portions of Exeter, Hopkinton, Richmond and West Greenwich.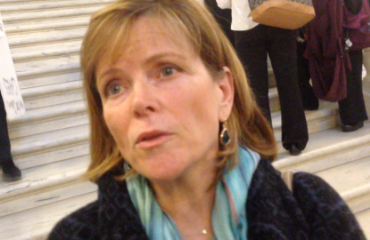 In the 2014 cycle, Cool Rumsey was endorsed by Clean Water Action, Planned Parenthood of Southern New England, RI Young Democrats, RI Progressive Democrats and the RI Sierra Club, among others.
Morgan made national headlines with an email she sent that said, among other offensive passages, "The Muslim religion and philosophy is to murder, rape, and decapitate anyone who is a non Muslim." She was writing because she doesn't think America should accept refugees fleeing war-torn areas of the Middle East.
Fellow Republican rep. Bobby Nardolillo, who held a State House event today on the same issue today, said Morgan should consider apologizing to Muslims.
Here are other stories RI Future has reported on the Syrian refugee crisis:
Cathie Cool Rumsey will run against Elaine Morgan

,