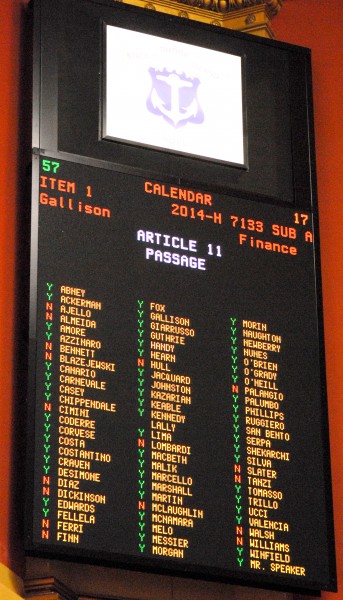 Last night the Rhode Island House passed a measure in the budget that would eliminate the ability of cities and towns in Rhode Island to set their own minimum wage. Though the bill was targeted to stifle a proposal before the Providence City Council, Representative Ray Gallison, chairman of the House Finance Committee, inserted the new state mandate into the budget bill, which effectively cut off any debate or public comment.
In an effort to combat that proposal, Rep. Maria Cimini, a Providence progressive, introduced an amendment that would allow voters in the city to set the minimum wage by ballot initiatives. But in a curious turn of events withdrew her measure after Rep. Michael Chippendale, a Foster Republican, asked if the language as written would allow cities and towns to lower the minimum wage to $2 an hour.
In response, Cimini asked that Gallison's bill be taken out of the budget and voted on separately. More debate followed, but the conservative, pro-business members of the General Assembly passed Gallison's measure 57 to 17. This with no real debate and no public comment. Democracy in action.
Along the way jokes were made, several reps pretended to understand economic policy and an exciting night of politics was had by all.
Somehow though, it was forgotten that the entire reason for Gallison's bill, the entire reason this was being discussed in the General Assembly at all, was because a small group of hotel workers, men and women working long hours for little pay and less respect, dared to believe that their democratically-elected government might work for them, instead of for the powerful forces of money and business.
One can imagine the panic on the faces of the new leadership in the House as they realized that people were rising up and demanding economic policies and laws that benefited the many over the few and the have-nots over the haves. One can further imagine the smug look of satisfaction that passed over their faces as they crafted a plan to take away the tiny amount of political power these working mothers and fathers had access to.
After all, how dare someone who has never had the money to donate to a political campaign believe that the system will work for anyone except the rich, the entitled and the well-connected. With a laugh and a smile and barely concealed contempt for everything these working men and women have attempted, Speaker Nicholas Mattiello and the Rhode Island House of Representatives stomped on the rights and the dreams of good people suffering crippling poverty as if it were the most common and expected thing in the world.
Because, sadly, it is.
RI House to hotel workers and PVD City Council: screw you

,