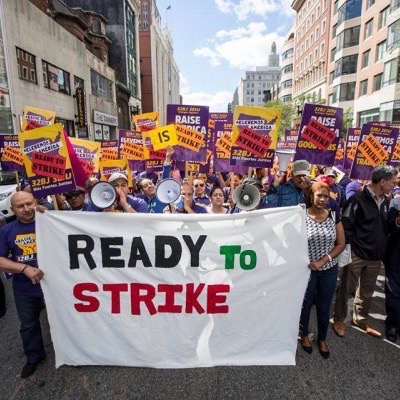 The approximately 500 Rhode Island janitors represented by 32BJ SEIU got a pay raise and avoided a strike by agreeing to a new contract with their employer, Maintenance Contractors Association New England, just hours before their current contract expired on Friday night.
The 13,000 New England janitors represented by 32BJ SEIU tentatively agreed to a new four year contract. Rhode Island janitors now earning $13.15 will see their pay increase to $14.20 over the course of the new contract.
"The agreement also moves the needle on full-time work in what is still a predominantly part-time industry and includes a new legal assistance benefit for all members," according to a news release from 32BJ SEIU announcing the deal.
"Providence is very part time," Eugenio Villasante told RI Future in a previous interview.
In Rhode Island, about 500 janitors represented by 32BJ SEIU were ready to go on strike if the union didn't agree to a new contract with employer Maintenance Contractors Association New England. According to Villasante, they work at: Fidelity: 60+; Providence College: 60; TF Green: 32; CVS: 25; Bank of America Center (100 Westminster St., owned by Joe Paolino): 19; Bank of America: 10; One Financial Plaza building (downtown Providence): 16.
Providence Mayor Jorge Elorza said yesterday he was prepared to honor the picket line, if one became necessary.
"If this situation does lead to a strike by workers, I will not cross their picket line," Elorza said in a statement to RI Future. "As Mayor, I am aware of the important role the workers of Local 32 BJ SEIU play for many businesses in Providence. While I remain optimistic that they will be able to negotiate an agreement, I am offering the support of my administration in whatever way we can help to resolve this matter. I hope that the employees' requests are taken seriously and that this matter can be resolved fairly for all involved before it resorts to a strike."
Janitors across New England hailed the new contract.
"This is the contract we need to support our families and communities," said bargaining committee member Lucy Gonzalez, who cleans terminals at Logan Airport. "I feel relieved that with this contract I will be able to keep up with the rising cost of living and provide quality healthcare to my children. I know thousands of other union members will be doing the same, all of us are supporting our communities and building our local economy."
Added Roxana Rivera, vice president of 32BJ SEIU, "The promise of America is for everyone … We are mothers and fathers, sisters and brothers; we are neighbors and community members. Many of us are immigrants from around the world and the vast majorities of us live and work in urban centers. We are building America and driving the economies of its cities. Hard working Americans like us deserve to make more than a decent living – we deserve a decent life."
500 RI janitors win $1.05 raise after strike threat

,