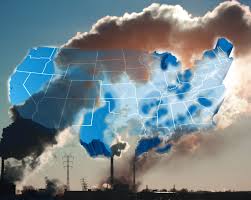 Rhode Island, and seven other nearby states, have formerly asked the EPA to require nine Midwestern and Southern states to do a better job mitigating the air pollution caused by fossil fuel industries because it affects air quality here in he northeast.
"Our goal is to eliminate Ozone Alert Days in Rhode Island," said Governor Chafee in a statement. "Rhode Islanders still face bad air days each and every summer because of air pollutants from upwind states. Stronger controls, including the expansion of the Ozone Transport Region, are needed to level the playing field and improve air quality in downwind states such as Rhode Island."
The eight states petitioning the EPA are: Rhode Island, Vermont, Massachusetts, New Hampshire, Connecticut, Delaware, Maryland and New York. The states being asked to regulate carbon pollution in the atmosphere better are: Illinois, Indiana, Kentucky, Michigan, North Carolina, Ohio, Tennessee, Virginia, and West Virginia.
The EPA will rule on whether to approve the tougher regulations for the nine Midwestern and Southern states.
According to a news release from the governor's office, anywhere form 70 to 98 percent of ozone pollution comes from such upwind states.
Abel Collins, program director for the Sierra Club said:
We applaud Governor Chafee for working to protect the health of Rhode Island families from out-of-state pollution. We are confident this is a sign that the Governor plans to take similar action to promote renewable energy locally to reduce the demand for dirty energy.

Environmental Protection Agency data shows that in many parts of Eastern states, like Rhode Island, more than half the harmful smog and air pollution associated with coal plants originates from out of state. By working together to protect our families from out-of-state pollution, these eight Governors are showing a commitment to public health and a readiness to lead our nation away from the dirty energy sources of the past toward a clean, renewable energy future.

As the cost of coal continues to rise, clean energy prices have become competitive and affordable, saving money for consumers. Governor Chafee can lead the way by acting to and invest in cleaner, healthier wind and solar power in New England.