.
Monday Dec 9, 2013
North Kingstown, RI – Good morning, Ocean State. This is Bob Plain, editor and publisher of the RI Future blog podcasting to you from The Hideaway on the banks of the Mattatuxet River behind the Shady Lea Mill in North Kingstown, Rhode Island.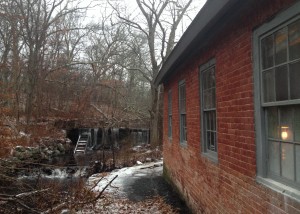 It's Monday, December 9th, and there is snow on the ground for the first time this winter but it's quickly turning into freezing rain … but   in even worse news for commuters, WPRO's hate-radio shock jock John DePetro will probably be back on the air today after a mysterious week in exile off that culminated with him calling into his own show to apologize for calling female activists whores.
The week before DePetro went into exile, the Providence Journal had reported – incorrectly I should note – that labor's attempt to get Alex And Ani to stop advertising with WPRO because of DePeptro's misogynistic comments had failed. Since then, the campaign has gone viral with several national labor leaders pushing the boycott on social networks.
In a press release on Friday, For Our Daughters, said, "This is now a national campaign and will touch Cumulus advertisers in multiple media markets." Make no mistake, Cumulus and WPRO management take that threat very seriously….
And here's the other pressure point: union strategists say they are asking every single elected official in Rhode Island to boycott WPRO until DePetro is gone.
For years, Rhode Islanders of all political stripes, including this blog, have made a moral arguments about getting rid of DePetro … credit the labor movement for speaking a language a corporate-owned radio station will listen to: their wallets. …As my weekly podcast colleague Mark Gray pointed out on Thursday, remember this next time someone tells you unions aren't doing good for everyone in the Ocean State!
Click here to sign the petition.
The other big story this week will be the Exeter recall: both the ProJo and the AP had in-depth weekend stories on the issue and RIPR plans a series on the recall for later this week.
At issue, in a nutshell, is a bunch of right-wingers and gun nuts have formed an alliance to recall the Democrats on the Town Council because they outsourced issuing gun permits to the state. But the real reason they are being recalled certainly has more to do with a provision in the town charter that calls for the next highest vote getter to replace recalled councilors. Ah, the Rhode Island Republican Party … if you can't win, find a loophole.
…Ok, I'm wondering if I read this right in today's Providence Journal: Woonsocket candidates to fill Lisa Baldelli Hunt's seat in the legislature have less than 48 hours to declare? Dave Fisher, if you're listening, get your paper work in order, because progressives all over the state would love to see you make a run for a seat in the House of Representatives.
And speaking of Woonsocket … and being in exile, for that matter, the ProJo also reports this morning that old RI Future frenemy Jon Brien is back and serving as Woonoskcet's city prosecutor … The former ALEC Democrat has been laying very low since he lost his bid for reelection … and I welcome my old pal back to the fray.
EcoRI reports that bike sharing is coming to Providence … a Portland, Oregon company applied for and received permission to start the program and is now looking for funding … might I suggest asking uber, the company that had a harder time setting up a similar business with cars…
Tonight at the Peace Dale congregational church, Rhode Islander who moved to Israel 8 years ago, will be showing a documentary on the Palestinian village of Susya, which is scheduled for demolition…
Pulitzer Prize winning investigative journalist Seymour Hersh reports that the Obama Administration didn't tell the whole truth when it came to Syria's chemical weapons programs … but what might be most interesting about this is the New Yorker, where Hersh usually drops his bombshells passed on this one. So did the Washington Post. It was published by the London Review of Books, and proofed by a former New Yorker fact checker. Someone is loosing some cache over this one: it could be Obama, it could be the New Yorker or it could be the Hersh. Stay tuned…
Hey, yesterday I found a dead otter on the side of Rte. 4, and several people were surprised we have these fury semi-aquatic mammals in the Ocean State, so I'm going to be doing some reporting on them later this week.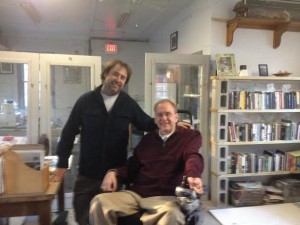 Also … I'd like to thank Congressman Jim Langevin and the thousands of other Rhode Islanders who came by the Shady Lea Mill this weekend for our annual open studios party. As I told the congressman, with more than 40 artists and artisans here at the mill, we're probably the densest cluster of commerce in the West Bay. And thanks to the general assembly, the artists here – or anywhere in the Ocean State – don't have to pay sales tax anymore. This is real live economic development for Rhode Island that maybe didn't get a ton of attention because it doesn't adhere to the normal political dichotomies … tax haters and artists rarely have cause to celebrate the same social causes but they do in this case … and rumor has it the New York Times is working on a story about it…
Today in 1921, GM engineers discovered that putting lead into gasoline was good for car engines. Two years later, when leaded gasoline was first sold to consumers, the guy who invented it couldn't make the ceremony because was bed-ridden because of lead poisoning. Lead poisoning would kill two of his colleagues and several Standard Oil employees who manufactured it. The worst part is GM could have achieved the same result by adding alcohol to gasoline, but there was no way to patent that. Not until 1995, did we finally outlaw leaded gas.
EJ Dionne, a Washington Post op-ed writer originally from Fall River, says it's cool to be a blue collar again.