Who exactly are Unitarians and Universalists? From the active congregation on Benefit Street to our spunky chapel off Broadway, the following reflection from Brian Kovacs suggests that this modern faith is actually very old, is defined as much by who we are not, as much as by who we are, and suggests there are some lessons from uncertainty.
Unitarians and Universalism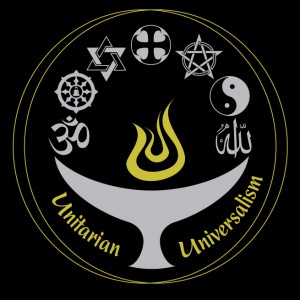 From the beginning, the strains of Unitarian-Universalism have formed a protest against core principles of Christianity — the religion of the dominant culture. Unitarian-Universalism has rejected in turn fundamentals of Roman Catholicism, Eastern Orthodoxy, Lutheranism, Anabaptism, Anglicanism and Protestantism, to name just some. Unitarian-Universalism has been and can be defined, to this day, by what it doesn't believe as much as by what it does. And that is true for many modern Unitarian Universalists as well.
For most of my life, I've begun any statement about what I believe with what I reject. I think many people come to this denomination and this church, rejecting what they can no longer accept. The core belief is disbelief. We define ourselves by what we are not.
Universalist scholars trace its origins back to the early Christian church, to the fourth century theologians Origen and Gregory of Nyssa. They held that no one was damned and no hell awaited anyone at death. Later, Universalists rejected all claims to an exclusive revealed truth. They therefore rejected biblical authority and institutional inerrancy. Everyone's spiritual salvation is a product of their spiritual quest and rational search. No revelation can supercede the genius of the rational mind. On the contrary, revelation must always be subject to reason.
 In America, Universalism grew with the new country, with John Murray and Hosea Ballou (who family has RI connections), among others — two names that be familiar to some Bell Streeters. It aligned itself with social reform and renewal: its principles included the abolition of slavery, gender equality, separation of church and state, and spiritualism. The first American ordained woman minister,
Olympia Brown, was a Universalist. The year was 1853. In later years, Universalists actively sought inspiration in religious literature and practice outside Christianity and Western culture. Spiritual insight was sought in the Bhaghavad Gita, the writings of Lao Tsu and Confucious, the Koran, Jewish Mishnah and Haggadah, and elsewhere.
Unitarianism sprang up in multiple locations in mid-fifteenth century Europe: Poland, England and Transylvania. That was the era of the Reformation. In Transylvania, the Unitarian movement got its first legal status, protection and institutional legitimacy. Unitarians rejected the divinity of Jesus, the doctrine of the Trinity, election to grace, predestination, authoritarianism in religion and special
revelation through scripture.
Unitarianism flourished in America following the Revolutionary War. At Boston's King's Chapel, settled minister Rev. James Freeman led the congregation in rewriting the Book of Common Prayer, excising all Trinitarian doctrine and references to a divine Christ. Numbers of congregational churches soon followed in asserting a strict monotheism that excluded a privileged role for Jesus except as a good man and teacher.
Non-creedal churches, Univeralism and Unitarianism had no fixed beliefs, no doctrines, no statements of faith. They believed what their members believed, taught what their churches and their schools taught, and preached what was spoken in their pulpits. It was democratic, diverse, rational and rabidly individualistic. That's hardly changed.
 Brian Kovacs
Unitarians and Universalists

,