The RI Supreme Court, in a decision written by Supreme Court Justice Maureen Goldberg, upheld what is one of the most influential pieces of criminal justice reform legislation in the past ten years.
This law, known alternately as the "Justice and Innocence Bill" and the "32(f) law," was passed in 2010 but has been on hold since 2012 due to a Superior Court ruling challenging its constitutionality. If you have never been put on probation in Rhode Island, the law might seem obscure. But if you are like the tens of thousands of people who have been sentenced to probation, this bill means something very important. It means a meaningful chance to fight a false accusation.
Prior to 2010, the law allowed people to be imprisoned for a crime for which they had been acquitted, and this Supreme Court ruling reinstates the legislation intended to end that practice.  That 2010 bill, sponsored by Representative David Segal and Senator Rhoda Perry, required what would seem on its face value to be a common sense reform–that if someone is acquitted of a crime, they be released from prison.
The Segal-Perry bill was the result of a four year legislative campaign, which involved many spokespeople telling their story, strong opposition from the Attorney General and the police, an initial veto by Governor Carcieri, and eventual passage with overwhelming, bi-partisan support. In the final campaign, the legislation even received support from former Attorney General James O'Neil.
This seven minute video (recommended for anyone interested in this issue) features a description of the probation violation system's lack of due process as explained by former Superior Court Judge Stephen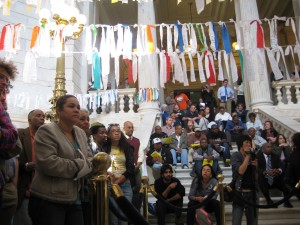 Fortunato, who states "In practice, if you  can get someone arrested, you can probably get them convicted as a violator." It also  features an interview with the late and esteemed John Hardiman, former Chief of the Public Defender, who states, "If you had all the evidence at a violation hearing you had a trial,  chances are maybe the person wouldn't have been violated, and that is the importance of  this bill." This was a grassroots struggle, with organizers from OpenDoors and DARE  at one point covering the statehouse with thousands of ribbons with the names of people on probation in the state.
John Prince, a long-time advocate and community organizer with DARE, has a story that is integral to the passage of this legislation.  John has not only spent nearly a decade fighting for this reform, he has spent over 30 years waiting for it, ever since he was falsely  imprisoned in 1982 for four years.  While on probation, he was charged with a Breaking & Entering, and despite compelling evidence that he was falsely accused, he was essentially railroaded by a system too quick to convict.  I say he was falsely accused, because I have spoken directly to witnesses (who are also interviewed  in the advocacy video) and talked to the person, one of the real perpetrators of that crime years ago, who falsely accused him.
As John's case illustrates, the reform has the potential to have a broad impact but the extent is not entirely known. While there are very few, potentially no, people who are currently incarcerated for violations who were also acquitted at trial, every probation revocation and plea bargain negotiation is influenced by the fact that the defendant knows they have no recourse through trial.  There are no doubt other cases out there like John's, cases which disappear due to the expediency of probation revocations. These cases may see the light now. This legislation and Supreme Court ruling are thus systemic reforms, with a multiplied impact due to the large use of probation in this state (the fourth highest rate in the country). In some neighborhoods in Providence, over half the adult African American men are on probation, so this reform is a unique realignment of the justice system for those communities.  In fact, no other state in the country follows the laws now in place in RI with this reform (with Illinois being the closest there is).
However, at the same time that this is a fundamental reform, it will also have a measured, limited effect.  It is not a get out of jail free card.  The actual defendant in this case, Robert Beaudoin, was not acquitted at trial until April, 2013, only one month before his two year sentence expired anyway, meaning that had the law been implemented it still would have had only a small impact on him.  Even with this reform, the state can employ a number of strong practices to protect the public whenever there is any indication a person on probation might not have kept the peace, which include holding the defendant without bail, prolonging the time until trial, and using the leverage granted by the often very long suspended sentences.  This reform only affects an individual whose case falls into a specific range of doubt—there is enough evidence to revoke their probation at a hearing but not enough evidence to convict them at trial.  Yet, even then, the actual effect of this reform will largely be to shorten incarceration periods for potentially innocent people, not free them carte blanche.
Reducing mass incarceration is ultimately a vital goal.  This was the subject of the  mass incarceration symposium last year, widely attended by policy makers across the state, and is a key goal of the Governor's Justice Reinvestment Working Group.  And as was heard at that symposium, the main drivers of mass incarceration are that, compared to the past, we are more quick to incarcerate and more likely to incarcerate for longer.  The results of this historical policy shift are stark in Rhode Island, and the crime control benefits are not wholly demonstrated.  As we look to identify what reforms can restrain this system, it makes sense to look at an important type of change—reducing the prison sentences for people that may very well be innocent.  That was the goal of the many who instituted this reform in 2010, a reform which will hopefully now finally be implemented.
RI Supreme Court upholds major probation violation bill

,