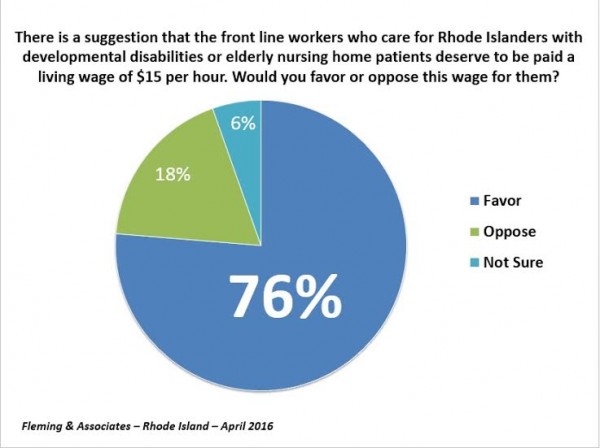 More than three of every four Rhode Islanders "favor" a $15 minimum wage for nursing home workers, according to a Fleming & Associates poll done for local labor groups.  The poll question, shared by the SEIU 1199NE, found that 76 percent of those polled support a $15 basement wage for those who "care for Rhode Islanders with developmental disabilities or elderly nursing home patients."
A similar poll last year found 69 percent of Rhode Islanders favored a $15 minimum wage for care providers.
"It's dignity," said Vicky Mitchell, a certified nurse assistant in a video released with the poll question. "You don't wanna get sick and old, and nobody's there to take care of you."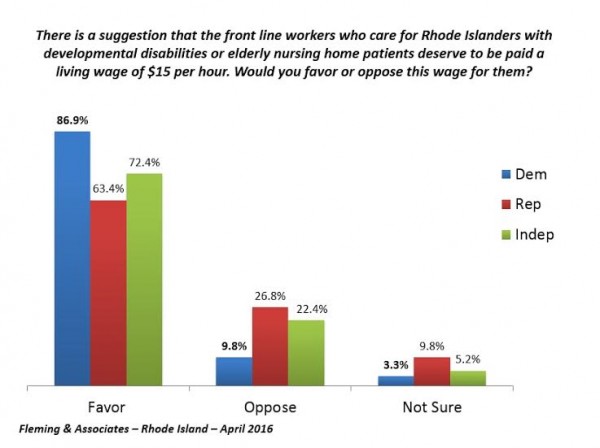 The poll showed 63 percent of Republicans surveyed supported raising the minimum wage for nursing care providers to $15 an hour with 26 percent opposing. It's unclear how many Republicans were polled. 350 Rhode Islanders were polled.
The poll was question was released to coincide with a House Finance Committee hearing on a bill that would raise wages for nursing care providers. It's sponsored by Providence Rep. Scott Slater and Sen. Gayle Goldin.
The video is the second the SEIU has produced as it fights for a $15 minimum wage in Rhode Island.