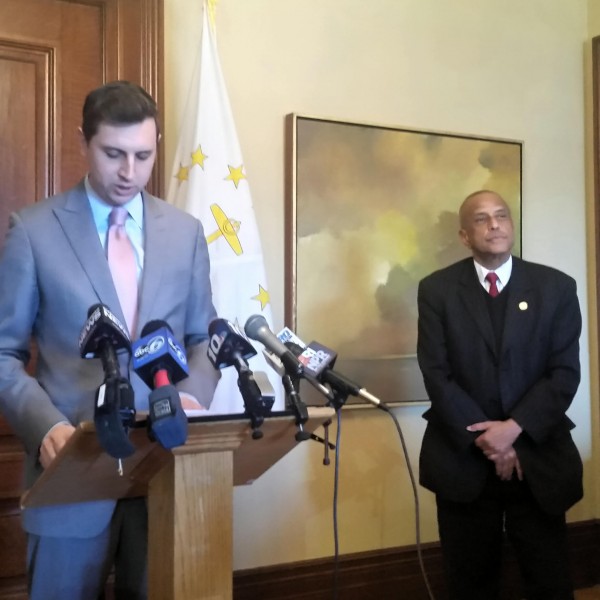 Treasurer Seth Magaziner has a plan to make corporate board rooms more diverse. Rhode Island's pension fund will vote against appointing white men to corporate boards of directors that are already comprised of mostly white men.
"Research has shown that diversity leads to better performance. It's true in government, it's true in education and its true in the business world as well," Magaziner said at a news conference today. "Study after study has shown that when you have diverse management teams in corporations those companies perform better, they perform better financially and their stocks perform better. Despite this many corporations are not doing enough to diversify their leadership and it starts at the board level."
Noting that less than 20 percent of the boards of directors for the S&P index corporations are female and less than 15 percent are people of color, Magaziner said, "This lack of diverse viewpoints hurts these companies, and hurts our pension fund."
So the state Pension Board approved a new policy to use its proxy votes in the corporations we invests in to vote against appointing white men to boards of directors that have fewer than 30 percent women or racial minorities represented on the boards.
"I believe this will improve our performance and help us financially for the members we serve," Magaziner said.
The state plans to vote against Hess, Hersheys, ConocoPhillips, Phillips 66 and EMC Corporation, a Massachusetts company, to start. Because it invests in hundreds of companies, there will be hundreds of opportunities to vote against appointing more white men to corporate boards.
"We anticipate that we will be voting against the board slates at a number of large companies because a number of large companies aren't taking this seriously enough," Magaziner said. There are no Rhode Island-based companies that the state is voting against yet, but that situation will arise.
Rhode Island doesn't have large stakes in these businesses, so it can't block any appointments. But Magaziner said it will send a message.
"There are a number of other large institutional investors who are progressive and who would care about this from an opportunity-building point of view, there are other large state pension funds, there are union funds out there," he said. "But ideology aside, everyone cares about making good returns. So what we need to do is keep taking about the fact that the research shows that stronger diversity is good for performance. We're going to keep evangalizing and beating this drum."
He said Rhode Island won't divest from companies for appointing too many white men.
"If we were to divest from these companies then the only voting members that would be left would be the ones that don't care," he said. "My philosophy is you stay engaged, you keep voting the right way and you recruit other investors to start voting the right way too."
Jim Vincent, the executive director of the Providence chapter of the NAACP, and Dariah Kreher, chairwoman of the Women's Fund of Rhode Island, both applauded the move.
"It's so important to have inclusion on the part of all Americans, not just the precious few that have always been a part of these boards," Vincent said. "We feel that it is a very important step for Rhode Island to make. To say that you can't find talented people of color to be on boards and commissions is not only insulting but it is counter-productive to having the best pension fund we can have. So it's a win, win in the state of Rhode Island today. I look forward to seeing how the companies respond to this bold initiative."
Kreher said the trend in Europe is for the government to impose quotas on corporate boards of directors. Germany, she said, recently mandated corporate boards become at least 30 percent female, and that similar laws have been passed in Norway, Spain, France, Belgium and Italy and Iceland "The EU is considering a mandate to bring the numbers to 40 percent," she said.
"Businesses in the United States don't like mandates," Kreher said. "But they might not be providing optimum returns for their investments based on the limited talent and the myopic vision of their decision-making bodies. Changes are necessary if the US is to keep up with world economy."
RI to corporations: more diversity on boards of directors

,