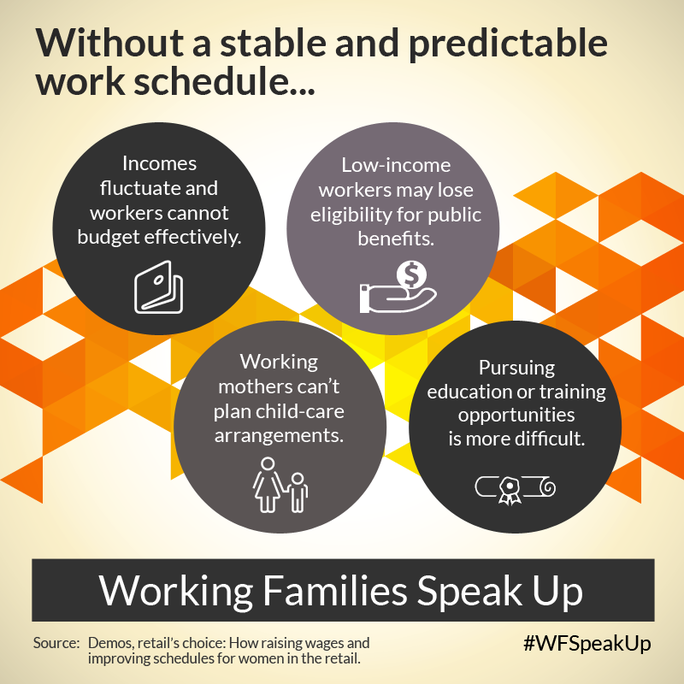 For those who did not count during the Democratic Debate on March 9th, the candidates and moderators brought up jobs 22 times as they discussed the erosion of the middle class and the lack of good jobs available to working families. Across the country, including here in Rhode Island, cities and states are seeking to raise the minimum wage and provide for paid sick leave in order to better support workers. These issues are important, we need better wages and the ability to take off when sick, but we also need more control over our time and stable work schedules to plan our lives around.
Increasingly Americans are finding that their hours of work change from day to day or week to week with little or no notice. In fact, according to research from the University of Chicago, four out of ten early career adults receive their schedule with less than one weeks notice. In addition, many who need full-time work are only offered part-time hours, and workers are treated as "on-call"- expected to be at the beck and call of their employers around the clock. We lack what used to be a basic standard: the stability of a predictable schedules, and it's taking its toll on our workforce. Even as a bank employee, I feel this change acutely.
I have worked as a customer service representative at Bank of America since 2003, and because of a disability, I rely on the bus to get to work every day from my house in East Providence. As someone who needs to use the bus, any change to my schedule could be disastrous. For example, if I get moved to the shift that ends at 10:00, I won't be able to take the last bus at 7:00.
Recently there have been indications that the bank will start "optimizing" our schedules by forcing us to bid for our hours based on performance metrics every few months. This Hunger Games scheduling forces workers to compete with each other for the most preferable hours of work. Here, our time rather than a bonus or a promotion opportunity, is the prize.
The impact of such scheduling practices is that your life becomes uprooted every time a new bidding period comes around. This is a serious concern for me because while the bus schedule is out of my control, I should have more influence over my work schedule. For so many of my coworkers who have built their lives around their schedules, this unpredictability will not work.
While shifts of work are becoming increasingly unpredictable, our time at work is becoming increasingly restricted. For example, in my case, my coworkers and I only have two and a half minutes to use the restroom outside of our breaks, and some managers dock our pay when we go over. I will never forget when a manager suggested in front of a group that my middle aged female co-worker should buy special undergarments if she needed to go to the restroom more often than allowed. Of course, instead of buying diapers, many of my coworkers risk infections or refrain from taking prescribed medications because they might cause them to use the restroom more frequently.
In the bank branches, many tellers face further indignities. According to the Center for Popular Democracy, a third of bank tellers are only offered part time hours despite many desiring full time work. Far too many receive schedules just days before a shift starts and are forced to scramble to try to provide adequate care for children and aging parents.
As a customer service representative at a bank, I believe that everyone deserves to know how many hours they will work, so they can budget effectively. And, as a long-term resident of Rhode Island, I believe our state can do better to support working people. That's why I have joined the Fair Workweek Coalition, a group of workers, labor unions, and community organizations from across the state pushing for commonsense reform so that our jobs help us live our lives, not upend them.
The legislation that we are advocating for, Fair Workweek for Rhode Island, incentivizes employers to give workers their schedules in advance and compensates employees for last-minute scheduling changes. The legislation will also help create pathways to full employment for workers who are struggling to get by on part-time hours, by requiring companies to offer available hours to their current workforce before hiring additional part-time employees.
As the legislation continues to move through the State House, the Fair Workweek Coalition wants to hear from more Rhode Islanders who struggle with erratic schedules. Please reach out to RIFairWorkweek@gmail.com to share your story with the coalition. Together, we can regain control over our time and our lives.
RI workers need fair scheduling on the job

,