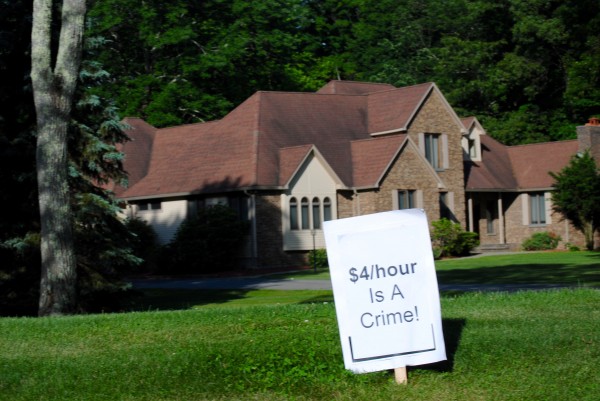 Early Saturday morning about 20 people, including former employees of Gourmet Heaven Rhode Island and their supporters, traveled by bus to Woodbridge, CT to wake up Gourmet Heaven owner Chung Cho, who owes workers hundreds of thousands of dollars in unpaid wages across two states.
Organized by Fuerza Laboral and RI Jobs with Justice, the group exited the bus and walked up the driveway towards Cho's mansion, loudly calling on him to pay his workers what he owes, even if it means selling off his fabulous home and moving into lesser digs. Cho did not show his face at the windows or respond to the crowd, but the Woodbridge Police Department did respond minutes after the action started.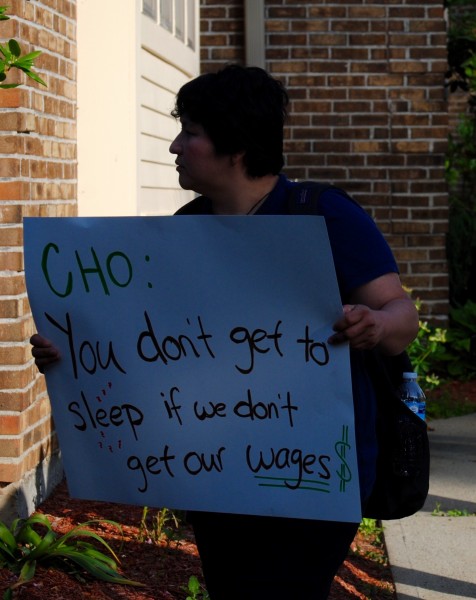 The police, once they determined that this was a peaceful labor protest, did not interfere, much to the consternation of some of Cho's neighbors. Since Cho decided against meeting with his former workers, the protesters took a walk through Cho's neighborhood, chanting and distributing flyers.
This was the morning that Cho's neighbors, if they didn't already know, learned what kind of person he is.
Chung Cho was found guilty in Connecticut of 43 violations of employment law, and was ordered to pay $140,000 in back pay to workers. In Rhode Island, Cho is accused of not paying over $150,000 in back pay. Cho denies that he owes any money. The trial is scheduled to start on Tuesday.
Pedro Guarcas, in a statement, said, "I worked in the kitchen of Gourmet Heaven in Providence for over a year. For months I worked grueling 72 hour weeks for only $400 a week. Twice I fell down the kitchen stairs carrying heavy boxes of fruit because my supervisor was pressuring me to work faster. In April of 2014, the kitchen supervisor met me out back when I was taking out the trash and punched me several times in the stomach. Eventually I had to stop working because I couldn't handle the pain in my foot and my hip where I had fallen and where my supervisor had punched me."
This is at least the second time workers have taken early morning action against business owners who steal wages. In January workers paid an early morning visit to the home of Juan Noboa, accused of owing his workers at least $17,000 in unpaid wages from his failed Café Atlantic restaurant venture. His neighbors were also displeased.
Owners of businesses stealing wages from workers should take note: You could be next.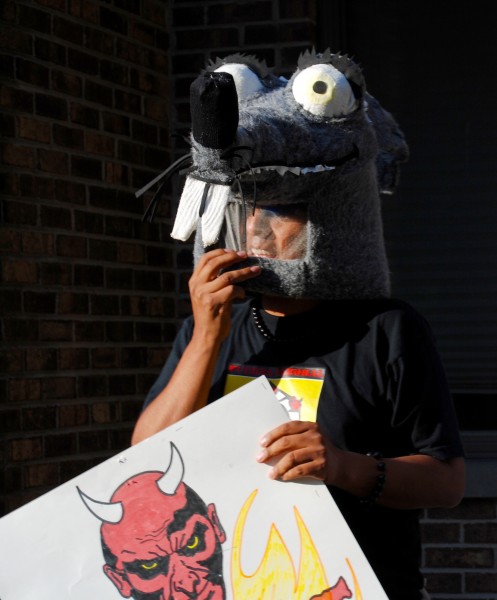 RI workers pay an early morning visit to Gourmet Heaven owner's home in CT

,