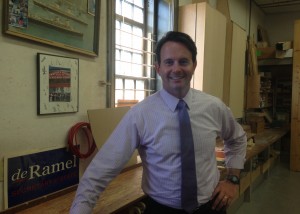 The Rhode Island Progressive Democrats of America endorsed Guillaume de Ramel over Nellie Gorbea for secretary of state.
"After extensively interviewing both candidates for Secretary of State, we voted overwhelmingly to endorse Guillaume De Ramel," said Sam Bell, state coordinator of RIPDA. "Guillaume's firm commitment to both in-person early voting and same-day voter registration is what we need to increase voter participation in Rhode Island.
De Ramel and Gorbea are in heated down-ballot primary battle to become the state's chief record-keeper, the winner of which will face Republican John Carlevale in the general election.
"I'm proud that my vision for modernizing the way Rhode Islanders vote helped earn me the endorsement of the Progressive Democrats," de Ramel said. "It's vitally important we increase civic participation and get more Rhode Islanders to cast ballots. I look forward to meeting with more Rhode Islanders, discussing the issues and building on this momentum in the weeks ahead."
 Gorbea campaign manager Rico Vota said, "While are always disappointed when we do not receive an endorsement, we look forward to working with the group once we win the September 9 primary."
"Nellie has been focusing on providing real leadership and bringing her proven experience to the Secretary of State's office, not on political endorsements," he added. "As Secretary of State, Nellie will always put Rhode Island and its citizens ahead of politics and the special interests.  She brings a fresh perspective and the years of experience that are needed to help create jobs, ensure that elections are efficient, accurate and increase voter participation, not politics as usual."
Read and listen to RI Future's interviews with de Ramel and Gorbea for more information on these two candidates.
The Progressive Dems have also endorsed Seth Magaziner for general treasurer, Jorge Elorza for mayor of Providence, Congressman David Cicilline and 17 legislative candidates.