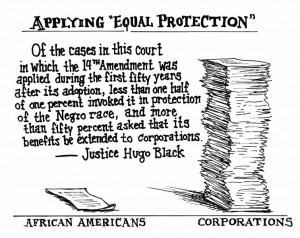 Not since Roe v. Wade has a  U.S. Supreme Court decision permeated the public consciousness quite like the Citizens United v. Federal Election Commission (FEC) case. In 2010, the nation's highest court opened the campaign finance floodgates when – in a 5-4 decision – they sided with lawyers for the anti- Hillary Clinton political action committee (PAC) Citizens United who argued that PACs not be required to disclose their donors identities or the amounts of money they had contributed.
Bold and continuing campaign finance reform in our nations capitol began in Washington, D.C., in 1971 and continued until 2002. The 1971 Federal Election Campaign Act required the disclosure of donors' identities and the amounts they contributed to federal election campaigns.
A little known Supreme Court decision that, at its heart, concluded that the spending of money equals free speech was handed down in 1976. A Supreme Court majority held that a key provision of the Campaign Finance Act, which limited expenditure on election campaigns was "unconstitutional", and contrary to the First Amendment.
The leading opinion viewed spending money as a form of political "speech" which could not be restricted due to the First Amendment. The only interest was in preventing "corruption or its appearance", and only personal contributions should be targeted because of the danger of "quid pro quo" exchanges.
The 2002 Bipartisan Campaign Reform Act – better known as the McCain-Feingold Act after the bill's primary sponsors, Republican John McCain and Democrat Russ Feingold – strengthened restrictions, but did nothing to challenge or reverse the Supreme Court's previous rulings.
Essentially, the Citizens United case boiled down to this.
According to the U.S. Constitution, corporations are afforded the same rights as people, and therefore should be given the same protections as individuals when it comes to political donations. This decision, by correlation, asserted that the spending of money equates to the exercise of our First Amendment rights to free speech. While the Supreme Court's decision may be true to the letter of U.S. law, it raised a widespread concern amongst Americans as to whether corporations should, in fact and practice, be afforded the same rights as people, and whether the spending of money constituted free speech.
[vsw id="xQqzhjstb7E" source="youtube" width="550″ height="400″ autoplay="no"]
Just this week, the Supreme Court dealt another blow to campaign finance reform advocates in the McCutcheon v. FEC ruling. In essence, the decision did not affect federal campaign finance laws, save for one small factor. Prior to the decision, individuals and PACs were forced to abide by a hard-and-fast limit on aggregated donations to political candidates or PACs in support or opposition to particular legislation or candidates.
Let's look at it this way.
Prior to the McCutcheon decision, there was a limit as to what I could donate to any and all political campaigns within an election cycle. That cap was $123,200. I could spend that total in any way I saw fit, as long as  I abided by current FEC guidelines of  $2,600 per federal candidate in each primary and general election or $32,400 per PAC in each cycle.
While the Supreme Court's decision did not eliminate the $2,600 or $32,400 guidelines, it did declare the cap of $123,200 unconstitutional. This means I can donate $2,600 to any candidate in any state, and $32,400 to any PAC in any state, without restrictions, up to infinity dollars.
If I had the money to do this, I would, but therein lies the rub.
I don't.
You don't.
98 percent of the people in the U.S. don't.
The McCutcheon decision has basically told big time donors that they can start buying candidates and PACs throughout the country, and in turn buy legislative influence.
Unfortunately, the U.S. Supreme Court has rightly ruled in both of these cases. As they stand, the only way to rescind these decisions is to amend the U.S. Constitution to say plainly that corporations are not people, and spending money is not free speech. This is where the nationwide movement to amend the U.S. Constitution comes into play.
Amending the U.S. Constitution is no small task. 38 of the 50 states must ratify an amendment. Our first step in Rhode Island is to amend our own constitution. As it stands, the Rhode Island chapter of the Move(ment) to Amend has bills before both the R.I. Senate and House. On their face, these bills do nothing, but when combined with bills in other states, we send a loud and clear message to the U.S. Supreme Court, and our legislators in Washington.
CORPORATIONS ARE NOT PEOPLE.
SPENDING MONEY DOES NOT CONSTITUTE FREE SPEECH.
Please, for the sake of our country, and our children and grandchildren, sign the petition to amend our Constitution today.