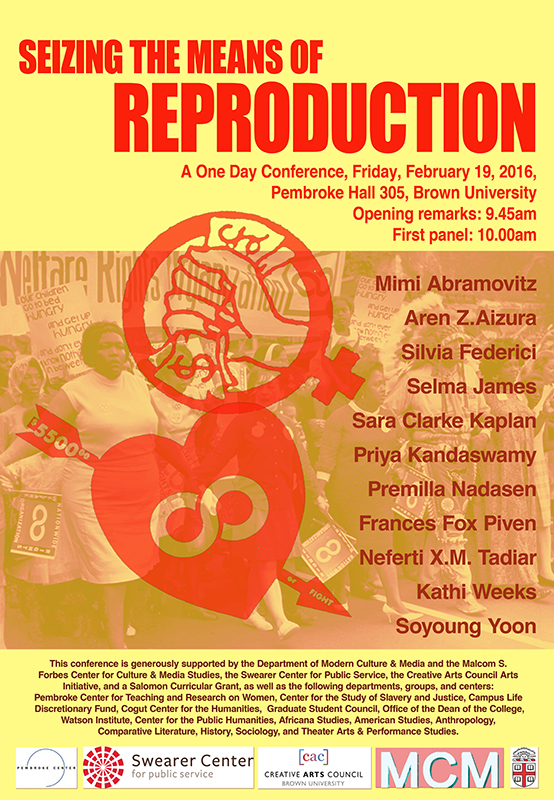 A one-day conference, Seizing the Means of Reproduction, that seeks to explore "reproductive labor and social reproduction as contested sites of struggle" will be held at Brown University on February 19, and organizers have arranged an excellent slate of presenters. Organizers Arlen Austin and Beth Capper describe the conference as tracking "the multiple historical sites, geographic locations, and activist genealogies that form and inform our collective imagination of," reproductive labor and social reproduction. "At the same time, [the conference] aims to recalibrate contemporary diagnoses of post­-Fordism by foregrounding and historicizing Marxist feminist theorizations of racial capitalism, the welfare state, and neoliberalism. "
Pretty heady stuff, but organizer Arlen Austin stresses that "all the speakers involved have one foot in academia and one foot in grassroots organizing and activist work. (Of course the two realms aren't mutually exclusive but have been more or less intertwined historically)… I absolutely think that it is meant to be for grassroots activists and young people just developing an interest in socialism, feminism and Marxism as well as people who have had the opportunity to study these traditions in a focused way through an educational institution."
There will be opportunities for local groups at the conference as well, says Austin. "We are planning a table for local organizations to present their outreach materials and hope to have representatives make brief statements about their work between presentations if we can successfully coordinate this." Groups interested should get in touch with Arlen Austin and Beth Capper.
The conference will also "revisit the legacy of the 1970's Wages for Housework and Welfare Rights movements in relation to pressing issues of contemporary social inquiry and social struggle: the international division of domestic, sexual, and caring labor; the assault on welfare in an age of neoliberal austerity; the rise of the prison industrial complex; and the question of the 'commons.'"
In conjunction with Seizing the Means of Reproduction, organizers are "launching a digital humanities archive on the international Wages for Housework movement. Drawing on materials housed in the collections of the Lesbian Herstory Archive (Brooklyn, N.Y.) and the personal archives of women involved in the movement, this digital platform will make publicly available, for the first time, photographs, manifestos and other media, many of which are unpublished or not previously available to researchers."
---
Seizing the Means of Reproduction is Friday, February 19 at 9:45 AM – 6:15 PM
Location: Pembroke Hall, Brown University, 172 Meeting St, Providence, Rhode Island 02906
You can RSVP on Facebook
---
Bios for Conference Speakers
Mimi Abramovitz ​is Bertha Capen Reynolds Professor of Social Policy and the Chair of Social Welfare Policy at the Hunter College School of Social Work. She has published widely on issues related to women, poverty, human rights, and the U.S welfare state. Her books include the award­ winning Under Attack, Fighting Back: Women and Welfare in the United States (Monthly Review Press, 2000) and Regulating the Lives of Women: Social Welfare Policy from Colonial Times to the Present (South End Press, 1996). She is currently writing a book on the history of low-­income women's activism in the U.S.
Aren Aizura ​is Assistant Professor in Gender, Women and Sexuality Studies at the University of Minnesota. He is the co­-editor of the Transgender Studies Reader 2 (Routledge, 2013) and his writing has appeared in the journals Inter­Asia Cultural Studies and Asian Studies Review, and books such as Queer Necropolitics, Transgender Migrations, and Transfeminist Perspectives in and beyond Transgender and Gender Studies. He is completing a monograph titled Mobile Subjects: Transnational Imaginaries of Gender Reassignment. His new project considers transnational circuits of reproductive labor, the political economy of immigration, and queer and trans theory.
Silvia Federici ​is Emerita Professor in Political Philosophy and International Studies at Hofstra University and a long time feminist activist and writer. She has written widely on feminist theory, women and globalization, and feminist struggles, and is the author of Caliban and the Witch: Women, the Body, and Primitive Accumulation (Autonomedia, 2004) and Revolution at Point Zero: Housework, Reproduction, and Feminist Struggle (PM Press, 2012). She is co­founder of the Committee for Academic Freedom in Africa and a member of the Midnight Notes Collective.
Selma James ​is the founder of the International Wages for Housework Campaign and helped launch the Global Women's Strike. She is the author of numerous publications, including The Power of Women and the Subversion of Community (Falling Wall Press, 1972), Strangers and Sisters: Women, Race, and Immigration (Falling Wall Press, 1986), and Sex, Race, and Class – The Perspective of Winning (PM Press, 2012).
Sara Clarke Kaplan is an associate professor of Ethnic Studies and Critical Gender Studies and the founder and co-convener of the Black Studies Project at the University of California, San Diego.  She is a scholar of Black feminist and queer theory and African Diaspora literary and cultural production. Her book, The Black Reproductive: Feminism and the Politics of Freedom (forthcoming this fall from University of Minnesota Press) explores how the expropriation, administration, and imagination of Black procreation, reproductive labor, and sexuality have been both necessary to and an endangerment of the creation and maintenance of racial capitalism in the United States. Her published and forthcoming work appears in a number of journals, including American Quarterly, American Literary History, Callaloo, Rhizomes, and the Journal of Black Women, Gender, and Families.
Priya Kandaswamy ​is associate professor and chair of Women, Gender, and Sexuality Studies at Mills College in Oakland, California. Her research focuses on the role constructions of family play in grounding forms of state power that simultaneously produce and regulate race, gender, sexuality, and class. Her work has appeared in journals such as Sexualities, American Quarterly, and Radical Teacher as well as numerous edited anthologies. Her current project develops a comparative analysis of marriage promotion and forced labor programs targeting women of color in the Reconstruction era and the late twentieth century.
Premilla Nadasen ​is a Visiting Associate Professor of History at Barnard College and has previously taught at Queen's College (CUNY). Nadasen is a long­time scholar-­activist and works closely with community organizations. She is the author of Household Workers Unite: The Untold Story of African American Women who Built a Movement (Beacon Press, 2015) and Welfare Warriors: The Welfare Rights Movement in the United States (Routledge, 2004). She is currently co­editing, with Eileen Boris, a special issue of the International Working­ Class History Association journal on organizing domestic labor. She has written for Ms, the Progressive Media Project, as well as other media outlets.
Neferti X. M. Tadiar​ is the author of the books, Fantasy­ Production: Sexual Economies and Other Philippine Consequences for the New World Order (Hong Kong University Press, 2004) and Things Fall Away: Philippine Historical Experience and the Makings of Globalization (Duke University Press, 2009). Her current book project is entitled Remaindered Life, a meditation on the disposability and surplus of life­making under contemporary conditions of global empire. She is currently Director of the Program in American Studies and Professor of Women's, Gender, & Sexuality Studies at Barnard College, Columbia University and Co­-Editor of the New York­ based Collective and journal of interdisciplinary cultural studies, Social Text.
Frances Fox Piven​ is Professor of Political Science and Sociology at The Graduate Center, City University of New York. She is the co-­author, with Richard Cloward, of Regulating the Poor: TheFunctions of Public Welfare (Vintage, 1971) and Poor People's Movements (Vintage, 1978). She is author of numerous books, including The War at Home: The Domestic Costs of Bush's Militarism (New Press, 2004), Challenging Authority: How Ordinary People Change America (Polemics, 2006), and, most recently, Who's Afraid of Frances Fox Piven?: The Essential Writings of the Professor Glenn Beck Loves to Hate (New Press, 2011). She has received career and lifetime achievement awards from the American Sociological Association and the American Political Science Association.
Kathi Weeks ​is Associate Professor of Women's Studies at Duke University. Her primary interests are in the fields of political theory, feminist theory, Marxist thought, the critical study of work, and utopian studies. She is the author of The Problem with Work: Feminism, Marxism, Antiwork Politics and Postwork Imaginaries (Duke University Press, 2011) and Constituting Feminist Subjects (Cornell University Press, 1998), and a co-­editor of The Jameson Reader (Blackwell, 2000).
Soyoung Yoon ​is Program Director and Assistant Professor of Art History & Visual Studies at the Department of the Arts, Eugene Lang College of Liberal Arts, The New School. She is also a Faculty at the Whitney Museum Independent Study Program [ISP]. In 2015-­6, she is Carol G. Lederer Postdoctoral Fellow at the Pembroke Center at Brown University as a part of its research seminar on "Fatigue," the first installation in a five­ year series on "War." Yoon received her Ph.D. from Stanford University, and holds a B.A. from Seoul National University. Yoon has published in Grey Room, Millennium Film Journal, Film Quarterly, Shifters, among other journals and books. Yoon is at work on two book projects around the re­definition of the status of the "document" in the post­war period: Walkie Talkie, regarding the rise of cinéma vérité and critiques of the hermeneutics of the self, amidst anti-­colonial struggles and development of new techniques of policing; and Miss Vietnam: The Work of Art in the Age of Techno­war, a project on feminist mediation, which re-frames technological reproducibility via the framework of reproductive labor.
Seizing the Means of Reproduction conference at Brown

,