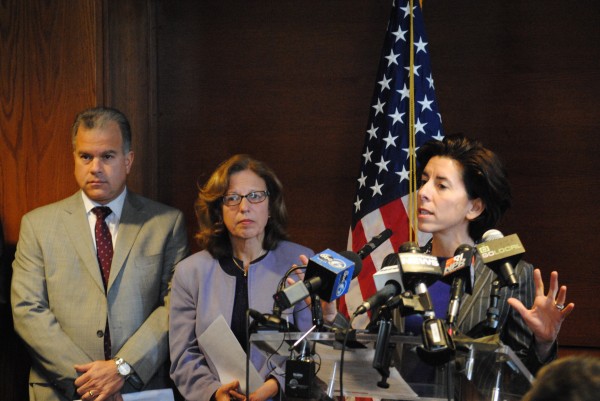 Ahead of yesterday's finance committee votes in both houses of the General Assembly approving RhodeWorks, the truck toll plan, a press conference was held at the Greater Providence Chamber of Commerce (GPCC) featuring some of Rhode Island's most powerful political, business and labor leaders. They were there to present a unified message in support of the tolls, despite vocal opposition.
One prominent Rhode Island business owner, whose business has "been a member of the Chamber for almost as long as there's been a Chamber" told me that contrary to GPCC President Laurie White's claims that this issue has been discussed with membership, he was never consulted about the plan, despite his business's dependence on trucks for shipping. In fact, he said, "I didn't even hear about this meeting until I heard about it on the radio this morning!"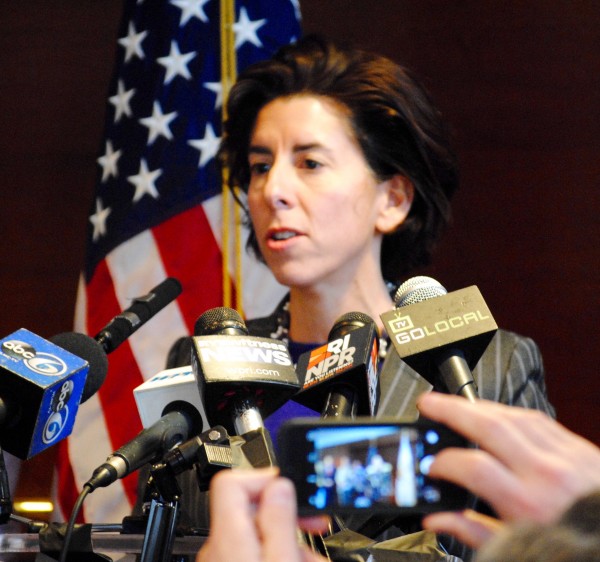 As I said before, RhodeWorks is inevitable. The legislation has been fast tracked not because there is a sudden, urgent need to fix our roads and bridges; the need for this repair is decades old. The legislation is being fast tracked because the necessary arrangements between the various parties involved have been carefully worked out, but in an election year, meaning that the sooner elected officials put this issue in their rear view mirror the better. Several legislators are going to be challenged for their seats because of their votes on this.
Not that Republican challengers are offering anything better. As Sam Bell pointed out yesterday, the Republican plan seems to be privatization, which means private businesses will take over our roads and bridges and charge whatever tolls they want to for profit, or their plan is cutting the budget, denying important social services to families in need. (Not to worry, though: Senate President Paiva-Weed promises that she and Speaker Mattiello will continue to cut the budget, cut taxes and cut services. More on this in a future article.)
The cost of RhodeWorks will be passed onto consumers. Ocean State Job Lot raised a stink over the weekend when they put their expansion plans on hold, threatening as yet unrealized jobs, but after this all pans out, Job Lot will not lose out on any profits: They will simply raise the price of their goods. This means that we are not imposing a user fee on businesses as much as we are coming up with yet another regressive tax that will affect the poor and middle class more than the rich, which is just the way our political leaders like it.
The General Assembly is expected to pass RhodeWorks today, and Governor Raimondo will sign the legislation asap. In the meantime, you can watch the full press conference below.
Laurie White, Greater Providence Chamber of Commerce (GPCC) President
RI Governor Gina Raimondo
Providence Mayor Jorge Elorza
Peter Andruszkiewicz, Blue Cross & Blue Shield of Rhode Island CEO and President
Scott Wolf, Grow Smart Rhode Island Executive Director
Lloyd Albert, AAA of Southern New England Senior Vice President
Michael F. Sabitoni, Rhode Island Building and Construction Trades Council President
House Speaker Nicholas Mattiello
Senate President Teresa Paiva-Weed
Woonsocket Mayor Lisa Baldelli-Hunt,
Central Falls Mayor James Diossa and
Lt. Governor Dan McKee were in attendance but did not speak.

Fast tracking RhodeWorks: Passing unpopular legislation in an election year

,