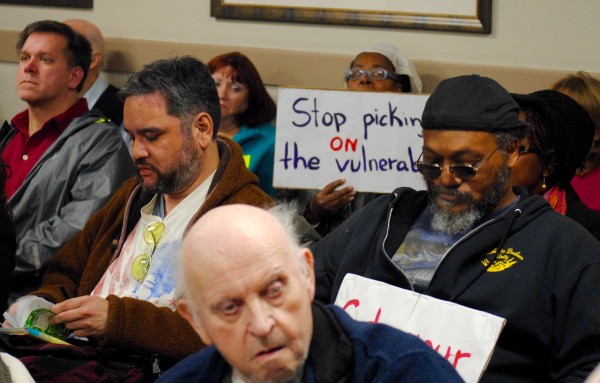 State senators Harold Metts and Juan Pichardo have requested in writing that the Rhode Island Public Transportation Agency cancel a proposal to raise fare prices on elderly, disabled and homeless riders. The two Democrats who represent poor areas of Providence wrote a joint letter to RIPTA Board Chairman Scott Avedesian, also the mayor of Warwick, and to Jonathan Womer, the director of the state Office of Management and Budget, imploring them to reconsider the rate increase.
"Hurting the most vulnerable is not the answer; and we can not support the proposed increase," they wrote in a letter.
"The elderly and disabled who are also poor are the last people who should be made to shoulder the burden of RIPTA's budget shortfalls," said Pichardo, of District 2, in a press release from the State House. "It's hard enough for them to put food on the table and keep their heat on. They don't have money to start paying every time they need to go anywhere. This is going to have a devastating effect on their households, health and quality of life."
Metts, who represents District 6, said, "Not only is this going to hurt the most vulnerable people financially, the result is going to be that these folks simply can't go anywhere. Many elderly and disabled people aren't able to walk very far, so this is going to have the effect of making them virtual shut-ins. This will isolate them on top of adding to their financial struggles. The effects of this plan are morally unacceptable, and RIPTA needs to identify a way to fund its services without doing so much harm to those least able to take the impact."
Both letters are copies in full below.
The RIPTA Board has been considering increasing fare prices on elderly and disabled riders who earn less than 200 percent of the annual poverty level income to one dollar. Currently, they ride for free.
Here's the letter to Avedesian:
October 27, 2015
Hon. Scott Avedisian, Chairperson
RIPTA
705 Elmwood Avenue
Providence RI,  02007

Dear Chairperson Avedisian,

We are writing you in opposition to fare increases on seniors and the handicapped currently being proposed by RIPTA to the Office of Regulatory Reform, under the umbrella of the Office of Management & Budget.  The sustainability of RIPTA should not be at the expense of the most vulnerable poor.

We have received several telephone calls from constituents and advocacy groups about this.  They are extremely concerned and outraged by the negative impact this will have.  The poor and handicapped need public transportation to buy food at the grocery market, keep their doctor's appointments, etc.  This population is struggling as it is; and price increases for those on limited fixed income should never have been considered.

Public transportation is the only mode for them to move about the neighborhoods, city and state. As a result of this proposed action, people will feel limited and this will affect their mental state with added stress.

Public transportation is very important to the Rhode Island economy.  We disagree; however, with the March study on revenue and technology, authorized by RIPTA.  Hurting the most vulnerable is not the answer; and we can not support the proposed increase.

Sincerely yours,
________________                                                         ___________________
Harold M. Metts,                                                               Juan M. Pichardo
Senate District #6                                                             Senate District #2

HMM

cc. Governor Gina Raimondo
Speaker Nicholas A. Mattiello
Madam President M. Teresa Paiva-Weed
Mr. Jonathan Womer, Director
Mr. Raymond Studley, Director of RIPTA
And to Womer:
October 27, 2015
Mr. Jonathan Womer, Director
Office of Management & Budget
1 Capitol Hill 4th Floor
Providence, RI  02908

Dear Mr. Womer,

We understand that the office of Regulatory Reform is under your umbrella, as the director of the Office of Management and Budget.  We are opposed to the proposed 50% fair increase by RIPTA, submitted to your agency for approval. The sustainability of RIPTA should not be at the expense of the poor, handicapped and most vulnerable.

People on fixed incomes don't have options.  This population uses public transportation to buy food at the market, go to their doctor's appointments, etc. The most vulnerable will be severely and negatively impacted.

In closing, please reject this proposal.  Ask RIPTA to find a more suitable option that we all can support.

Sincerely yours,
________________                                                         __________________

Harold M. Metts                                                                Juan M. Pichardo
Senate District #6                                                             Senate District #2

cc. Governor Gina Raimondo
Speaker Nicholas A. Mattiello
Madam President M. Teresa Paiva-Weed
Sens Metts, Pichardo ask RIPTA not to raise fare prices on elderly, disabled

,