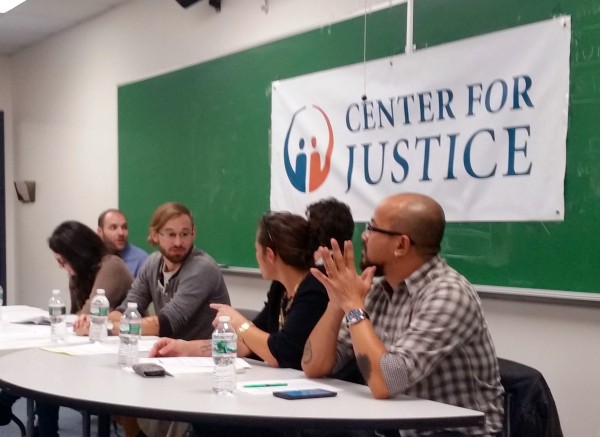 It was a packed house at the RI Center for Justice as Executive Director Robert McCreanor lead a discussion about the collaborative work of community organizers and public interest lawyers in the area of social justice. On the panel were organizers and lawyers who work with DARE (Direct Action for Rights and Equality) and PrYSM (Providence Youth Student Movement) in Providence, and MFY's Housing Project, the Three-Quarter House Tenant Organizing Project (TOP) in New York City.
What became clear over the next ninety minutes is that lawyering works in support of community organizing, not the other way around. What this means is that lawyers interested in social justice work need to "find the legal work that can support the organizers," according to Shannah Kurland, a community lawyer and Soros Justice Fellow at PrYSM.
Kurland started as a community organizer at DARE, and struggled with her decision to become a lawyer. She was "not sure if becoming a lawyer was a right fit" and asked herself, "was it selling out?"
Michael Grinthal, supervising attorney for MFY's Housing Project and Three-Quarter House Project, also started as a community organizer. For him, lawyering is a better fit, especially now as a father of a two year old. In New York, "all battles come back to housing because its so hard to live in NYC," said Grinthal.
MFY "was the legal office for the welfare rights movement," says Grinthal, making a local connection by adding, "George Wiley is one of the founding organizers in that movement."
The funding for much legal service work comes through "legal services corporation" but under a law pushed through by Newt Gingrich (in a deft example of racist legislating, I should add) "organizations that get such money cannot do community organizing," said Grinthal
Michael Zabelin, Staff Attorney at Rhode Island Legal Services and a lawyer who often works closely with DARE was never a community organizer. His work with the Harvard Legal Aid Bureau made transition to working with DARE "the obvious thing to do." Zabelin twice mentioned the influence of community lawyer Steve Fischbach on his ideas around being a lawyer. Fischbach's work around housing issues was instrumental in getting Just Cause passed a few years ago.
Paulette Soltani works with MFY Legal Services as a community organizer for the Three-Quarter House Tenant Organizing Project (TOP). TOP started five years ago to help organize tenants living in three quarter houses, described as an unregulated housing industry that pretends to offer transitional services for people recently released from prison or substance abuse centers. "They open buildings and pack 6-8 people in," says Soltani, they sometimes "force the use of certain medicaid providers, as a form of Medicaid fraud."
People living in these conditions can find themselves evicted without due cause. Often they are locked out and separated from their possessions. This can have the effect of sending these tenants back onto the streets, into homeless shelters, or into conditions that can ultimately send them back to jail or substance abuse.
As a community organizer Soltani must often deal with the immediate and personal issues of those she meets, "but the point of an organizer is to target systems" in addition to base building, outreach and leadership development. Her goal is to allow "people to develop their voices" as leaders and to work within coalitions.
Christopher Samih-Rotondo, Community Organizer at DARE and the Tenant and Homeowner Association (THA) agrees. He organizes low income communities of color in the south side of Providence. He works to develop team leaders for direct action and to effect legislative and policy change.
Samih-Rotondo spoke about Just Cause, passed because during the foreclosure crisis "banks became de facto landlords and would evict tenants without cause." With lawyers his group "developed legislation to hold banks responsible for landlord tenant act." The services DARE provides for individuals are done to "bring people in to form a movement, radicalize people, and change the system."
Shannah Kurland doesn't want this to sound too mercenary. Not all people who come to a group like DARE will stick around. Still, it's important to help them. "Here's a human being, part of our community, facing an issue," said Kurland, later adding that, "a movement isn't about one issue." People who come one year to work on an issue like childcare may come back years later to do foreclosure work.
Samih-Rotondo thinks it is important to build individual capacities in people who come to his group for help. There are many things people can do without a lawyer, if they have the rules explained to them and can be empowered to act on their own behalf.
Soltani said that it is important for community organizers to meet "people where they are and understanding why they're there in the first place. If they don't come, ask why?"
For Sarath Suong, co-founder and executive director of PrYSM, lawyers have always been required. We needed "immigration lawyers early on to end Cambodian deportations." More recently, PrYSM's work on the Community Safety Act (CSA) required careful legal writing. The CSA has "twelve provisions that will curb profiling" and seeks to free people from "state, street and interpersonal violence."
However, says Suong, "we know that policy will not save our communities. We know that communities need to save themselves, build a sense of resistance."
Kurland agrees. "There are a ton of laws to protect you," she says, "but they not enforced." People in low-income communities of color learn that "here are your rights on paper," now, "how do I stay safe on the street?" In other words, is asserting one's rights in the moment worth the risk of being arrested or beaten?
When PrYSM started back in 2001, "only the police were engaging with SouthEast Asian youth" in Providence," said Suong. PrYSM is based on Love, Power and Peace, and seeks to "hold Police accountable for the way they profile young people."
The RI Center for Justice has a mission of "Protecting legal rights to ensure justice for vulnerable  individuals, families, and communities in Rhode Island."  The Center currently works with Fuerza Laboral  on the Wage Justice Project, with the Community Action Partnership of Providence (CAPP) on the Tenant Advocacy Project and with the George Wiley Center on it's Lifeline Project.
RI Center for Justice discusses lawyering for social change

,