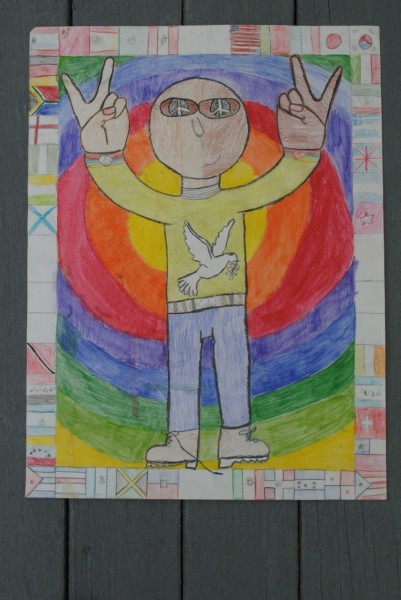 The Peace Flag Project coordinates and connects the community to events that celebrate peace during the month of September. Celebrating the Month of Peace is about working to create the Beloved Community and a Culture of Peace in our communities. A peaceful culture is one that we, as citizens, can create by how we live our lives each day.
The goal is peaceful relationships on all levels.
Our focus is on how we live with our families, friends, and community members; what kind of citizens, coworkers and colleagues we are; and, how we educate our children and work for social justice.
It is about being able to live a healthy life with meaningful work, good housing and safe neighborhoods.
It is about affirming our need for artistic expression and appreciation for culture in all its diversity.
It is about how we live on this planet and use its resources.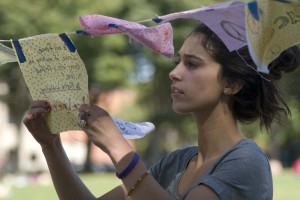 It is about appreciating the connection of all life physically and spiritually.
List of Events this Year
Month Long Events
Special Events
Monks of Gaden Shartse Dokhang Monastery World Peace Tour 2014-15 in RI: 9/5, 7:00PM, Talk: World Peace & Unity and 9/6, 9:00-3:30PM, Sand Mandala, Singing Bowl Meditation & More. Contact janetlarsonyoga@gmail.com for details.

Walk Across RI for Peace & Justice: 9/11-9/14, All Day. Walk from Westerly to Providence.  contact myager@afsc.org, karinalutz@hotmail.com or call 508-399-66-99 for details.

Peace Art Exhibit Opening: 9/12, 5:00-6:30PM. Atrium Gallery, First Unitarian Church of Providence, 1 Benevolent St, Providence. https://www.facebook.com/events/790116501041353/

RiverFest by Day: 9/13, 12:00-4:00PM. Peace Flag Workshop. River Island Park, Woonsocket. https://www.facebook.com/events/273467949522034/

Slater Park Fall Festival: 9/13-9/14, 11:00-5:00PM. 9/14-Peace Flag Workshop.    www.pawtucketartsfestival.org

Day of Honor: 9/14, 10:00-5:00PM. Peace Flag Workshop. Free Admission for Civil & Military Service, ID required. Roger Williams Park Zoo, Providence. http://rwpzoo.org/

URI Kingston Celebration of UN Day of Peace: 9/18, 11:00-3:00PM. Peace Flag Workshop. URI Kingston Campus Quad, 45 Upper College Rd, Kingston. http://web.uri.edu/nonviolence/

Peace Art Exhibit: Gallery Night Providence Tour: 9/18, 5:00-9:00PM.  Atrium Gallery, First Unitarian Church of Providence, 1 Benevolent St, Providence. https://www.facebook.com/events/1435631446717994/

PARK(ing) Day Providence: 9/19, 8:00-4:00PM. Peace Flag Workshop. Parking Space at 347 Broadway, Providence at the intersection of Broadway and Knight St.  https://www.facebook.com/events/1517020778510105/

Voices for Peace Concert: 9/19, 7:00PM.  The Avenue Concept, 304 Lockwood St, Providence.  https://www.facebook.com/events/1452773641674969/

37th Annual Heritage Day Festival: 9/20, 12:00-6:00PM. Peace Flag Workshop. Roger Williams National Memorial, 282 N Main St, Providence. http://www.preservation.ri.gov/heritage/

Peace Walk: 9/20, 3:00-6:00PM.  Walk from Memorial Park, 121 S Main St to Union Station Plaza, Providence. https://www.facebook.com/events/1467894193485457/

First Works Urban Carnivale: 9/20, 6:00PM. The Providence Rink at the Bank of America City Center, 2 Kennedy Plaza, Providence. http://bit.ly/1jKB2MD

United Nations International Day of Peace: 9/21, All Day. http://www.un.org/en/events/peaceday/

Interfaith Peace Gathering: 9/21, 12:00PM. Unitarian Congregation of South County, 27 North Rd, Peace Dale.

Aurea Presents Not About Heroes: 9/21, 7:30PM.  Slater Mill, Pawtucket. http://www.pawtucketartsfestival.org/events/September/21/2014/aurea

RI for Community and Justice Peace Festival: 9/23, 6:00-7:30PM. URI Providence, Paff Auditorium, 80 Washington St, Providence.  www.ricj.org
More information about all of the RI Month of Peace events: http://thepeaceflagproject.org/peace-month-events-sept-2014/