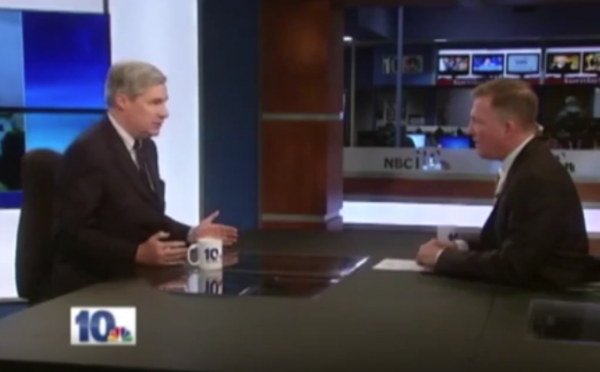 Senator Sheldon Whitehouse is one of Congress' sharpest critics of the fossil fuel industry when he's in Washington D.C. When the fossil fuel industry comes to Rhode Island, on the other hand, Rhode Island's junior senator is less sanctimonious on the subject. He's not taking a position on a methane power plant proposal for Burrillville currently being considered by the state Energy Facility Siting Board.
"The Senator believes this is an issue that should be left for the state siting board and DEM to decide," said Whitehouse spokesman Richard Davidson in an email to RI Future on Tuesday. "He feels his time is best spent fighting for national efforts to limit greenhouse gas emissions."
Davidson was reiterating remarks the senator said during a recent appearance on NBC10 News Conference that seemed to contradict an earlier WPRI report that Whitehouse "supports" the project. "I did not take a position, and I do not intend to take a position," Whitehouse told NBC10's Bill Rappleye.
"As a general proposition I'm opposed to fossil fuels," Whitehouse said. "Nobody fights harder than I do in the Senate to try to knock down the fossil fuel industry, break it's grip on the Senate and let us solve the problem of climate change."
But he clearly doesn't oppose the methane-fueled power plant proposal in his home state.
"To the extent all we are doing is taking out choke points that create artificially high prices for Rhode Islanders or creating potential spikes in electricity when there is very high demand that goes beyond way above regular prices, I'm not going to object to those things," he told Rappleye. "I object more generally and categorically to having our dependence on fossil fuels."
The proposal for a new fossil fuel power plant in Burrillville has pitted environmental activists, Burrillville residents and, more recently, local legislators against Governor Gina Raimondo and Invenergy, the company that wants to build and manage the facility. Raimondo and Invenergy promise lower energy prices while activists and locals say the project guarantees fossil fuel production for another three decades while diminishing the quality of life in bucolic Burrillville, a small rural town in northwestern Rhode Island.
Whitehouse was seen as an important bellwether on the proposal because of his ongoing efforts in Congress to call attention to the physical and economic dangers of climate change and continued reliance on fossil fuels. For more than two years, Whitehouse has delivered "Time To Wake Up" speeches on the senate floor that detail the dangers of climate change and dishonesty of the fossil fuel industry.
Local environmentalists were disappointed Whitehouse didn't oppose the project. They were more disappointed that he told WPRI there was no push back from environmentalists. "From the larger environmental movement – the Save the Bays and the League of Conservation Voters and the Nature Conservancies and all that – there's no blowback whatsoever. They understand the difference between the national and the local concern," Whitehouse said, according to the WPRI report.
But a subsequent RI Future report showed Save The Bay and the League of Conservation have not taken positions on the proposed power plant. And the Environment Council of RI, of which the Nature Conservancy is a member, took issue with Whitehouse's characterization of the political ramifications. "To be clear," said the group in a news release. "ECRI strongly opposes the proposal to build a new, long-lived fossil-fuel plant in Rhode Island, because building this plant would make it impossible for the state to meet its short-, medium-, and long-term goals for carbon-emission reductions."
Below is a transcript of Whitehouse's remarks to Bill Rappleye and the full episode of NBC10 News Conference:
As a general proposition I'm opposed to fossil fuels. Nobody fights harder than I do in the Senate to try to knock down the fossil fuel industry, break it's grip on the Senate and let us solve the problem of climate change.

What happened in this case is that there are two, I think, facilities and one of them bid into the auction and was selected so that's going to be part of the process going forward. there's another one that did not bid into the auction but may bid into later auctions or they may try to sell power somehow on the side and that goes into our grid and is part of the process…

I did not take a position, and i do not intend to take a position, in the siting decision that is made or in the auction. there really isn't a role for a member of congress either in a siting decision which is a contested administrative matter where we really aren't supposed to try to interfere or in the  capacity auction. so I've stayed out of that. I understand the point that we have these terrific spikes in energy prices and we have variances in energy prices particularly natural gas prices in the northeast versus other places where they pay way lower prices because of choke points in the system.

And to the extent all we are doing is taking out choke points that create artificially high prices for Rhode Islanders  or creating potential spikes in electricity when there is very high demand that goes beyond way above regular prices I'm not going to object to those things. I object more generally and categorically to having our dependence on fossil fuel and the way I'm best positioned to fight that is to fight every week every day in the senate to getting something done and I would say we are actually closer than we have ever been to making sure president's clean power plant stays or getting a carbon fee that adjusts the whole market so the subsidies for fossil fuels are levelized and are no longer given that advantage.

You have to allow administrative procedures to take their course everybody has a chance to say their peace but for a senator or a congressman to try to but into a ongoing administrative proceeding is something that can create an ethics problem and is usually seen as an improper interference. people in that process are entitled to have that be a fair process that comes to its own decision without a senator leaning on it."
Sheldon Whitehouse won't take a position on Burrillville power plant proposal

,