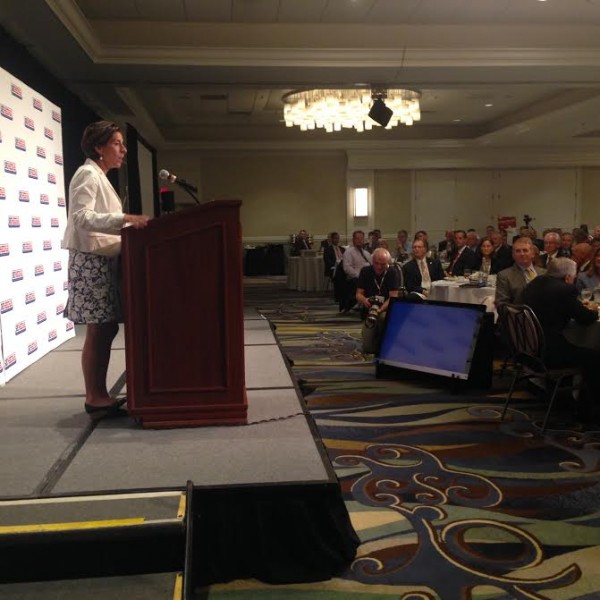 Governor Gina Raimondo spent Tuesday traveling around southern Rhode Island celebrating economic victories. But as her visits to Newport and Westerly indicate, not everything that benefits the Ocean State economy is necessary good for the rest of the world.
In Newport, Raimondo spoke at the annual conference of the Southern New England Defense Industry Alliance, a sort of chamber of commerce for the military industrial complex in southern New England. "We need to focus on what we are good at and we are good at defense," Raimondo told the group at the Newport Hyatt Regency Hotel on Goat Island.
The defense sector is an important economic engine for Rhode Island, to be sure. According to a 2014 report from SENEDIA, there are more than 32,000 defense-related jobs in Rhode Island – about 6 percent of all jobs in the state. But there are obvious downsides to profiting from warfare. Providence-based Textron is the last North American company to still make cluster bombs and these controversial weapons of war are sold to Saudi Arabia and have been used on civilians in Yemen, for example.
"Of course we wish we lived in a world where this isn't necessary," Raimondo told me after her speech. "I wish there was no need for any of this. It's an issue that I think we all grapple with. But the reality is we live in a very unsafe world, so it's our job to protect our people."
Later in the day, Raimondo went to Westerly to welcome Ivory Ella, a clothing company, to Rhode Island. The online retailer that employs about 40 people was convinced to relocate from Groton, Connecticut to Westerly with the help of $362,000 in tax credits from Raimondo's Commerce Corporation.
"My good day today is not a good day for the governor of Connecticut," Raimondo said to me.
"But," she added a little later on in our conversation, "I hear your point."
The point is that when one state pays a company to relocate there, it is also paying that business to damage another state's economy. There's been much written and said about states poaching jobs from one another – the Washington Post, the New York Times and the Providence Journal have each documented the downside of the practice.
Raimondo said it isn't her job as governor of Rhode Island to worry about other state's economic hardships.
"I'm elected by the people of Rhode Island to take care of Rhode Islanders," she told me. "I've got a mission and my mission is to expand opportunity here."
In some ways it's great that Rhode Island has a thriving military industrial complex. And in some ways it's great that we can poach jobs from Connecticut. But in the grand scheme of things these both seem like bad long term investments for our society, if not our economy. Unless, of course, you assume the United States and Rhode Island will always be at war with other parts of the world, including Connecticut.
Sometimes economic development looks a lot like war and stealing

,