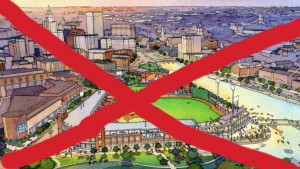 Perhaps there is something in the water on Smith Hill that infects speakers of the Rhode Island House with hubris. Perhaps it's a side effect of suddenly being called, "The most powerful politician in Rhode Island."
Keeping in mind that the speaker is not elected to his office by the citizens, but anointed by his peers, it is disturbing to read the news blips that report "progress" in the negotiations around a new PawSox stadium.
As we all know, the team, which has lost 80 of the 129 games it's played (as of this writing), made a pitch to take over prime state-owned real estate in downtown Providence.
Claiming that McCoy Stadium, which was also subsidized by the citizens, was beyond repair, the Sox asked for an audacious blend of tax breaks, zoning variances and a huge subsidy—or else they might be forced leave Rhode Island.
This blend of corporate welfare and blackmail was greeted with loud disdain by voters on both sides of the (lopsided) aisle.
In short, the Sox struck out, and most of us went on vacation—although not on a paid junket to Durham —glad to see the end of the deal.
Now, House Speaker Nicholas Mattiello claims to be "very close" to an agreement—even though terms have not been publicly announced.
Really? Simply by making this announcement, Mattiello has lost an edge as a negotiator. So already, I can predict that no matter how much the terms of this "deal" have changed, it will still be sweet for the Sox.
The land that the speaker and the Sox want to blight is currently designated as open for space stormwater mitigation and parkland for citizens and taxpayers to enjoy.
The politicians are afraid that if they don't "do something" then they will be excoriated for "losing the Sox" and faulted for not creating jobs.
But if it is bulldozed through the legislature, what will a stadium really offer Rhode Island? A short-term construction boom, a handful of seasonal minimum wage part time jobs, a seasonal sports and entertainment complex on prime real estate in the heart of the city, decreased parkland, increased traffic congestion and parking challenges on game days, and tax dollars funneled to a for-profit organization.
How is it possible that Mattiello and his happy team of yes-men-and-women forgot the last time that Rhode Island subsidized a baseball player's dream?
It's time to call game over at 38 Stadium on account of faulty rainmaking.
Speaker Mattiello swings early at Pawsox second pitch

,