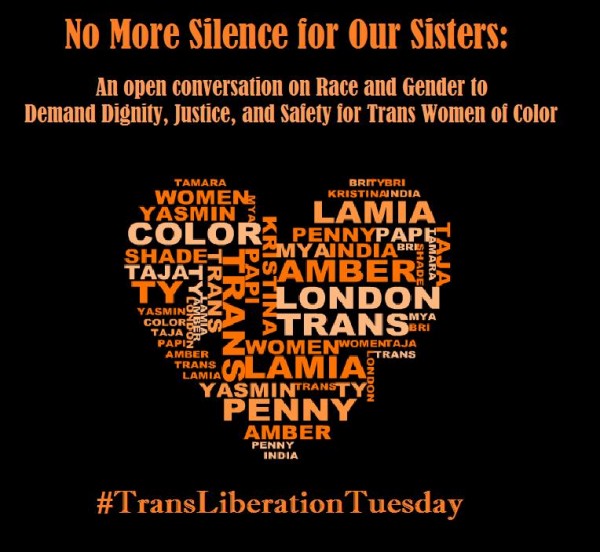 August 25th brings a nationwide direct action effort, building solidarity and organizing coalitions to end the rampant violence targeting trans women of color. The past month has seen a marked increase in the already-high rate of murders targeting this community, leading groundbreaking actress and activist Laverne Cox to declare a state of emergency for trans communities of color.
Ms. Cox describes the structural inequities facing trans women of color, including employment opportunities, housing, and health care. Discrimination in the workplace, in healthcare access, and in housing are well-documented by efforts such as the National Center for Transgender Equality's survey work. However, the multiplicative effects of white supremacy selectively victimize trans women of color.
In 2015 alone, twenty trans women have been murdered. The overwhelming majority of these women were women of color, and in over half of these cases, no charges have been filed. However, it is likely that this statistic is an underestimate. Often, the bodies of murdered trans women are burned or left to decompose, destroying clothing. Autopsy protocols often identify the victim's gender based upon anatomy. In these cases, the community members must identify the victim as a trans woman.
As Ms. Cox states, "Your life should not be in danger simply for being who you are." The killing of Deshawnda Sanchez illustrates the pervasive nature of this violence, as she was killed "pounding on (a) door, seeking help".
The #SayHerName hashtag has created a movement to recognize and mourn the trans women lost to violence. This hashtag serves two purposes – first, it creates space to memorialize the women lost to violence. However, the hashtag also recognizes that many of these women were disrespected even in death, with many media outlets referring to them as "transvestites" or "men in drag". This hashtag also recognizes a tactic of anti-Black racism, in which irrelevant mugshot photos are used to identify Black victims of violence, serving as a form of character assassination.
Unfortunately, the rampant murder rates facing trans women of color are only one facet of a much larger system of violence.
Trans women face extreme rates of violence in detention facilities run by Immigrations and Customs Enforcement, due to the practice of detaining trans women along with men. Pressure from activist groups has led ICE to develop new practices, which will detain individuals based upon gender identity. However, the case of Nicoll Hernández-Polanco has shown that prison guards are often complicit in sexual harassment and assault. Furthermore, detained trans women are still vulnerable to administrative segregation in solitary confinement, which is considered a form of torture.
Furthermore, trans women of color suffer racial profiling by police. Officers profile these women as sex workers. In her memoirs, Sylvia Riviera describes police harassment and detention of these women leading up to the Stonewall Riots. But decades after Stonewall, trans women of color are still profiled and detained. The arrest, detention, and acquittal of Monica Jones has brought attention to modern-day profiling of trans women of color. Monica Jones, a Black trans woman, was arrested under the terms of a Phoenix, AZ "manifesting prostitution" ordinance. Grassroots resistance against the ordinance has centered around the extremely vague language and the substantial degree of individual officer judgement involved with its enforcement.
Finally, as people of conscience, we must engage ourselves in solidarity with trans women of color. We must ensure that the nationwide day of action is not interrupted with news of another murder.
#TransLiberationTuesday demands end to violence against trans women of color

,