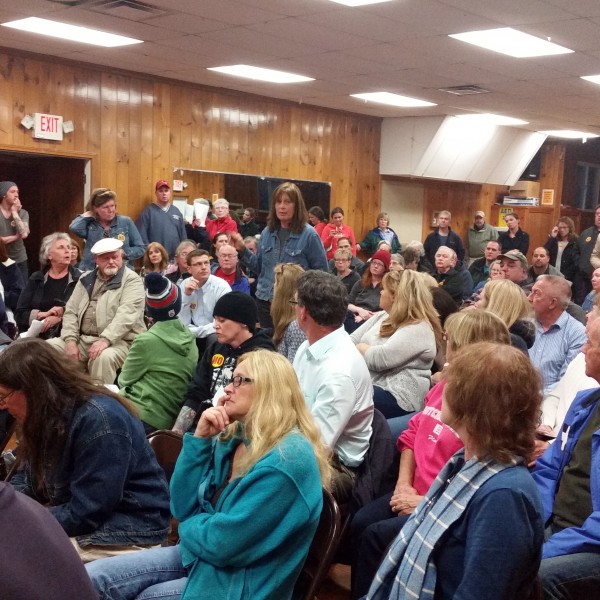 "I don't [want to] throw cold water on your parade here," said Burrillville Town Manager Michael Wood, "but you can't simply just determine a tax at will and tax somebody… It's not fair to leave you with the impression that this can be done when it can't be done."
Problem is, Wood is wrong.
Wood was speaking to around 150 Burrillville residents at a "Town Council Special Meeting" held to answer questions and concerns regarding Invenergy's proposed $750 million fracked gas and diesel oil burning electrical plant.
Nick Katkevich, from the Fang Collective, had just read from aloud the relevant passage from the RI General Laws concerning Burrillville and energy plant taxation, as quoted in RI Future:
44-3-30 Burrillville – Property taxation of electricity generating facilities located in the town. – Notwithstanding any other provisions of the general laws to the contrary, the town council of the town of Burrillville is authorized to determine, by ordinance or resolution, an amount of taxes to be paid each year on account of real or personal property used in connection with any facility for the generation of electricity located in the town, notwithstanding the valuation of the property or the rate of tax.
Council president John Pacheco told Katkevich that the item wasn't properly on the agenda.
Burrillville resident Kenneth Putnam Jr. then rose and asked a follow up question, which provoked Wood's response.
This exchange was provoked by a piece I wrote, in which I consulted with lawyers on background. To check my logic, I wrote Jerry Elmer, a Senior Attorney at the Conservation Law Foundation for his opinion. Elmer is an expert in climate change and renewable energy law and has literally written many of the laws currently on the books in Rhode Island regarding energy and climate.
Elmer's response to my query is worth quoting in its entirety:
The Rhode Island state law on this matter is clear and unambiguous, even if not everyone is familiar with the law.  The Rhode Island statute I am referring to is R.I. General Laws § 44-3-30.  That statute gives the Town of Burrillville (which, legally, would act through the Town Council) the right to set the real estate taxes for any electricity generation plant within the Town (including, but not limited to Invenergy) at any level the Town wants.  Importantly, the level at which the Town taxes the energy plant (such as Invenergy) need not be sensible or reasonable.  For example, the Town could legally charge Invenergy $1 per decade in property taxes.  The Town could legally charge Invenergy $1 billion per week (or per day, or even per hour) in property taxes.  One could have a reasonable argument as to whether any of those tax levels I just mentioned are sensible, or whether (or not) they represent good public policy.  But under that statute (RIGL 44-3-30) they are legal.

"It is also important to note that the statute explicitly says that this is true notwithstanding any other state law to the contrary.  Thus, even if someone could point to a different state law on municipal property taxation, the provisions of RIGL 44-3-30 would trump that other (possible) law.  The statute also is true notwithstanding what tax rate the Town of Burrillville has on other properties (like local homes and businesses).  The statute is also true notwithstanding the actual valuation of the Invenergy power plant.

"The short of it is that there is a specific, very detailed, state law that speaks to this exact question, and which trumps other state laws.  By law, the Burrillville Town Council can set Invenergy's property tax at any level it chooses; and, if the Town Council chooses, it has the legal authority to set that tax rate so high that Invenergy would pack its bags immediately and leave the Town forever."
Earlier, Councillor David Place interrupted Katkevich, asking everyone present that even if the law as written and understood were true, "How long do you think it will be before that law is changed, if the Governor and the General Assembly want to pass the plant?"
Changing the law in the middle of negotiations to favor one party over another would be a pretty big move on the part of the Governor and the General Assembly, especially in the face of widening opposition to the plant and the rising unpopularity of our elected leaders. And the very idea of changing the law in that way is of dubious legality. But that's a question for another day.
The "Town Council Special Meeting" was held in the Beckwith-Bruckshaw Memorial Lodge, a place with no microphones. From the beginning people in the back had difficulty hearing the proceedings. Only three Town Councillors, John Pacheco III, Stephen Rawson and David Place, attended. Town Planner Tom Kravitz gave a short presentation and answered many questions from those in attendance.
The general tenor of the meeting was one of distrust and exasperation. For instance, while the Town Council won't reveal any details of tax deal negotiations with Invenergy, on Dan Yorke's television show State of Mind, John Niland, Development Director for Invenergy and the company's public face for the project floated the number $3.6 million a year in taxes and rising, over 20 years. This was more information than has ever been volunteered by the Burrillville Town Council.
The people of Burrillville have real concerns. Time and again Town Manager Wood says he "can't discuss the particulars" of the pending deal with Invenergy, provoking those in attendance last night to reply that they "get all our information" from John Niland on Dan Yorke. In the video below, a resident points out that in her email exchange with Wood, the Town Manager didn't seem to realize that her home was in the area determined to be affected by the power plant.
"How can we trust that you have our best interests at heart when clearly, I'm in a severely impacted area, and you're saying I'm not?"
It gets worse.
Tiya Loiselle is a veteran whose home value has dropped nearly $50 thousand in value since January. She was hoping to build equity in her home, but instead she's rapidly going underwater, because of the possibility of this plant coming to her town.
As much as the residents of Burrillville seem to distrust their Town Council, they distrust Governor Gina Raimondo more.
Governor Raimondo "has been on the wrong side of a lot of issues because she doesn't listen to the people," said one speaker.
"She doesn't reply to your emails," said another.
"Did she not say that she would meet" with us, asked a woman, who was answered by another woman with, "I followed up, and sent her a message asking 'Are you still planning to come to Burrillville?' and she said 'You'll have to talk to my advisory board.'"
"You can't trust the Governor," said the first woman, "You understand why you see Trump signs everywhere, because no one trusts the Governor any more."
Perhaps no one at the meeting expressed the impotence, fear and anger felt by the people of Burrillville better than Deborah Krieg, a "mom from Burrillville". Her short speech to the Town Council was heart breaking:
You can watch the entire Town Council meeting here:
Special Town Council meeting does little to calm Burrillvillian concerns

,