Providence Journal employees publicly rebuked their out-of-state bosses with a noontime demonstration outside of the once-venerable institution's now increasingly vacant offices and newsroom on Fountain Street.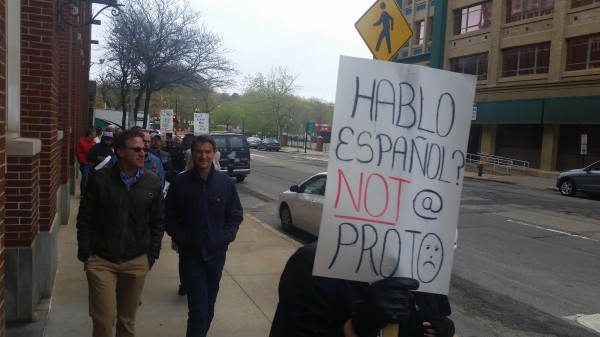 "Now that they own us there is no effort to invest in us," said Journal reporter John Hill, who is the president of the Providence Newspaper Guild, said of Gatehouse Media, a media conglomerate that bought the ProJo two years ago and still has not agreed to a new contract with newsroom and other employees.
More than 100 people marched outside the Journal building during today, Hill said. "It was at lunch hour," he said, "so people didn't have to leave work. We're not trying to disrupt anything. Nobody abandoned their desks."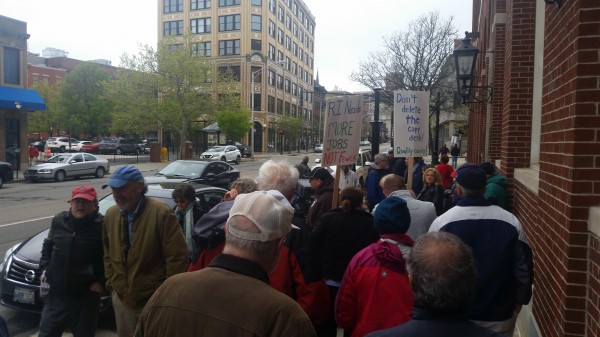 It was the latest in an increasingly public labor rift between the people who produce Rhode Island's paper of record and the corporation that owns it. "Everything that goes on the website of value is made and put there by our people, and we get squat for that," Hill said.
ProJo reporters and other staffers have been working without a contract since Gatehouse bought the business from Belo in 2014. Because it was an asset sale, Gatehouse "was able to void pretty much all the contracts, not just the union ones."
They've been in on-going negotiations, but Hill says management is unwilling to bend. "These guys have a track record of being willing to outsource work," he said.
The demonstration was the latest example of workers in Rhode Island standing up to an increasingly skewed economy that is squeezing more and more middle class people.