Last Tuesday State Senate climate bill S2952 was unanimously passed by the Environment & Agriculture committee. Huzzah!  The previous Monday, the EPA announced a "historic" proposal to cut carbon emissions from power plants by "30%."  Ah-choo!  The answer to the question "percentage of what?" is given in this panel discussion on The Real News Network, where Daphne Wysham also explains my quotation marks:
It's historic in the sense that the bar has been set so low.  Yeah, it's good to see the Obama administration finally wresting power out of the hands of Congress and taking some action, but essentially it's like trying to put out a house fire with a squirt gun. And at the same time, when we should be using multiple fire hoses, instead we're worrying about the criminal, in this case the polluter, burning our house down.
Here is my cynical take on this consummately capitalist Climate Action Plan put out by the White House – EPA axis of evil:
We'll build new and retool old coal power plants to run on methane
Item (1), pipelines and exports will drive up the price of methane
This will bail out Wall Street with its toxic weapons of gas destruction, i.e., its investments in the shale gas industry
Meanwhile, we'll invest billions in chasing fugitive methane
Finally, just after the next presidential elections, when the fracking boom goes bust, we'll have the "best" of all possible worlds:

Virtually nothing invested in renewable energy
Methane and its price up there in the stratosphere
The economy, environment, and future wrecked with one modest plan, but we'll be fine until the end of the quarter
The story
Let me explain all of the above.  This is what the fracking industry claims:
With a history of 60 years, after nearly a million wells drilled, there are no documented cases that hydrolic fracturing has led to contamination of water.
Yeah, right, and smoking is good for your health!
Of course, nobody cares about the health of people in capitalism's sacrifice zones, but there is more: the economic weapons of gas destruction.  As Deborah Rogers wrote in Shale and Wall Street:
Aubrey McClendon, CEO of Chesapeake Energy, stated unequivocally in a financial analyst call in 2008:

I can assure you that buying leases for x and selling them for 5x or 10x is a lot more profitable than trying to produce gas at $5 or $6 mcf [per thousand cubic feet].
I smell a Wall Street bubble, but, dear reader, if you're not convinced, maybe this —from the same source:— will sound familiar:
Banks no longer held on to mortgages. Instead it became lucrative to make loans, package the mortgages, have a ratings agency pronounce it a safe investment and then flip them to investors, thereby collecting large fees. This is not unlike the land grab which shale operators engaged in by leasing millions of acres of land, drilling a handful of wells and pronouncing the field "proved up" and thereby a "safe" investment, and then flipping such parcels to the highest bidder. This exercise quickly drove prices up.
Let the 99% tremble at the financial revolution. The 1% have nothing to loose but their spoils. Managers of All Capital Markets unite!
The New York Times, already in 2011 knew what's going down and published industry insider emails that exposed the shale scam; see Drilling Down.  None of this had an impact on the bullish forecasts of the US Energy Information Administration (EIA), which has a long history of over-optimistic projections —see page 28 of Drill, Baby, Drill— and breathtaking exaggerations.
This takes care of items 1 through 3 of my Executive Summary for Cynics.  Let's move on to item 4, fugitive methane.  Almost a year ago, I explained why, in my opinion, the White House Climate Plan was fraudulent.  To sum it up, the fact that methane only produces half the amount of carbon-dioxide per unit energy in the process of burning it is extremely misleading.  It ignores the immediate and present danger of the fugitive methane that escapes during drilling and piping.  Methane is a much more potent greenhouse gas than carbon-dioxide.  To skip over this vital information is, as last year's "Climate Action" Plan did, is nothing less than a cover-up of conspiracy to commit a crime against humanity, nay, the biosphere.
As George Zornick writes in The Nation:
Still, one critical concern is that methane affects the atmosphere more quickly—and given the ticking climate clock, it presents a unique danger. "We should and must control carbon dioxide because of its long-term consequences, but the climate system is far more responsive on the short time period to methane," said Howarth. "And so if we are to slow the warming and avoid these potential tipping points just fifteen or twenty years out, we have to control methane emissions."
Let's see what the EPA plan has to say about methane:
We have also analyzed potential upstream net methane emissions impact from natural gas and coal for the impacts analysis. This analysis indicated that any net impacts from methane emissions are likely to be small compared to the CO2 emissions reduction impacts of shifting power generation from coal-fired steam EGUs [steam generating units] to NGCC [Natural gas combined cycle] units. Further information on our analysis of upstream impacts can be found in the Appendix 3A of the RIA [Regulatory Impact Analysis].
(I can't help it, but bureaucrats' salaries are based on the average number of acronyms they pack into one sentence.)
Whom should I believe, Wall Street's own White House and EPA or a bunch of  "corrupt, grant-chasing" scientists?
Just to get a sense of perspective, it's helpful to keep in mind that there is an alternative (TIA) to this approach all-of-the-above coming the the rescue of just-more-of-the-same.  Here is one example:
Plans to Convert the 50 United States to Wind, Water, and Sunlight
Local power generation?  That might give Power to the People, who —polluted Heaven forbid!— might decide to run the power grid by means of worker-owned co-ops. That would spoil the business climate for the Vampire Class. What would this do to poor corporations such as National Grid, head-quartered in the United Kingdom?  That's a no-go, baby!  It does not fit in with our neoliberal, hyper-financialized system operated by our precious, Wall-Street-funded Washington Duopoly.
The only ones who do not seem to understand any of the above are the politicians. And, yes, that includes, our own celebrated Rhode Island congressional delegation — you can hear them hear speak in support of the Meth Bridge to Nowhere.
Of course, none of this is a surprise given the toxic bloom of public servants from Goldman Sachs infesting the White House.  Or to paraphrase Upton Sinclair:
It is difficult to get politicians to understand something, when their campaign contributions depend upon their not understanding it!
As mentioned, the US Energy Information Administration has a long history of over-optimistic projections.  This is what informed our ElecToon in Chief in the 2012 State of the Onion address:
This country needs an all-out, all-of-the-above strategy that develops every available source of American energy. (Applause.) A strategy that's cleaner, cheaper, and full of new jobs.

We have a supply of natural gas that can last America nearly 100 years. (Applause.)
Just a couple of weeks ago, the Energy Information Administration downgraded by 96% its estimate of the amount of recoverable oil in the Monterey Shale in California.  The White House continues to blow bubbles for the 1%, and —praise the Lord of Death!— the farcical, all-of-the-above national energy policy rolls on, while 60% of US shale oil goes poof!
Fighting back!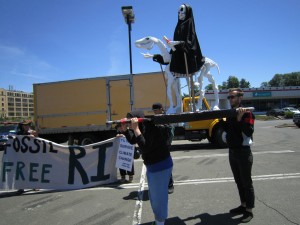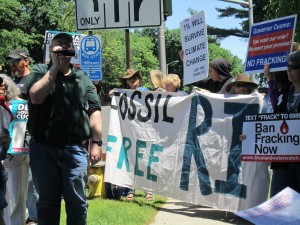 Earlier this month, the Democratic Governors association met in Greenwich, CT.  Tim McKnee of the Connecticut Green Party welcomed protesters of  NOPE, the No Pipeline Expansion grassroots coalition:
Welcome to Greenwich Connecticut!  Welcome to gated communities and billionaires.  I'm not talking lowly millionaires, I'm talking billionaires.  This is so symbolic!  Where are governors meeting?  Not in Bridgeport, CT.  No! Not in Pawtucket, RI.  No!  They are meeting here, where the money is!
Then there was Nick Katkevich of FANG (Fighting Against Natural Gas) with A Message from the Lord of Death
Death is rather silent. That's why Death has asked me to speak, but it's quite an honor that the Lord of Death has traveled from the Underworld to be here today.
There is a lot more information about the protest over at with our own Lisa Petrie of Fossil Free RI and Tony Affigne from the Rhode Island Green Party, but I'm going to wrap this up.
Conclusions and Questions
The analysis I presented above may be too cynical and  even totally wrong.  Who knows?  We have to keep in mind that indeed there is a lot we —that includes the deciders the 1% bought for us— do not know.  What we do know is that Sheldon Whitehouse, who, as he admits is not familiar with the details of the Spectra pipeline, nevertheless supports the pipeline expansion project. Indeed,  he and Jack Reed nonetheless blessed the project with their signatures of support.  Neither one of this duo seems to understand that most of the methane escapes at the well.  United with the shale industry informed we decide.  What a marvelous confidence booster!
In spite of the spectacular uncertainties, the execution of grand Climate Inaction Plan announced last summer by the administration is fully underway already.  I forgot to mention that, in addition to our intrepid congressional delegation, also New England's governors lend their support to the scam; see New England Governors's commitment to regional cooperation on energy infrastructure issues — appendix B, page 2. Burrilville, RI, be damned!
For war and violence we have the Manhattan Project, and in no time we build enrichment facilities the size of the US car industry.  For war and violence we follow the demands of the One-Percent Doctrine,  but for peaceful purposes and the future of the biosphere we throw caution to the wind, and all we can come up with are squirt guns!
Randy Udall, a couple of months before his death, gave an intriguing presentation about the oil and shale gas boom with which he was intimately familiar. Here are some of his poetic musings:
Does that carbon have any desire? These ancient plankton and little microscopic sea creatures, do they want to be back on the stage again? And what do people want? And then I asked myself can you have cretaceous carbon without have a cretaceous climate? Again, this period in Earth's history was very warm and sea levels were very high compared to where they are today, hundreds feet higher. The North Pole was as warm as Denver. Can you mine and burn cretaceous carbon without having a cretaceous climate? I think that … maybe it's not an open question. Maybe we have the answer to that already.
I'll end with quoting Larry Wilkerson, former chief of staff to United States Secretary of State Colin Powell.
[L]et's just keep being predators and watch the planet cast us off, because the planet is going to cast us off, or at least a sizable majority of us. There's no question in my mind about that. The planet will go on as it went on after the dinosaurs, but human life might not. And that's the nature of the challenge that we confront in this century.
Oh, oops I forgot this: NOPE is happy to congratulate our own fearless governor.  Keep up the good work for the 1%, Linc!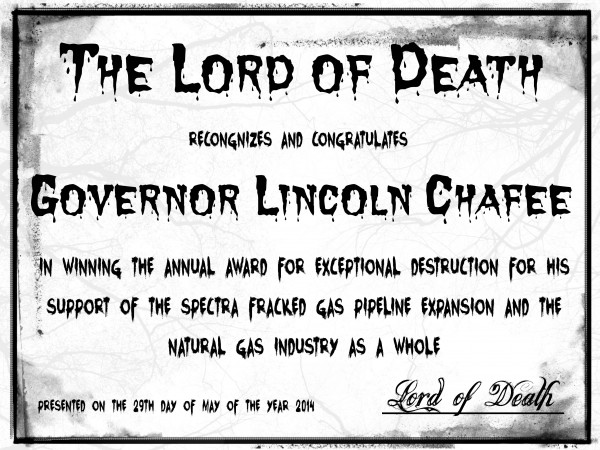 Important health information — the the price is right, the cost of reading this is your mind:
According to the Surgeon General cynicism has been linked to dementia.